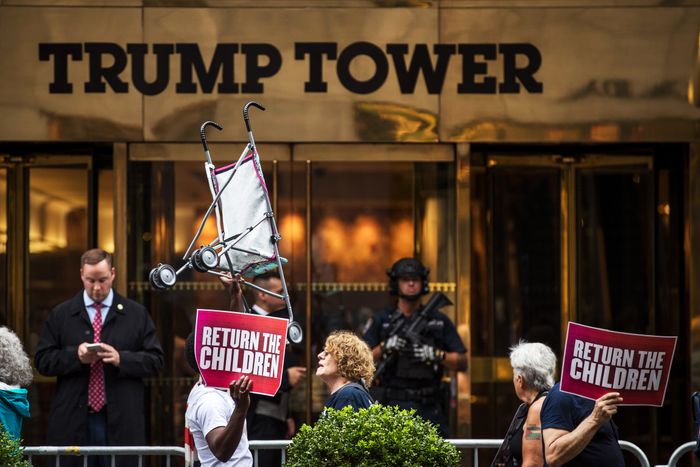 Photo: Drew Angerer/Getty Images
The Trump Organization's own marketing materials promote the president's flagship midtown tower as "one of New York's most iconic trophy buildings." Yet prices for its open office space are currently listed as "negotiable," one of several indications that Trump Tower is suffering from the impact of the building's namesake presidency — both in stigma and the daily hassles of increased security.
According to a new report from Bloomberg, condo owners trying to get out of Trump Tower have had a rough couple of years: "Most condo sales have led to a loss after adjusting for inflation, property records show." That includes at least eight units sold at an inflation-adjusted loss in the past two years, which is bleak compared to the island as a whole. According to Property Shark, only 57 out of 24,871 homes in Manhattan sold at a loss in that same time period.
The commercial levels of the building have also taken a hit, with over 42,000 square feet of vacant office space, and advertised rates substantially lower than area average. The occupancy rate has dipped from 99 percent in 2012 to 83 percent today — a loss that's unheard of for Fifth Avenue by the park, considering that "many real estate experts consider [it] the nation's premier office area," as Bloomberg says. And the building's net income is 26 percent lower than bankers estimated in 2012 when considering whether to give Trump a $100 million loan.
One obvious reason for the decline is the president's name in fat slab serif font over the building's main entrance: Trump is not so popular in Manhattan, where he won less than 10 percent of the vote in 2016. "It's totally a tourist trap," former Trump Organization executive Barbara Res told Bloomberg. The attraction, decked out in pink Italian marble and featuring a 60-foot waterfall, has been made exponentially more inconvenient for residents thanks to the concrete barriers and limited access to the two main entrances. Then there's the people: "On any given midweek afternoon, the number of government and Trump Organization security personnel rivaled the number of other people inside the building's atrium."
"There are now Secret Service members all over the building," one resident told New York in 2017, when the bustle was new. "They sit in the stairwell. And now you have to drive to Madison Avenue to have your car sniffed before you can drive it in and drop off any packages. There's a scanner on 56th Street. If you're walking in there with packages, you have to put them through, like an airport."
But for those hoping that Trump is personally taking a hit on his midtown tower, they'll have to look elsewhere for tales of his financial embarrassment. According to Trump Organization disclosures reviewed by Bloomberg, the building generated $10 million in net cash flow in 2018.