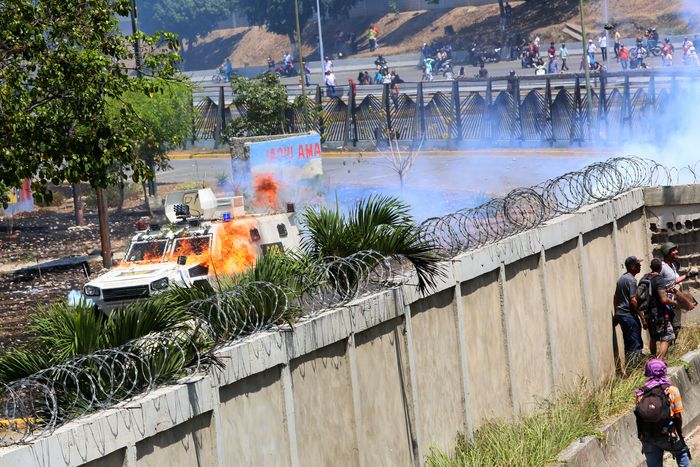 Demonstrators throw petrol bombs to military forces at the air force base La Carlota on April 30, 2019 in Caracas, Venezuela.
Photo: Edilzon Gamez/Getty Images
On Tuesday, the tension between the government of Nicolás Maduro and supporters of opposition leader Juan Guaidó turned into open conflict when Guaidó appeared with soldiers at a military base in Caracas and called for an uprising. "Today, brave soldiers, brave patriots, brave men attached to the Constitution have followed our call," Guaidó said, adding that "the definitive end of the usurpation starts today."
It was by far Guaidó's most aggressive move since declaring himself the interim president in January, and by the end of the day it appeared to have failed. On Tuesday evening, Maduro declared victory over the "coup-mongering far right" and called for his supporters to fill the streets on Wednesday for "a large, millions-strong march of the working class." Guaidó also called for a demonstration, setting the stage for another clash. Meanwhile, U.S. secretary of State Mike Pompeo warned of possible U.S. military intervention. Here's everything we know about what's happening in Venezuela.
At Least 69 Injured in Street Clashes in Caracas
According to CBS News, at least 69 people were injured in the clashes between the opposition and forces loyal to Maduro.
Pro-Maduro paramilitary groups have reportedly fired shots from a government building in Chacao, a suburb of Caracas.
At one point, an armored vehicle plowed through a crowd of demonstrators.
Venezuelan Government Calls Guaidó's Maneuver a Coup Attempt
On Tuesday morning, Maduro dismissed Guaidó's call for an uprising as an attempted coup and claimed on Twitter that military leadership had affirmed their "total loyalty to the people, to the Constitution and to the fatherland." Information Minister Jorge Rodríguez added in a tweet that the government was in the process of "deactivating a small number of traitorous military personnel."
Venezuela's U.N. ambassador, Samuel Moncada, argued that politicians in the United States and in South America were complicit in the violence on Tuesday and that the clashes are an "attempt by foreign powers to spark a civil war."
On Tuesday evening, Maduro was on TV alongside military and civilian leaders denouncing Guaidó. "We will continue to be victorious in every juncture that follows," he said. "Our cause is crystal clear. It's the cause of the defense of the country."
U.S. Government Says Guaidó's Move Is Not a Coup
National security adviser John Bolton stated that Tuesday's action is "clearly not a coup. We recognize Juan Guaidó as the legitimate interim president of Venezuela." But as Splinter News notes, the White House's perspective effectively renders coup status impossible, as it already has determined that Guaidó is the country's legitimate head.
Secretary of State Mike Pompeo expressed strong pro-Guaidó sentiments throughout the day. "What we are seeing today in Venezuela is the will of the people to peacefully change the course of their country from one of despair to one of freedom and democracy," Pompeo tweeted. "The U.S. stands with them." On CNN, he claimed that Maduro was prepared to vacate the capital of Caracas before being persuaded to stay by Russia:
On Fox Business Wednesday morning, Pompeo said the U.S. wants a peaceful transition of power in Venezuela, but warned that the U.S. will take "military action," if "that's what's required."
Senator Marco Rubio, the most vocal Republican calling for Maduro's ouster, tweeted: "This is the moment for those military officers in #Venezuela to fulfill their constitutional oath & defend the legitimate interim President." Vice-President Mike Pence added:
President Trump began the day by stating he was "monitoring" the situation in Venezuela. By the afternoon, he announced he would impose a "full and complete" embargo on Cuba if the country did not withdraw its troops from Venezuela. (Considering the historic dearth of U.S.-Cuban trade, it might not be the most impactful threat.) The two countries are close political and economic allies, and as the New York Times noted in January, the exact number of Cuban advisers in Venezuela is unclear: "Former military officials who have fled Venezuela have reported the involvement of Cubans within the security and intelligence forces, [but] experts say the extent of that involvement remains shrouded in mystery."
What's next?
Tuesday's events made the situation in Venezuela more complicated for both Guaidó, whose attempt to take power failed, and Maduro, who survived the most significant attempt to remove him from power. Both men have called for demonstrations on Wednesday. Guaidó has asked supporters to take to the streets for a day of "peaceful rebellion," while Maduro is calling for a march on Wednesday "to win the peace."