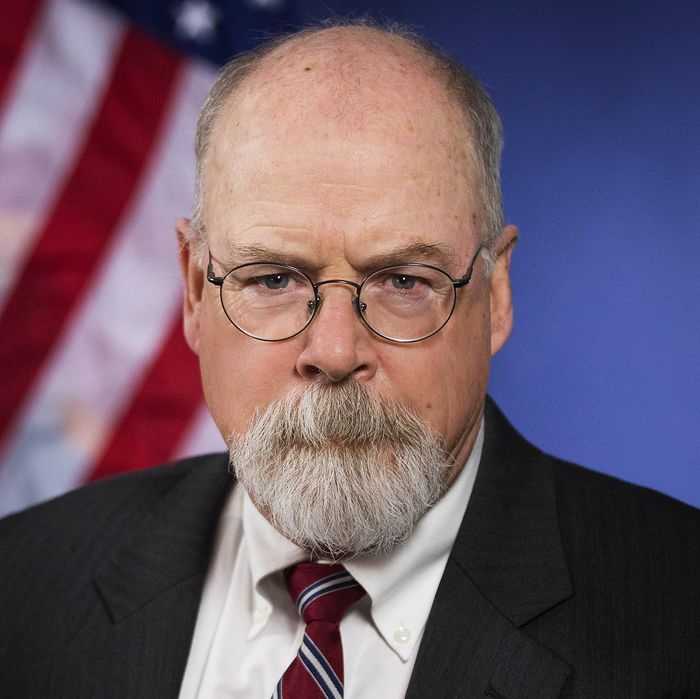 Attorney General Bill Barr and U.S. Attorney John Durham.
Photo: Chip Somodevilla/Getty Images; US Department of Justice
On Tuesday, the New York Times reported that Attorney General William Barr has assigned John Durham to investigate the origins of the Russia probe, a move welcomed by Donald Trump's personal lawyers and, given his incessant calls for more investigations, likely by the president himself.
This is the third investigation charged with reviewing the FBI and the beginning stages of the Russia probe. And it's being conducted with the help of CIA Director Gina Haspel, Director of National Intelligence Dan Coats, and FBI Director Christopher Wray, according to CNN.
Here's what we know about the latest investigation of the investigators.
Who is John Durham?
The longtime Justice Department lawyer is currently serving as the U.S. Attorney for Connecticut. Trump nominated him for that job in 2017 and the Senate unanimously confirmed him in February of 2018. Upon his confirmation, the state's two Democratic senators, Richard Blumenthal and Chris Murphy, called Durham "a fierce, fair prosecutor."
Durham has been with the Justice Department for 37 years and has performed investigations for administrations of both parties. In 1999, Janet Reno appointed him to investigate the relationship between law enforcement and notorious Boston gangster Whitey Bulger. He later investigated the CIA's treatment of terrorism suspects for both the Bush and Obama administrations.
What is he investigating?
Durham has been charged with looking into how the FBI began its investigation into Russia's attempts to tamper with the 2016 presidential election and possible collusion by the Trump campaign. Last month, in congressional testimony, Barr said he is concerned that intelligence agencies conducted "improper surveillance" on the Trump campaign.
Durham's investigation will dig into that question. As a source told the Washington Post, he will try to determine if the FBI's "intelligence collection activities" were "lawful and appropriate." That will reportedly include investigating the bureau's use of the Steele dossier and informants, along with its reliance on Foreign Intelligence Surveillance Act (FISA) warrants.
Trump and his supporters have long claimed that the FBI's surveillance of Carter Page, a former Trump campaign adviser, was improper. They say the FBI's reliance on the uncorroborated Steele dossier to secure the warrant is proof of political bias. There are also questions about whether the dossier, which was funded in part by Democrats, was flagged for possible credibility issues when it was used as justification for the warrant.
The FBI's handling of the Page warrant has come under even more criticism in the time since Mueller's report was released. The special counsel failed to corroborate many of the claims about Page that the FBI made in its warrant application, leading to further claims of bias against the Trump campaign.
James Comey has, in recent weeks, defended the launch of the investigation in the summer of 2016. The former FBI director says the probe began after the FBI learned that George Papadopoulos, a Trump campaign adviser, knew Russia had dirt on Hillary Clinton. "We all should have been fired if when we learned that we didn't investigate to figure out, is there a connection between any Americans and this Russian effort?" Comey said on CNN this month.
What about the other investigations of the investigators?
There are two other ongoing DOJ investigations covering similar territory to Durham's. Michael Horowitz, the department's inspector general, is also reviewing the FBI's use of informants and its reliance on FISA warrants. Barr has said this investigation, which Durham is reportedly helping with, will end by next month.
John Huber, U.S. Attorney in Utah, was appointed by former Attorney General Jeff Sessions last year to also look into the FBI's surveillance issues, along with its investigation into the Clinton Foundation. But Huber has been largely silent. Last month, Republican representative Jim Jordan called him out. "It concerns me that we haven't heard a darn thing," Jordan told the Washington Times. "It's like 'Where's Waldo? Where's Huber?'"
Senator Lindsey Graham has also promised that the Senate Judiciary Committee will conduct its own investigation into the FBI's investigation. At a hearing last month, he said, "When the Mueller report is put to bed, and it soon will be, this committee is going to look long and hard at how this all started."
How are Republicans responding?
Though Trump hasn't directly said anything about Durham, his lawyers have commented on his appointment. Rudy Giuliani, the president's personal attorney, told NBC News, "I believe Barr has selected an excellent person, someone who is a career prosecutor who has worked with Republicans and Democrats." Jay Sekulow, another of Trump's personal attorneys, told the outlet: "The origins of this investigation have to be examined thoroughly, and the appointment of a U.S. attorney would be the appropriate course of action."
It's a safe bet that Trump is happy too. His campaign has already identified the FBI and its alleged overreach as a useful campaign issue that allows Trump to make himself the victim and raise money.