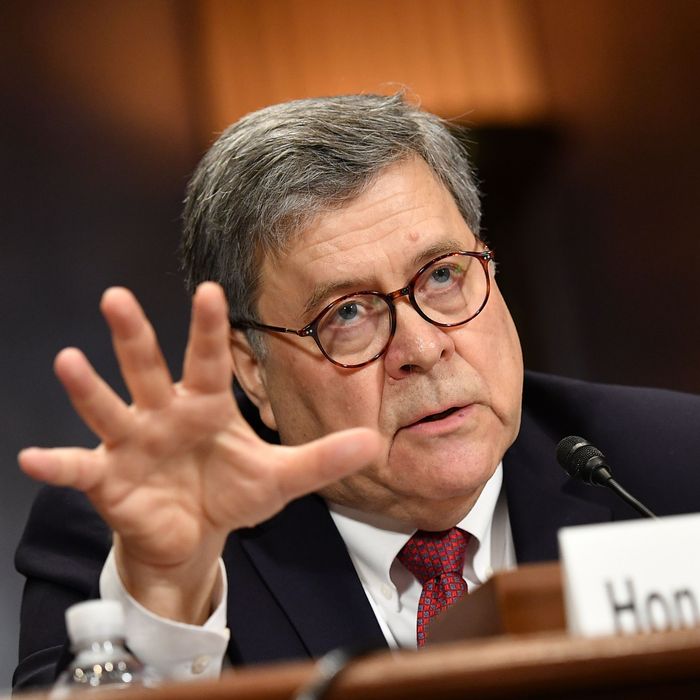 Attorney General William Barr testifies before the Senate Judiciary Committee.
Photo: Mandel Ngan/AFP/Getty Images
The latest round of must-see D.C. testimony took place today, as Attorney General William Barr sat before the Senate Judiciary Committee to answer questions about Robert Mueller's report on Russian election interference. Here's what happened:
Lindsey Graham admitted that he hasn't read the full report.
Before Barr's testimony, Committee chairman Lindsey Graham set the stage by declaring that he hasn't read the full Muller report. "But I can say I read most of it," he said. He went on to defend the Trump campaign and use a string of words very important the man in the White House. "No collusion, no coordination, no conspiracy," Graham said.
Then he called Trump a "fucking idiot" (sort of).
Graham then started talking about the Clinton campaign, the investigation into her email server, and the text messages between Peter Strzok and Lisa Page. During this section of his statement, Graham said, "Trump is a fucking idiot," quoting a text from Strzok, the former FBI agent who led the investigation into Russian interference.
Barr threw Mueller under the bus.
Tuesday, the Washington Post reported that Mueller wrote to Barr complaining that the AG's four-page summary of his report "did not fully capture the context, nature, and substance" of the full investigation. Barr snapped back early in his testimony, blaming Mueller for the long delay in releasing the full report.
Barr then pushed Mueller even further under the bus.
Feinstein tried to establish obstruction.
As the first Democrat to have a shot at Barr, Senator Dianne Feinstein honed in on Trump's attempt to get former White House counsel Don McGahn to oust Mueller. Barr defended Trump in a few different ways, including by saying that the big guy was just cranky.
Dick Durbin did a comedy routine.
Not 20 minutes into the hearing, the Illinois Democrat was already tired of hearing Republicans talk about Hillary Clinton's emails.
Barr reminded senators of the chain of command.
During questioning by Senator Sheldon Whitehouse, Barr made it clear that he is in charge at the Justice Department, not Robert Mueller. And when Mueller turned is his report to the DOJ, Barr said, it became "my baby."
Ben Sasse went off on Oleg Deripaska.
Senator Ben Sasse was one of the few Republicans on the panel to not use his time to talk about Hillary Clinton. Instead, he wanted to talk about the rules governing the involvement of foreign governments in elections. He also called Oleg Deripaska, a Russian metals magnate and friend of Vladimir Putin, a "bottom-feeding scum sucker."
Should a campaign contact the FBI after a foreign government offers its help? Yes, Barr said.
Senator Chris Coons asked Barr what a campaign should do if a "foreign adversary" were to offer a presidential campaign dirt on his or her opponent. Should they "immediately" contact the FBI? Barr hesitated, then said "yes," specifying that if a "foreign intelligence service" were to offer the dirt, then a campaign should reach out to the FBI.
Why does this matter? Because the Trump campaign was offered dirt on Hillary Clinton in the summer of 2016, leading to the now-infamous Trump Tower meeting between a Russian lawyer and members of Trump's team. The offer, though, came via a British music publicist.
Mazie Hirono called on Barr to resign.
Senator Mazie Hirono got right down to business, beginning her questioning by saying that Barr had sacrificed his reputation "for the grifter and liar who sits in the Oval Office." She accused Barr of behaving as Trump's lawyer and lying to Congress. She also called on him to resign.
But Lindsey Graham jumped in to defend Barr.
Kamala Harris broke Barr's brain.
The third presidential candidate to take a crack at Barr, after Senators Amy Klobuchar and Cory Booker, Senator Kamala Harris was the first to nail him down. The moment come when she asked if the White House had asked Barr to open an investigation on anyone.
Booker was among the many who appreciated Harris's performance.
Another key exchange between Harris and Barr came after she asked the AG if he personally reviewed the evidence underlying the Mueller report prior to making a decision on whether Trump committed obstruction.
Barr made a big admission.