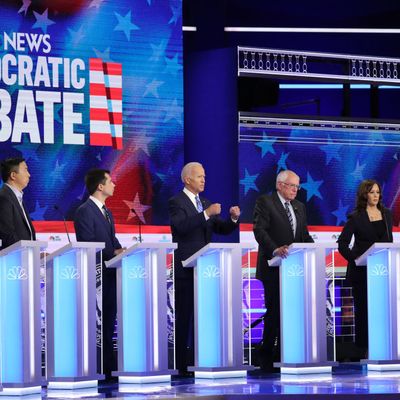 Photo: Drew Angerer/Getty Images
While 20 Democratic presidential candidates debated over four hours on Wednesday and Thursday night, a group of 210 voters convened by leading party pollster Stanley Greenberg offered their live impressions, answering poll questions and participating in dial-testing to indicate their feelings about what was going on onstage, as it happened. The selection was divided over seven demographic groups important to Democrats — African-American voters, Latinos, white unmarried women, white millennials, white non-college-educated men, white non-college-educated women, and white college-educated women, about half of whom were fully committed to voting in the party's primary — and in particular to the two progressive groups that commissioned the dial-testing, the American Federation of Teachers union and the Voter Participation Center. New York watched the numbers as the debates progressed, and spoke with Greenberg and AFT president Randi Weingarten after the second debate to learn about what they saw. Here are the biggest takeaways:
• Every demographic group tested said Elizabeth Warren did best on the first night — 44 percent of the overall sample said so — except for white millennials, who preferred Cory Booker. The story of the second night was slightly more complex, but good news for Kamala Harris: Most groups tested said she won the night (36 percent overall), though she was even with Joe Biden among white unmarried women, and tied with Biden and Andrew Yang among white millennials.
• By far the most negative live responses among all groups — "I've never seen lines go so low," said Greenberg — came early in the second debate, during the early crosstalk melee featuring Biden, Bernie Sanders, Pete Buttigieg, Kirsten Gillibrand, and Eric Swalwell. Then Harris cut through to say, "Hey, guys, you know what? America does not want to witness a food fight, they want to know how we are going to put food on their table." The live approval lines all popped up. Voters "didn't want people going for the jugular, people are just turned off about that," said Weingarten, whose union has so far hosted events with Biden, Sanders, Warren, Harris, Beto O'Rourke, Amy Klobuchar, and Tim Ryan. "It actually does reveal the dissonance between the pundits and what people really feel: There was a lot of punditry post the first night that said, 'How come the candidates didn't talk about Trump more? How come they didn't attack each other more?'" she continued. "You can see that, at least in terms of the dials that Stan did, people wanted to hear the differences, and they wanted to hear the positions."
• Unsurprisingly, the voters said their most important issues were health care and drug costs, by a wide margin. And that issue only became more important to them as the candidates spoke. Other topics that grew in importance over the course of the two nights: "getting immigration under control" and climate change. Climate change was also a singularly animating topic for unmarried women toward the end of the second debate.
• The biggest real-time polarization between the demographic groups over both debate nights came during Biden and Harris's exchange on busing. "They were dramatically apart: African-Americans were responding fairly strongly, and others were not, to the debate on busing," said Greenberg. "There was a [positive] reaction among African-Americans in support of what Harris was saying," he explained, noting that college-educated women also backed her in the moment as she criticized the former-vice president's past position. "But when [Biden] came back with what he was for, there was significant African-American support" for him, as well.
• By the time the first night's debate was finished, Warren, Booker, and Julián Castro had all eaten into Biden's overall support, particularly among African-American and Latino voters. But even though he was not on the stage, Biden's support level actually rose among the non-college-educated white women. And, said Greenberg, "He still has an Obama base that's there. Erosion should be part of the story, but we should not underestimate that coalition." Indeed, on the second night, Biden earned both African-American and Latino support when he defended Obamacare, and his overall approval rose after he was done debating. "We're seeing in the field, but you could also see it tonight, how enduring Biden's support was, even with being attacked from all sides," said Weingarten. "There is something about him being vice-president."
• Harris increased her share of African-American voters significantly, and saw real backing from Latino voters, too, according to Greenberg. However, Biden's approval among African-American voters rose as well, suggesting to Greenberg that "attacking Obama may not be so successful" for Harris — who criticized the Obama administration's deportation policies — in weakening Biden's numbers.
• "Warren had a strong lead versus all the other candidates, in terms of the perception of who won and also the shift in her vote," explained Greenberg of the candidate who was widely thought to win the first debate. Her support was largely built around African-American voters, and unmarried and college-educated women.
¶ Every candidate saw a bump in his or her favorability rating among the focus group — as high as a 20-point-plus rise for Booker, Klobuchar, Castro, Bill de Blasio, and Tulsi Gabbard — though the rise was negligible for Yang and Michael Bennet. In general, candidates debating on the second night saw smaller improvements than those who debated on the first night. After the first night, Warren and Booker ended with the highest approval ratings; after the second, Biden and Harris led.