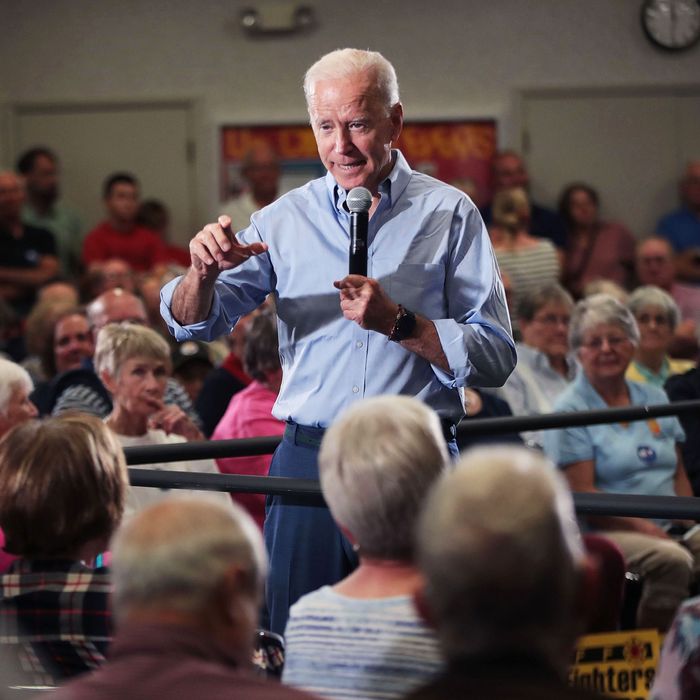 Is Joe Biden just what the doctor ordered after Hillary Clinton's 2016 defeat?
Photo: Scott Olson/Getty Images
It is broadly assumed that after the shock of 2016 and the trauma of President Trump ever since, Democrats are prone to an especially strong interest in candidate "electability" looking forward to 2020. And it's also assumed that this is one major reason Joe Biden is doing so well in early nomination-contest polls. Although there's plenty of quiet talk about why Democrats think Biden's more electable, empirical evidence has been in shorter supply. And that's why a new USC/Los Angeles Times survey that asks likely Democratic primary voters about the candidate traits they associate with 2020 electability is particularly interesting.
In what is pretty clearly a post-traumatic stress disorder reaction to what happened to Hillary Clinton in 2016, Democrats think an older white male nominee is the best bet against Trump. Seventy percent of respondents said a male nominee would do the best, and 68 percent thought a white nominee would perform best against Trump. And given the full panoply of gender and racial identifiers, 56 percent favored a white male as most electable. This reaction may seem banal unless you consider (a) an African-American male was the last Democrat elected (and reelected) president, and (b) there was a pretty broad consensus going into 2016 that a woman nominee would benefit from as much of a frontlash of support among women as she would suffer from a sexist backlash. On this last point, it's not at all clear that sexism was instrumental in Hillary Clinton's defeat, given the many, many other factors dragging her down to a mere two-point advantage in the popular vote.
The "electable" nominee described in this poll didn't perfectly match Biden (or the other very prominent white male candidate, Bernie Sanders), since the ideal age was set at 51–65. The only while male candidates who fit that description are John Delaney, Steve Bullock, Michael Bennet, and Bill de Blasio, who are all near the bottom of current polls. But then again, it's unlikely many voters know how old Biden and Sanders actually are.
Respondents considered a moderate nominee as more electable than a liberal/progressive one by a 57/43 margin. And combining all the descriptors, the most commonly selected candidate was a moderate white man (35 percent) with a progressive white man running second (at 21 percent).
That's pretty similar to the percentages Biden and Sanders have been receiving in candidate preference polls. It's possible, of course, that candidate preferences are driving "electability" perceptions to some extent, but it's more likely the other way around this early in the nominating process. It's notable in the USC/LAT poll that even self-identified "democratic socialists" think Biden is more likely than Sanders to defeat Trump. But when the poll names names, the divisions based on race and gender are pretty stark among all Democrats, as the Times' Janet Hook observes:
More than 8 in 10 said Biden would definitely (39%) or probably (47%) win in November; 60% said that about Sanders, although only 17% said they thought he would definitely win.




Democratic voters were less optimistic about six other candidates the survey asked about. A majority said Trump probably or definitely would beat Warren, Harris or Sens. Cory Booker of New Jersey and Amy Klobuchar of Minnesota, as well as former U.S. Rep. Beto O'Rourke and Pete Buttigieg, mayor of South Bend, Ind.
This survey isn't all good news for Joe Biden, though. It shows that African-American Democrats do not share the consensus of white and Latino Democrats that a white candidate would do best against Trump (they think an African-American candidate would do better, by a 56/39 margin). That has to be encouraging to Kamala Harris and Cory Booker, who desperately need to chip into Biden's strong black support in South Carolina and then in other states. Perhaps Biden's current attraction to African-Americans is less about his presumed electability than about his perceived relationship to Obama — a perception that could weaken if the 44th president continues to keep his distance from the contest even as Biden is hammered for past sins against racial justice.
But all in all, it is indeed clear that an awful lot of Democrats now believe Hillary Clinton's gender was a handicap in 2016, and that their country is piggier than they realized. A recent Daily Beast/Ipsos poll captured this sentiment:
When asked about having a female president, Democrats and Independents are themselves comfortable with a female president (74%), but believe their neighbors are less accepting (33%). 
The same poll showed 82 percent of Democrats and Democratic-leaning indies think the ability to beat Trump is the top priority in selecting a nominee. The confidence Democrats had in the power of diversity that was so strong after Obama's election has been significantly damaged. It's hard to say when it will return.