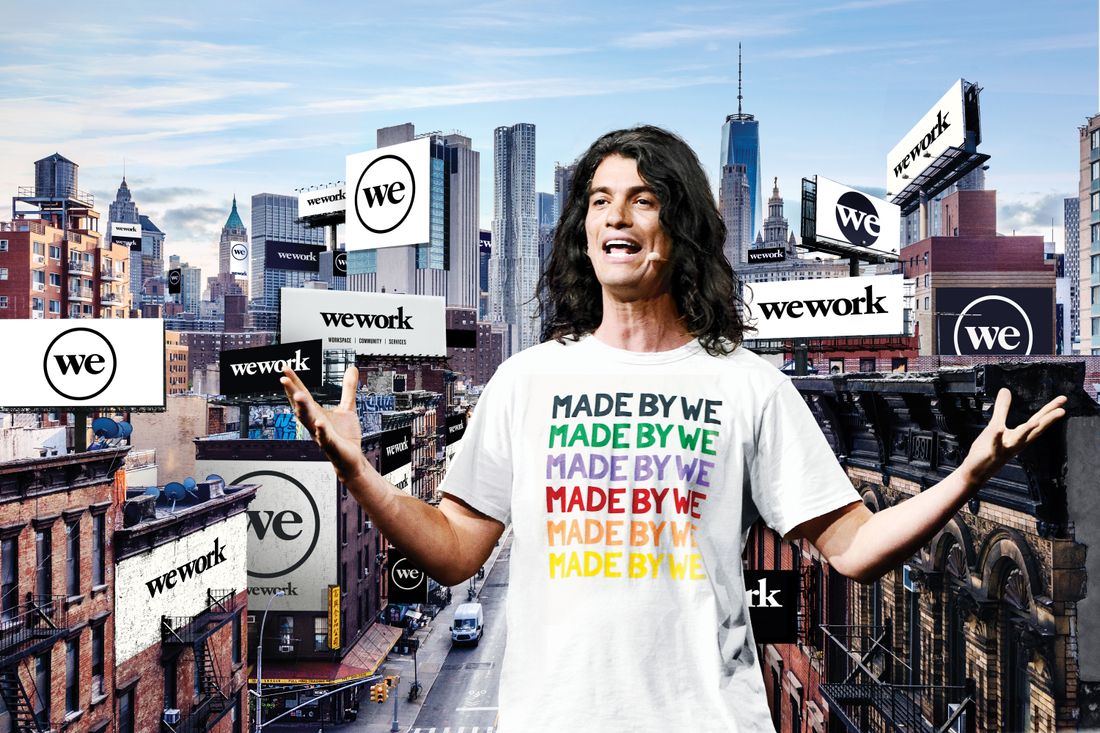 Photo: Joe Darrow; Filippo Bacci; Michael Kovac/Getty Images; Getty Images/Getty Images
In early January, employees of the We Company, formerly known as WeWork, gathered in Los Angeles for its annual summit. As with many of the company's events, it was more tent revival than corporate off-site. The Red Hot Chili Peppers performed. Jaden Smith and Adam Rippon spoke. Diddy and Ashton Kutcher announced the winners of the annual Creator Awards. Adam Neumann, one of WeWork's founders, took the stage as he typically does at such gatherings. Neumann is six-foot-five with long dark hair and the easy charm of a man worth several (theoretical) billions of dollars who still manages to surf regularly and used to skateboard around the office. He is known for making bombastic pronouncements, like this one at an all-company event last year: "There are 150 million orphans in the world. We want to solve this problem and give them a new family: the WeWork family." In L.A., Neumann told his employees that the newly formed We Company would now have three prongs — WeWork, WeLive, and WeGrow — with a single, grandiose mission: "to elevate the world's consciousness."
WeWork was born as a co-working space based partly on the idea that it should be easier for entrepreneurs like Neumann to get their ideas, good or bad, off the ground. Its core business is simple: lease offices from landlords — the company owns hardly any real estate — slice them up, and rent them out in smaller portions with an upcharge for cool design, regular happy hours, and a more flexible short-term lease. There are hundreds of co-working companies around the world, but what has long distinguished WeWork is Neumann's insistence that his is something bigger. In 2017, Neumann declared that WeWork's "valuation and size today are much more based on our energy and spirituality than it is on a multiple of revenue." He has long maintained that categorizing WeWork as a real-estate concern is too limiting; it is a "community company" with huge ambitions. "We are here in order to change the world," Neumann said that same year. "Nothing less than that interests me."
In this mode — which is his usual one — he can sound like a satirical version of a start-up founder. The years between Steve Jobs's ascension to business deity and the fateful afternoon when Elon Musk tweeted that his company might go private at $420 a share have cemented the legend of the iconoclastic founder as a modern American folktale. Spreadsheets are out; megalomaniacal ambition is in.
And what Neumann has accomplished is staggering: WeWork now has 466,000 members working out of 485 locations in more than 100 cities in 28 countries. Its revenue has grown from $75 million in 2014 to $1.8 billion last year. Three years ago, it had 1,000 employees; today, it has 12,000 and is adding 100 every week. It has installed 22 million square feet of the glass partitions that have defined an era of workplace aesthetics, and last fall, it became Manhattan's largest tenant. (In Central London, it is second only to the British government.) In the wake of Uber's (disappointing) debut on the New York Stock Exchange, the We Company is now America's most highly valued start-up, at $47 billion — at least for the moment. At the end of April, Neumann announced that the company had filed paperwork to begin the process of an IPO.
Inside the company, however, employees and executives describe an environment that can be marked by the chaos, churn, and misbehavior that have come to characterize hypergrowth start-up life, not to mention questions about its business: WeWork lost $1.9 billion last year. But WeWork has already reshaped the commercial real-estate world, and it has its eyes on the rest of our lives. As Neumann recently told a person close to the company, he believes that WeWork's size and scale could put it in a position to help deal with some of the world's largest problems, like the refugee crisis, saying, "I need to have the biggest valuation I can, because when countries are shooting at each other, I want them to come to me."
One day this spring, Neumann sat at a large conference table in his office at WeWork headquarters in Chelsea and apologized that he had only limited time. "It's hard in a short time to get to know someone and to be able to authentically describe truth," he told me. Beyond elevating consciousness, Neumann explained, each of the We Company's three parts has a more specific mandate. WeWork is building "a world where people make a life and not just a living." WeLive, which offers furnished studio apartments in the Financial District starting at $3,175 a month, is a salve to the global increase in loneliness and suicide and a way to ensure that "no one ever feels alone." WeGrow, an educational arm that includes an elementary school and a coding academy, is tasked with "unleashing every person's superpower." I asked Neumann what his superpower is. "Change," he said. "I think it's the best superpower to have." He then asked if I had seen the TV show Heroes. "There was one [character] that was very strong," he said. "He had the ability to have all superpowers." Neumann neglected to mention that this was the show's villain: a serial killer who murdered people to get their powers.
Neumann was born in Israel and moved to New York in 2001 after what he has described as a difficult childhood. His parents divorced when he was 7, and he lived in 13 different homes over the first 22 years of his life. He served five years in the Israeli navy before moving into a Tribeca apartment with his sister, a former Miss Teen Israel who had become a successful model. Neumann enrolled in business classes at Baruch College, and as he told its graduating class in 2017, he spent his early days in New York largely going to clubs, "hitting on every girl in the city," and figuring out how to get rich. As Neumann tells it, a friend from Israel visited and asked if all the partying was worth leaving his home, at which point Neumann dropped out of Baruch to pursue his first big entrepreneurial idea: a collapsible women's heeled shoe. It didn't work, so he pivoted, as a single, childless man in his 20s, and launched a company called Krawlers, which sold baby clothes with built-in kneepads. The tagline was "Just because they don't tell you, doesn't mean they don't hurt."
Krawlers failed to take off. "We are already noticing the tough economic times," he told Women's Wear Daily in early 2008 as the recession hit. By then, Neumann had met Miguel McKelvey, an architect with a similarly unusual upbringing. While Neumann spent several years living on a kibbutz in Israel, McKelvey was being raised by a collective of five single mothers in Eugene, Oregon. After college, where he studied architecture, McKelvey moved to Tokyo and started a website called "English, baby!" that used American pop lyrics as a language-learning tool. He eventually got bored and moved to New York to take a job at a Brooklyn architecture firm, where he spent several years designing American Apparel stores. By 2008, McKelvey had persuaded Neumann to move Krawlers to Dumbo, where Neumann sublet part of his space to another company to save on rent. Both men were itching for something new, and after a bit of brainstorming, McKelvey and Neumann convinced their landlord to let them try an experiment: They took over an empty space in one of the landlord's nearby buildings, divided it up into semi-communal offices, and rented them out.
The original space, Green Desk, was an instant hit, and the landlord wanted to expand it into his other Brooklyn properties. But McKelvey and Neumann decided to sell their share of the business and go off on their own. They opened the first WeWork in 2010 on the corner of Grand and Lafayette Streets. It had exposed brick and exposed wiring, which McKelvey installed himself, and was modeled less on a traditional office than a boutique hotel.
The original WeWork still exists as an homage to a new era. Nine years later, it's now slightly dated but still filled with the same mix of small companies working out of tiny glass-walled offices, some of which have been there since the beginning. (An architectural-rendering firm has a model in its office of an Australian building designed to look like Beyoncé's body.) There are now four more WeWorks within a few blocks and 66 in total throughout the city. Courtney Wallace, who has worked for the company at that location since 2011, told me he was certainly amazed by WeWork's growth but didn't think Neumann was. "I would argue Adam would say he's surprised it took so long," Wallace said.
Neumann and McKelvey didn't invent the idea of "co-working" — the New York Times had already devoted an entire article to the concept and the many such spaces that had opened in recent years — but the pair realized there was money to be made from the recession. Real estate could be had for cheap, even in Manhattan; laid-off workers needed space to launch their freelance careers; and millennials were looking for more from their workspace than a watercooler and a cubicle. While McKelvey brought his design-and-construction background to WeWork, Neumann dove into the aggressive world of New York real estate with a hustler's verve. He struck a deal for WeWork's second space, across from the Empire State Building, while polishing off a bottle of Johnnie Walker Black with David Zar, whose family owned the building. After touring a property owned by Jared Kushner, then a young real-estate mogul, Neumann coaxed Kushner into a bar for shots of tequila and later settled a dispute by beating him in an arm-wrestling match. (Neumann and his wife, Rebekah, remain close with Kushner and Ivanka Trump.) "The past ten years was the decade of 'I,' " he said in 2011. "This decade is the decade of 'We.' "
And, in many ways, it has been: Everything from the bedding company Brooklinen to "post-cable" streaming network Cheddar has been incubated in a WeWork. A Breitbart writer worked out of a WeWork near the White House. Billy McFarland, who later created the Fyre Festival, was often late on his rent in Tribeca. More recently, WeWork has rented space to giant companies from Facebook to Amazon.
But disrupting the deeply entrenched world of commercial real estate required capital, and Neumann excelled at pitching his company to investors. Neumann has raised more than $12 billion in venture-capital funding, and early investors talk as much about buying into his energy and ambition as they did WeWork's bottom line. "WeWork Mars is in our pipeline," Neumann declared in 2015. (He told WeWork's staff at one point that he'd met with Elon Musk and offered the company's services in prepping for any future Mars missions but that Musk wasn't interested.) Early on, Neumann told friends he was building a $100 billion business.
The charisma and soaring rhetoric he presented to investors also appealed to a workforce willing to work long hours with relatively low pay in exchange for believing they were building a world-changing company. Within WeWork, a mystique quickly developed around Neumann, who did little to downplay it. (Until recently, an executive conference room at WeWork headquarters was decorated with a large photograph of Neumann surfing a wave.) He has bragged about working 20-hour days and regularly called executive meetings that would begin after midnight. "I've had meetings that started at 2 a.m. where he joined us 45 minutes late, but that meeting was worth millions," a former WeWork executive told me. Many people told me they bought into WeWork's grand mission only when Neumann was doing the preaching. At the beginning of every week, WeWork employees were required to stay after work for a "Thank God It's Monday" team-building event that could last for hours. Neumann would typically speak, after which employees often walked around handing out shots of tequila.
WeWork spaces earned an early reputation for having a partylike atmosphere thanks to free-flowing beer kegs, and the corporate environment was no different. One former employee says Neumann offered her tequila during her job interview, and liquor was a constant presence at pretty much every company event, another perk for the largely millennial staff. Many employees know the name of Neumann's favorite tequila, Don Julio 1942, and offices around the country would keep it stocked for when he came to visit. One morning in 2014, not long after WeWork opened a new location in Washington, D.C., an employee arrived to find the game room trashed. There were cups lying around the room, which smelled to him like weed. When the employee reviewed the security footage from the night before to identify the culprits, he saw Neumann and Michael Gross, WeWork's vice-chairman, drinking and playing on the Time Crisis arcade machine.
The ultimate perk for many employees — and a nightmare experience for others — was the annual Summer Camp, a multiday affair initially held at an upstate camp owned by the family of a WeWork executive. All kinds of activities were offered — yoga, ax throwing, leaf printing, a drum circle — along with entertainment by an expensive array of visiting performers. The Chainsmokers once played and received WeWork stock as part of their fee, while the Weeknd was flown in from Toronto by helicopter. (TenaciousWe, an employee band, has also performed.) "It was just so much everything," one former executive said. "Alcohol, drugs — there was not a lot of food. That was the only thing there wasn't a lot of."
In 2017, the event was moved to a park outside London; employees were flown in from around the world. One told me that he and his colleagues would simply walk up to the bar and ask for two bottles of wine each. "They would give you two bottles of rosé, and we'd drink them like Edward Forty-Fucking-Hands" — it's a drinking game — "while we're watching Florence + the Machine," he said. One employee told me she knew it was time to leave the company in 2017, when she woke in her teepee to find an unknown colleague urinating on the canvas just above her head. "Talk to any community manager under 24, and it's the greatest weekend of your life," the employee said of Summer Camp. "But I am not here to get peed on."
Summer Camp was also the place where Neumann's gravitational pull was at its strongest. At last year's event, according to a report in Property Week, a British real-estate publication, Neumann sat onstage next to his wife and McKelvey as the crowd sang "Olé, Olé, Olé." A WeWork employee from India started chanting, "Let's go, WeWork, let's go!" while another from California screamed, "You're changing the world, Adam! We love you." Augusto Contreras, a WeWork employee from Mexico City, proposed to his girlfriend next to a dodgeball tournament. "I felt like I was surrounded by my extended family," he told the company blog. He had been at WeWork for seven months.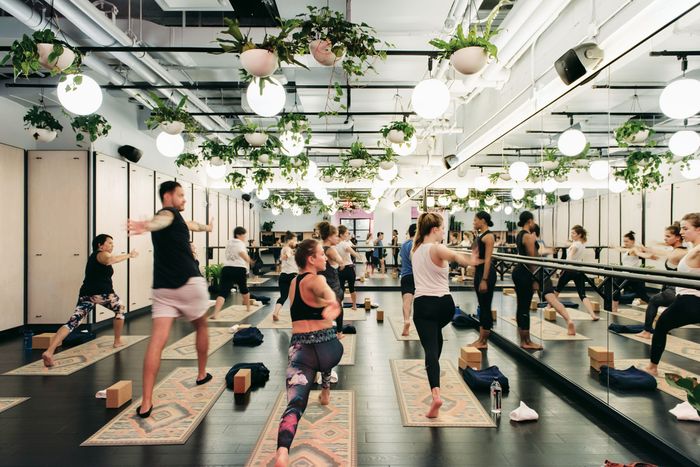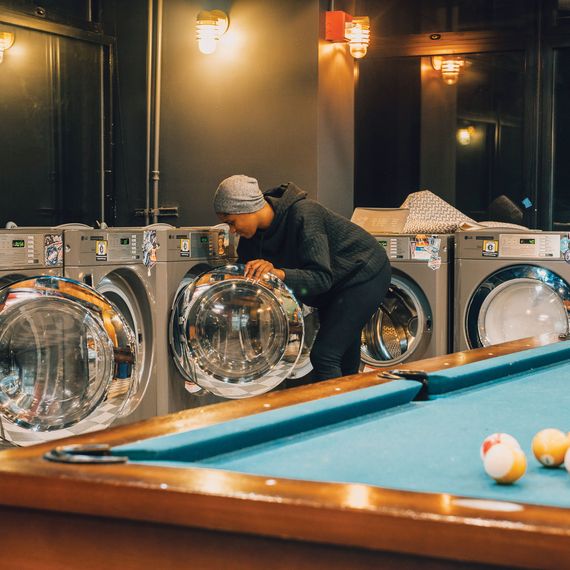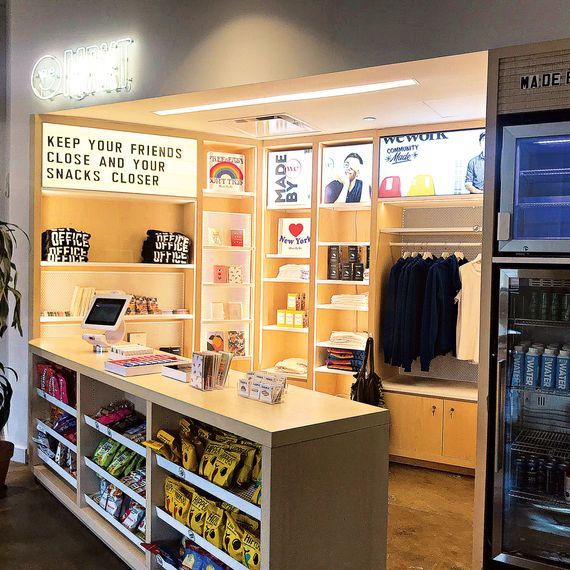 In 2017, WeWork opened its 200th location, in Singapore, and Neumann finally found a partner whose ambition matched his own. Masayoshi Son, the head of SoftBank, a Japanese conglomerate, had overnight gone from being a minor player in the venture-capital world to investing more money in start-ups than many VCs could hope to invest in their lifetimes: In 2016, SoftBank had launched the Vision Fund, a $100 billion investment fund backed primarily by $45 billion from the Saudi Arabian government, which needed a place to park its money. The Vision Fund began making enormous bets on Uber, Slack, DoorDash, and dozens of other companies, employing a strategy that has come to be known, with some derision, as "blitzscaling": pumping up a company to a market-dominating size as fast as possible, without worrying about profit. Son met Neumann at WeWork headquarters and told him he had precisely 12 minutes for a tour, after which he invited Neumann to join him in his car, where Son sketched out a deal on his iPad to invest $4.4 billion in WeWork. Son told Neumann to make WeWork "ten times bigger than your original plan" and to recognize that, in a fight, being crazy is better than being smart — and that WeWork wasn't being "crazy enough." Son said he thought WeWork could be worth "a few hundred billion dollars."
The premise of Son's investment was that WeWork could do much more than rent desks to solo accountants and small branding firms. Since its early days, Neumann had called WeWork "the world's first physical social network," and as he put it to me this spring, the company's SoftBank-funded losses were merely laying the groundwork for all kinds of growth. "We're investing money in building an infrastructure that tremendous revenue already flows on. And there's an endless amount of revenue that can flow on it," he said. Neumann has claimed multiple times that WeWork is at the stage Amazon was at when it sold only books. The idea is to build a machine capable of leasing, designing, building, and managing space at an unprecedented scale, on top of which various kinds of moneymaking enterprises can be built. The results thus far have been fitful. As one example, the company has long tried to sell services to its members, such as health insurance and business software, but today this accounts for just 5 percent of its revenue.
The company's valuation has also been based on the notion that it is, if not quite a tech company, at least a technologically forward-thinking one. Even WeWork's rivals admit that its vertically integrated system for opening spaces up has helped it expand at a remarkable speed while keeping its increasing costs in check, relatively speaking. (Being able to buy furniture in bulk helps, as does the company's avoidance of union labor.)
It has lately been investing more in technology to better understand how people use its space, and Shiva Rajaraman, WeWork's CTO, described a typical WeWork to me as "an Amazon warehouse with a lot more soul." The company uses data to improve its management of conference rooms and analyze its customers' interests to better plan community events. (Rajaraman said the company had found that WeWork members in Brooklyn and San Francisco enjoyed "urban gardening.") The manager of a WeWork space in Flatiron told me that "one of our best learnings" since opening was that people liked sitting at several desks in the back of the room that were near the windows. This, he said, was something they hadn't guessed, before admitting it "makes a lot of sense."
On a practical level, SoftBank's cash infusion helped WeWork cover the increasing costs of its whirlwind expansion as the real-estate market got more expensive. It also began spending heavily to fill all the desks it was adding. Just a few weeks after SoftBank's investment, Shlomo Silber, the owner of Bond Collective, a  New York–based co-working company, turned on his phone at the end of Rosh Hashanah to find dozens of his customers had forwarded an email from WeWork offering to buy them out of their leases and give them as much as a year of free rent. WeWork's occupancy rate went up, but the deals made it difficult to determine the natural demand for its product. WeWork employees in multiple cities told me that savvy companies would take advantage of a few months of free rent in one WeWork, then wait for a new location to open so they could move and take advantage of another deal.
The company's appetite for growth was rapacious, and for someone who claimed to be building a business around the crunchy concept of community, Neumann had adopted the hard-nosed tactics of a real-estate tycoon. In 2015, a landlord kicked out two tenants'-rights organizations from their offices in downtown San Francisco to make way for WeWork, which reportedly offered to pay double the rent. In 2017, Neumann called an executive at Blackstone, the large investment firm, to complain that it had invested in a rival, and he once told a New York landlord who had leased space to another co-working company that not only did he plan on crushing that company but he would no longer work with the landlord.
WeWork has also accused several of its co-working competitors of trademark infringement, including UrWork, WE Labs, and Hi Work. In a 2017 lawsuit against UrWork, the company said it did not claim "exclusive rights to the ordinary word 'Work,' " but objected to "the combination of a two-letter pronoun followed immediately by the word 'Work.' " Neumann and McKelvey have cited their communal upbringings as formative to WeWork's conception, but Neumann has also described the kibbutz as "a failed social experiment," flawed because "everyone made the same amount of money." WeWork, he says, is a "capitalist kibbutz," where weakness won't be accommodated. "On the one hand, community," he has said. "On the other hand, you eat what you kill."
One afternoon in May, I visited the new WeWork-designed Soho headquarters of Thrive Global, Arianna Huffington's company dedicated to "ending the stress and burnout epidemic." Huffington greeted me and a PR representative from WeWork by saying she had recently spoken to the new boss, whom WeWork had just hired as its head of global communications. "I got to know him when he was representing Travis at Uber over a big crisis," Huffington, an Uber board member, said, referring to Travis Kalanick, the ride-sharing company's founder and former CEO, whose brashness eventually became more than Uber could bear. "So a big bond was formed."
The Thrive office is part of WeWork's recent effort to move away from leasing space to companies small enough to squeeze into a glass box. More than 40 percent of WeWork's business is now with companies of more than 500 employees, some of which have entire spaces all to themselves: There are ten WeWork floors in a single Greenwich Village building that are occupied entirely by IBM. Companies can choose to let WeWork outfit their offices in the same general aesthetic as a standard WeWork location or pay more for a bespoke offering called Powered by We. Thrive had chosen the former; its office had several of WeWork's signature phone booths and a lighter, brighter look, which WeWork introduced under the direction of Adam Kimmel, a former fashion designer who is now WeWork's chief creative officer. Kimmel told me that WeWork has a team of 50 visual artists, who crank out more than 1,000 pieces per month, but Huffington had decided to decorate Thrive's space with artwork by her daughter instead.
The We Company's headquarters in Chelsea, where more than a thousand of its employees work, is something of a testing ground for how it can serve even larger organizations. (The company will eventually move into the old Lord & Taylor flagship on Fifth Avenue, which it recently bought.) The sixth-floor entrance is flanked by a full-service barista and a "living room" with an array of couches and lounge chairs roughly the size and feel of a West Elm showroom. There are Foosball and bumper-pool tables, along with three video-game consoles. Beyond that is the WeMRKT, an "in-office bodega," as a WeWork spokesperson called it, next to a kitchen with a dozen taps serving beer, cider, cold brew, Merlot, Pinot, several kombuchas, and seltzer.
On one of my visits, signs advertised astrology readings for employees that afternoon.
Aside from a few offices reserved for Neumann and a handful of executives, the headquarters has almost no assigned desks, and some WeWork employees describe a near-constant mental and physical battle to find a space with enough quiet and privacy for concentration. (The private phone booths are coveted, as they are in most WeWorks.) Joel Steinhaus, a WeWork executive, told me that his previous office at Citi allocated 200-to-250 square feet per person, while WeWork has shrunk that number to around 50. (A WeWork spokesperson says the number is higher.) WeWork claims that additional common spaces and amenities make up the difference, but also that closeness has benefits. A half-dozen WeWork employees repeated the same talking point to me about the narrowness of its staircases and hallways, which are there to foster community by forcing people to physically interact with anyone they walk past. They say any cost savings from fitting in more people is merely a bonus.
Building community is what WeWork has always promised, and its pitch to large corporations is not just hip design and flexible leasing terms but what WeWork calls its "WeOS," referring to its expertise in helping companies optimize both space and overall culture. (In 2017, McKelvey was named WeWork's chief culture officer, and he's fond of using one of WeWork's many internal slogans: "Operationalize Love.")
But in dozens of interviews, current and former WeWork employees and executives questioned whether the company's culture is itself one worth spreading. Despite the company's slogan "Make a Life, Not Just a Living," employees at all levels have often reported working 60- or 70-hour weeks, and events like Thank God It's Monday and Summer Camp were mandatory. At its annual summit, the company keeps track of employee attendance at panels and events by scanning wristbands given to each person; excessive absences are reported to managers. A number of employees describe a regular cycle at WeWork: New people would arrive, excited by the company's mission, only to get burned out, leave, and replaced by a fresh crop. Multiple executives told me Neumann's cheerleading was critical to the company's success. "From a business perspective, the cult is working," said one executive.
Employees say turnover at the company has been dizzying. Multiple people told me Neumann has expressed a desire to turn over 20 percent of WeWork's staff every year — he denies this — whether through attrition or firings, as a means of keeping staff on its toes. There have been two publicly reported rounds of mass departures, both of which the company said involved culling unproductive workers. But employees say that restructurings, in which entire teams are suddenly disbanded, are a regular occurrence. "When you're at WeWork, there's a certain lack of culture, which is ironic for a company selling culture," one former executive told me. "If there is a culture, it is that of a revolving door." The need to hire employees at a rate to keep up with its growth has led to occasional hiccups in its hiring process: In 2015, Neumann chastised a group of employees for not Googling a job applicant after finding out that WeWork had hired the Hipster Grifter, a Brooklynite who had become briefly famous several years earlier for scamming her way into jobs and cheating people out of money.
The focus on growth often seemed to leave little room for other concerns. Two people told me that during an early town hall when WeWork had just over 100 employees, Neumann took questions alongside two other executives, Michael Gross and Noah Brodsky, and someone asked about the lack of diversity among the executive team. Neumann disputed the point by referring to himself and the other people onstage, saying, "I'm a brunette, Michael's blond, and we have a Noah." (Brodsky, who is gay, went bright red.)
Employees and executives say much of the culture stems from Neumann, whose rule by fiat could be frustrating. Last summer, he announced at the end of a companywide meeting that WeWork employees would no longer be permitted to expense meals that included meat. Several senior members of the company had no idea the announcement was coming or what it even meant. Hundreds of employees joined a Slack channel to debate the policy, while some found various ways around it: A person in the New York tech world said WeWork employees have asked her to expense the meat when they go out for meals.
Especially at the top, WeWork looked to some like a boys' club. The executive ranks have been sprinkled with Neumann's friends from Israel as well as his extended-family members. During an executive off-site meeting in Montauk, he gave a joking toast to the virtues of nepotism. In a job interview, the first question one former executive asked a young female applicant was whether she had a boyfriend (he was later fired). Last year, two female employees reported that they were having trouble getting a meeting with Adam Kimmel, the chief creative officer, to whom they reported. According to multiple people with knowledge of the situation, Kimmel later said he hadn't met with the women because he and his wife, the actress Leelee Sobieski, had a rule against meeting alone with a member of the opposite sex. (WeWork disputes this.) In October, Ruby Anaya, the former head of culture, sued WeWork, alleging she had been groped at both the company summit and Summer Camp by colleagues (the lawsuit is pending).
Several people told me they worried about what the company's younger employees might absorb from their experience. A former WeWorker who now runs a company told me, "I spend a lot of my time on culture and HR, and it fucking slows you down worrying about how people feel." But one employee told me his WeWork experience had made him think about what he would do differently if he were ever to run his own start-up. "You can move fast and break things," he said, citing Facebook's widely adopted empire-building ethos. "But you can't move fast and break people."
One of WeWork's few female senior executives is Rebekah Neumann, Adam's wife. Their first date is now part of company lore: Rebekah told Adam, who was still working on Krawlers, that he was "full of shit" and needed to make something of himself. "Rebekah and I are co-founders in life," Neumann told me. "We met, and she suddenly added to my vocabulary words like 'The Game of Life.' " Rebekah studied business and Buddhism at Cornell and initially chose the former, working as a stockbroker at Smith Barney before going to India to study yoga. (She later tried to follow her cousin Gwyneth Paltrow into acting, but it didn't stick.) She agreed to marry Adam only if he developed a spiritual practice, and she introduced him to Kabbalah, which he has cited as foundational to WeWork's creation; he has encouraged members of his executive team to meet with an instructor from the Kabbalah Centre. The Neumanns have five children, and at various company events, Rebekah has extolled the virtues of motherhood while speaking to WeWork's employees, many of whom she made uncomfortable at last year's Summer Camp while talking about supporting her husband as his company grew: "A big part of being a woman is to help men manifest their calling in life."
Rebekah has held various titles at the company; she is currently the chief impact officer and the head of WeGrow, a school on the third floor of WeWork's Chelsea headquarters, opened in 2017 as a "conscious, entrepreneurial school committed to unleashing every child's superpowers." (WeGrow includes the Flatiron School, a coding academy for adults that WeWork acquired in 2017.)
The Neumanns started the school in part because they couldn't find one suitable for their kids. It costs $36,000 for 3-to-4-year-olds and $42,000 for children up to 11; there are plans to expand through high school. "In my book, there's no reason why children in elementary schools can't be launching their own businesses," Rebekah, who has no background or training in education, said when WeGrow launched. Its head of learning told the Post that the school had identified one student who "just loves to project-manage" and paired her with a mentor in WeWork's events department.
The third We — WeLive — opened in 2016 with one location in the Financial District and another in suburban Washington, D.C., offering small apartments supplemented with shared amenity spaces. Much as WeWork was born out of the ruins of the recession, WeLive occupied 110 Wall Street, which had flooded during Hurricane Sandy. The company quickly learned that its expertise in commercial office space didn't neatly translate to the more complicated requirements of a residential building. Neumann insisted as recently as last year that "WeLive is going to be a bigger business than WeWork," but the concept has struggled. The company once projected that by 2018 it would have 69 WeLive locations. It still only has two. (A third, in Seattle, is slated to open next year.)
WeWork continues to expand in many directions. In 2016, it invested in a Spanish company that makes wave pools for surfers. A year later, it opened a gym called Rise by We (WeRun and WeWorkOut were considered but rejected) managed by Neumann's brother-in-law, a former professional soccer player in Israel. A second location is opening later this year in the Brooklyn Navy Yard as part of Dock 72, a large new development that will include 220,000 square feet of WeWork space. (While approaching the building on a tour this spring, a WeWork employee had to assure me that a nearby business called We Rub You was "not a WeWork massage parlor"; it sells Korean BBQ sauce.) In January, WeWork opened a space in Flatiron where seats can be reserved for $6 per half-hour, coffee not included. WeWork has invested in a food company that sells a turmeric coffee creamer created by Laird Hamilton, the surfing legend. It also has a stake in a company that produces a keto-friendly coffee creamer, run by Jimmy, Jake, and Jordan DeCicco, three brothers who operate out of a WeWork, rent a three-bedroom apartment in WeLive, and workout at Rise by We.
When I met Neumann in his office, a framed poster on the floor showed what looked to be terraformed cities with the year 2048 written in large type. "I should hide that," Neumann said, smiling. He couldn't talk about it right now, but the one thing he could say was that, whatever it was, it was actually going to happen by 2028.
In May, WeWork launched an investment fund called ARK, which would allow the company to begin buying property. (Neumann jokingly told Bloomberg the name stood for "Adam, Rebekah, and kids," and he didn't reject a comparison to Noah's Ark; a spokesman later clarified that it stood for "asset, return, kicker.") The fund also solved a thorny problem that has recently emerged. Over the years, Neumann has personally owned a stake in four buildings where WeWork became a tenant, including the one occupied by IBM, which he acquired in 2015 with the Israeli fashion designer Elie Tahari for $70 million. (The Neumanns also own a $1.7 million house in the Hamptons; a six-bedroom townhouse in Greenwich Village, renovated to include a "stroller parking garage"; a $15 million, 60-acre estate in Westchester; and four apartments in Gramercy that cost a combined $35 million.) The Wall Street Journal reported in May that WeWork had paid more than $37 million in rent to an unnamed "principal stockholder."
The arrangement was criticized as a blatant conflict of interest, and with the company moving toward an IPO, Neumann said he would sell the buildings to ARK at cost. "I never bought the buildings to make money," he told me, claiming he had simply wanted to show skeptical landlords that WeWork was a viable tenant. "My stock makes so much more money than any investment I could do. I should buy more WeWork stock if I want to make money." Still, Neumann has told people over the years that he has sold more than a hundred million dollars of WeWork stock during various investment rounds. In recent years, he has made personal investments in a number of companies, including a hotel chain for digital nomads, the medical marijuana start-up of former Israeli prime minister Ehud Barak, celebrity chef Dan Barber's bespoke-seed company, and Life Biosciences, which is dedicated to "a future where age-related decline is not a fact of life."
Just before last Christmas, Masayoshi Son called Neumann with bad news: A plan for SoftBank to invest $16 billion into WeWork, including $4 billion it had already promised — and to become its majority shareholder — was dead. The stock market had tanked, and the Vision Fund's investors, including Saudi Arabia, were hesitant to invest more in real estate. SoftBank ended up investing another $1 billion in WeWork, and buying another $1 billion of stock from employees and other investors. This was more money than Neumann's smaller rivals had raised combined, but it was still a disappointment, and presented as such in the media. At the company summit in January, Neumann told employees that news coming from outside the company was often "fake or misinformed." (In 2017, he told the Economic Club of New York he thought fake news was "a great term.")
Will WeWork work? The company has existed entirely in an expanding economy, and its business has never been tested by a downturn. WeWork argues that in a recession, larger companies will downsize into its spaces while laid-off workers will need them to start their solo careers. But it's also very possible that large companies who currently have ancillary spaces in WeWork will identify those as easy costs to cut, and entrepreneurs will revert to coffee shops. A third argument goes that WeWork occupies so much space that many landlords will have no choice but to renegotiate its leases.
During the dot-com boom, a company called Regus became a stock-market darling by offering similar but much blander flexible offices. In 2000, Fast Company published a story about Regus titled "Office of the Future," highlighting its efforts to bring "community" to the workplace. But the bubble burst and Regus went bankrupt. The company recovered and rebranded as IWG, but its existence presents another conundrum for WeWork. IWG currently has roughly 3,000 locations and 2.5 million customers worldwide, numbers that dwarf WeWork's. IWG is profitable and now has a hipper, WeWork-ish offering. It is publicly traded and worth around $3 billion.
Everyone in real estate expects the kind of flexible office space WeWork offers to become an increasingly large part of their world, and many of the company's rivals are grateful to Neumann for preaching the gospel of co-working and shorter-term leases. Even people critical of WeWork's culture, or skeptical of its focus on hypergrowth, say it will likely remain a force in commercial real estate. But many, too, have begun to wonder what can explain the $44 billion in valuation difference between WeWork and IWG. In a financial disclosure last year, when it was in the process of losing $1.9 billion to fund its growth, WeWork acknowledged, "We have a history of losses, and we may be unable to achieve profitability at a company level." It also published a financial metric it called "community-adjusted EBITDA" — earnings before interest, tax, depreciation, and amortization, which is an accountant-approved way of measuring a company's performance — that excluded many costs, like marketing, construction, and design, that WeWork claimed would disappear once it reached maturity, in an attempt to show it could make a healthy profit; the Financial Times dubbed WeWork's doctored version "perhaps the most infamous financial metric of a generation." WeWork employees told me they would be happy if the company were worth half of what SoftBank said it was going to be. "Even if it goes down to $5 billion, Adam's still worth a billion dollars," one rival said, expressing concern about the perverse incentives of the modern economy. "So from an objective perspective, was it a mistake to take this hemorrhage-inducing risk? You could argue that was the rational mode."
Back in his office, Neumann remained upbeat. "Before you ask, let's set an intention," Neumann told me, after a WeWork spokesperson said I had time for one more question. "Ask a question that has an opportunity to give something to your readers that could make them grow." I told Neumann I had read a comment of his from 2016 in which he said he was ultimately working toward the creation of a WeWorld, with the various parts of his company forming a broader ecosystem that people would have little reason to leave. I asked if that was still his goal and whether there wasn't something potentially problematic with that idea. "It's a good question, so you did very well," Neumann said. "I don't think we could single-handedly change the world. I think we can build an organization that can be a catalyst to effecting long-term measurable change. Instead of thinking of it as a WeWorld, let's just think of … Powered by We. And only Powered by We for the things that want it. Think of it as what we call internally a WeOS. An operating system that makes work better, living better."
With an IPO on the horizon, he thought the company needed to start doing fewer things better. It was canceling Summer Camp. He wouldn't pursue WeSail and WeBank, two old ideas that were recently unearthed, despite telling another reporter in January that WeBank was "coming." (I didn't get a chance to ask for an update on WeWork Mars.) Neumann was open to change. He even thought he might get his long hair cut short. But he wasn't giving up on his grandest visions, and he asked a spokesperson to email me an internal company "narrative" he was using to summarize its near-term ambitions. It included the koan "We are captivated by the limitless potential of We."