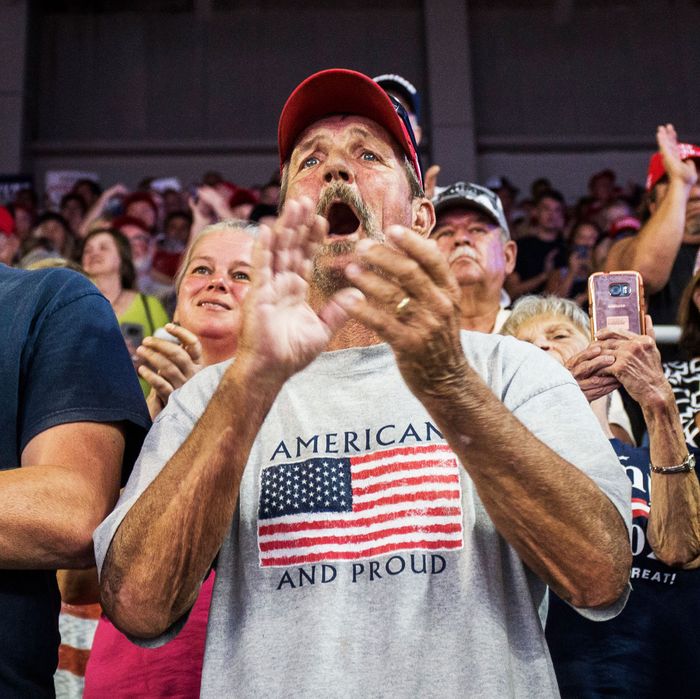 "Send her back."
Photo: Zach Gibson/Getty Images
As President Trump was reaching the crescendo of a three-minute screed against Minnesota congresswoman Ilhan Omar at Wednesday night's campaign rally in North Carolina, the crowd broke into a chant of "Send her back."
Trump's reaction was relatively subdued. He didn't smile or smirk or repeat the phrase. But he did step away from the mic, allowing the chant to fill the arena. "Send her back" echoed Trump's widely criticized tweets from over the weekend, when he said Omar and three other congresswomen of color should "go back" to their home counties, where the "governments are a complete and total catastrophe." Three of the four congresswomen were born in the U.S.
Trump's supporters tried to spin the tweets, but the chant Wednesday dispensed with the pretense: Trump's fans don't want Omar to move to a place she likes better than the U.S.; they want to forcibly eject her from the country.
That was too much for even some conservatives, who might hate Omar, but recognize that deporting political opponents is a bad idea. And so they tweeted their opposition to the chant, in a few different ways:
Omar is a despicable, America-hating socialist — but also, the chant was bad.
I disagree with Omar's politics, and the chant was bad.
The chant was bad, full stop.
Actually, the chant was good.