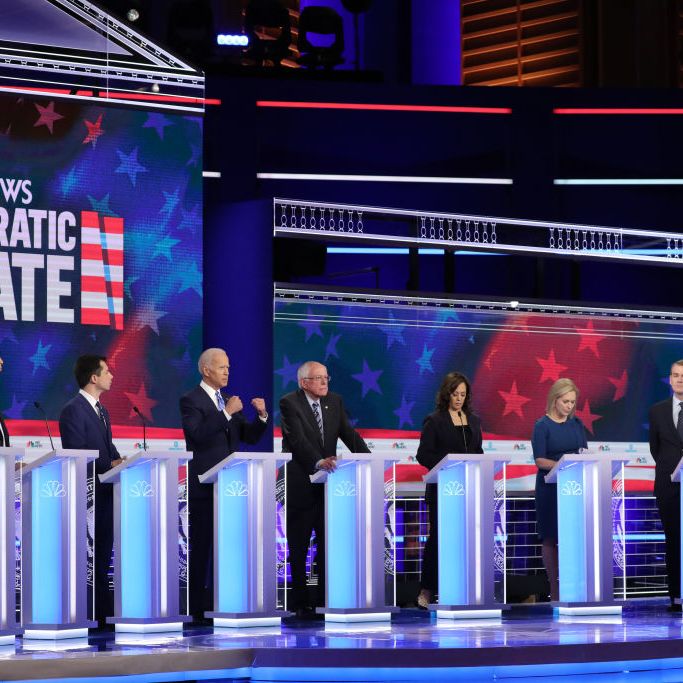 Night two of the first round of the Democratic debates.
Photo: Drew Angerer/Getty Images
In the spirit of maximizing political entertainment, CNN determined that the best way to reveal the lineups for the second round of Democratic debates taking place on July 30 and 31 would be to have a draft-night special, à la the NBA, announcing over the course of an hour the placement of each candidate. Unlike the NBA, there is no free agency period for candidates to swap podiums.
To ensure that each debate has an equal representation of front-runners and future also-rans, the network and the Democratic National Committee developed a new structure for the draft, featuring three rounds — pulled literally out of a box — of candidate drawings, divided according to support in recent polls. Here are the candidates categorized by CNN's tiers, and divided by debate night.
Night One, Tuesday, July 30
First Draw
Montana Governor Steve Bullock
Former Maryland Representative John Delaney
Former Colorado Governor John Hickenlooper
Ohio Representative Tim Ryan
Author Marianne Williamson
Second Draw
South Bend Mayor Pete Buttigieg
Minnesota Senator Amy Klobuchar
Former Texas Representative Beto O'Rourke
Third Draw
Vermont Senator Bernie Sanders
Massachusetts Senator Elizabeth Warren
Night Two, Wednesday, July 31
First Draw
Colorado Senator Michael Bennet
New York City Mayor Bill de Blasio
Hawaii Representative Tulsi Gabbard
New York Senator Kirsten Gillibrand
Washington Governor Jay Inslee
Second Draw
New Jersey Senator Cory Booker
Former HUD Secretary Julián Castro
Businessman Andrew Yang
Third Draw
Former Vice-President Joe Biden
California Senator Kamala Harris
Here are some takeaways:
Tuesday Will Be White Night
Surely an unintended consequence of the randomized drawings, the first night will feature ten white candidates, while all five candidates of color will be featured on night two. Thus, Wednesday may be the more salient evening for discussions of Trump's racist comments, or a possible continuation of the critiques on Biden's political record. (Though it's a long-shot possibility that Marianne Williamson, the field's most vocal proponent of reparations, could skew this prediction.)
All Those Moderates on Tuesday, All Those Progressives on Wednesday!
Night one also includes the bulk of the crowd of generic male candidates in both name recognition and policy, while night two features most of the left-leaning candidates in the debate — except for the top of Tuesday's bill. It could make for a more interesting policy chat on Wednesday, considering that much of the successful rhetoric in the primary thus far has been a race to the left.
The Long-Awaited Warren-Bernie Faceoff Could Happen
In December, Bernie Sanders and Elizabeth Warren agreed to an unofficial non-aggression pact, according to a report from New York's Gabriel Debenedetti. But if the truce has expired, either of the two leading progressive candidates could score a major early victory if they were able to use the second debate to chip off a less-die-hard section of the other's base.
Joe Biden — and Possibly Bernie Sanders — Could Become Piñatas
Biden's camp will certainly prepare for a second round of the bout that thrust Kamala Harris into the top-candidate tier. But if the former prosecutor delivers another capable performance for which Biden has a middling answer, his status as front-runner could continue to erode. (And that's to say nothing of the other eight candidates who saw Harris's successful attack-the-veep strategy and may want to emulate it.) As for Sanders, he faced criticism for appearing one-dimensional — and having one volume setting — which the ever-prepared Warren could use to her advantage.
Guess What: All That Randomness Did Not Prevent "Clustering"
A rematch of the first debates' brightest moment; an all-white round on Tuesday; a heavily progressive undercard on Wednesday — at least they were able to divvy up the Colorado guys. If CNN was able to avoid "clustering" of top candidates on one evening, the network couldn't stop the luck of the draw from impacting the debates in other aspects.
This post has been updated.