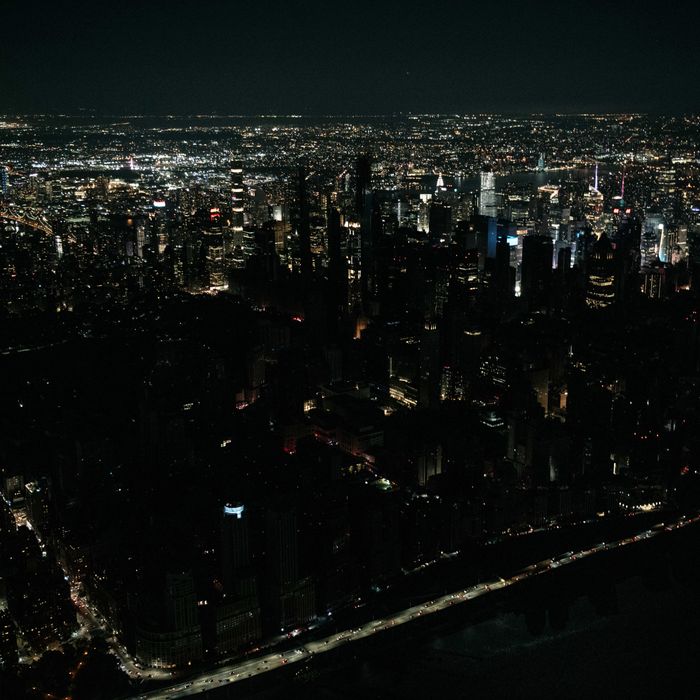 Seen from the air, a large section of Manhattan's Upper West Side and Midtown neighborhoods sit coated in darkness during a partial blackout on July 13, 2019.
Photo: Scott Heins/Getty Images
A blackout hit Manhattan on Saturday night, leaving large swaths of the city in darkness. The power outage struck at 6:47 p.m., affecting most of Manhattan's west side from 32nd Street all the way to 72nd Street. About 73,000 Con Edison customers lost power in all after some kind of mechanical failure at the West 49th Street substation.
Around 10 p.m., Con Edison was able to start restoring power to some of the affected area. Six power networks were knocked out, according to the utility. Two were back on by 10:30, and the remaining four followed until all power had been restored just before midnight. No injuries had been reported by that time either.
The partial blackout, which coincidentally struck on the 42nd anniversary of the infamous 1977 outage which left millions without power, shut down subway lines and elevators, stranding thousands. It also shut down most of theater district, stopped J-Lo's Madison Square Garden concert mid-song, and led many stores and restaurants to close. Landmarks like Rockefeller Center and much of Times Square went dark, while pedestrians helped police direct traffic at some busy intersections.
For some more perspective on the size of the blackout, here are some views from afar and above:
Below is a closer look at what we know so far about the cause and consequences, as well as many of the dramatic, eerie, and heartwarming scenes that people have shared on social media.
The cause of the blackout is still under investigation
The outage appears to have been caused by some kind of mechanical failure at the 49th Street substation, Con Edison officials said, though their investigation has not finished. It's not yet clear why the failure happened. New York governor Andrew Cuomo said on Saturday that an explosion and fire at the substation caused the problem. He also said that the outage was unacceptable and dangerous.
People got stuck in elevators
Subway lines shut down, affecting entire system
Traffic lights went out
Police tried to get drivers to avoid the area, and officers took over directing traffic at some intersections — as did some courageous volunteer New Yorkers:
Stores and restaurants closed their doors
But not all the stores:
And some dining options remained available:
Times Square lost much of its luster
And there was a dividing line:
Rockefeller Center lost power, affecting NBC broadcasts
Movie theaters and Lincoln Center evacuate and shut down
Most Broadway shows had to cancel
But some performers decided that the show must go on outside
Vulture has been rounding up the performances here.
The performers at Carnegie Hall delivered curbside classical
Madison Square Garden lost power mid-JLo
And was evacuated:
Pedestrians glowed in the dark, thanks to their tech
And Mayor de Blasio was in Iowa
This is a developing story. Please check back for updates.