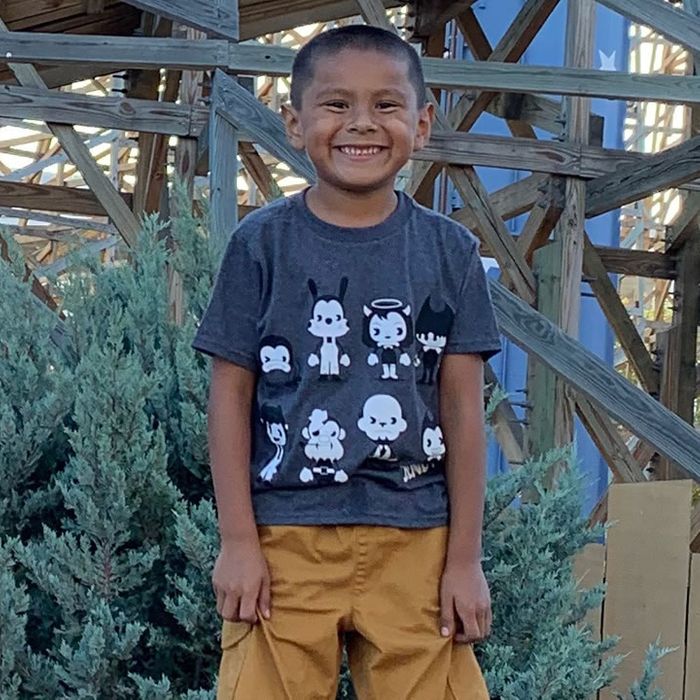 Stephen Romero, a 6-year-old boy who was killed in the shooting.
Photo: Reuters/Twitter
Late on Sunday afternoon, a gunman opened fire at the Gilroy Garlic Festival in California, about 30 minutes south of San Jose. Three people were killed — including a 6-year-old boy — and 12 were injured. The gunman, Santino William Legan, was fatally shot by police at the scene. Below is everything we know about the shooting.
The Attack
The three people killed in the attack — not including the shooter — have been identified as 6-year-old Stephen Romero of San Jose; 13-year-old Keyla Salazar of San Jose; and 25-year-old Trevor Irby of Romulus, New York. Another 12 people, ranging in age from 12 to 69, were injured by gunshot wounds. As of Monday evening, five gunshot victims remained at nearby Valley Medical Center, with one in critical condition, one in serious condition, and one in fair condition, the San Jose Mercury News reports.
Legan used a gun that he purchased legally in Nevada on July 9, which police confirmed as an "AK-4 type assault rifle." Authorities said he cut through a fence to avoid metal detectors at the entrance to the festival.
A hat vendor at the festival, Michael Paz, told the San Francisco Chronicle that he was about 80 feet away from the shooter.
"He came ready to shoot because he was wearing a protective vest," said Paz, who added that he saw police officers open fire on the gunman.
Another witness, Julissa Contreras, told NBC that the gunman was "able to shoot three to four shots a second." She added: "It was just rapid firing. I could see him shooting in just every direction. He wasn't aiming at anyone specifically. It was just left to right, right to left."
A video from a bystander revealed a chaotic scene.
Legan opened fire on three handgun-equipped police officers, who returned fire, killing him. Authorities said that the shooting could have been far deadlier if officers had not responded within less than a minute.
The Investigation
Legan is a native of Gilroy, but Gilroy police chief Scot Smithee said he had recently been staying with family members in Nevada — a state with far less restrictive firearm laws than California, which has some of the strictest gun measures in the country, including a ban on semiautomatic rifles. Two high-school classmates and a neighbor told CNN that Legan did not stand out as abnormal, though one anonymous employee of the school told the outlet that he was a "problem kid" who "defied authority."
The FBI searched an apartment in Walker Lake, Nevada, that may have been used by Legan. A property manager told CNN that he moved into the apartment in April for just one month, vacating the residence in the middle of the night. Legan's family home in Gilroy was also searched.
Authorities have not yet pointed to a motive for the shooter. But the Daily Beast reports that minutes before the shooting, Legan posted on his now-removed Instagram account the remark: "Ayyy garlic festival time. Come get wasted on overpriced shit." He then posted a caption exhorting his readers to read the book Might Is Right, by Ragnar Redbeard, which is a white-supremacist manifesto. According to the Daily Beast, "the book, published in 1890, glorifies 'Aryan' men, condemns inter-marriage between races and defends violence based on bogus eugenicist tropes."
Legan's last post before he opened fire railed the industrialization of nearby towns, which Legan labeled as being "overcrowd[ed]" with "hoards of mestizos and Silicon Valley white twats."
The owner of the store where Legan bought the gun, Big Mike's Gun and Ammo, posted a later-edited message to Facebook that read, in part: "We feel so sorry for the Families of the CA shooting. May the POS rest in Hell. Maybe people need to be 21 to buy?" In another message, he added, "I did not know this individual. He ordered the rifle off my internet page. When I did see him, he was acting happy and showed no reasons for concern. I would never ever sell any firearm to anyone who acted wrong or looks associated with any bad group like white power."
The ease with which Legan was able to purchase his weapon across state lines prompted some California Democrats to call for a nationwide ban on assault rifles.
"The reach of the California law ends at our border," state Attorney General Xavier Becerra told the San Francisco Chronicle, "and so we cannot control what other states do, and that's what makes it so tough."
The Victims
Alberto Romero said he was at home when he got a call that his 6-year-old son, Stephen, had been shot while playing in an an inflatable bounce house. The boy's mother and grandmother were also shot and injured.
"I couldn't believe what was happening, that what she was saying was a lie, that maybe I was dreaming," Romero told the San Jose Mercury News.
He told NBC Bay Area: "My son had his whole life to live and he was only 6."
Keyla Salazar, who was to turn 14 on August 4, was also killed. "It was supposed to be a beautiful Sunday with the family and it ended up being a horrible experience, a really painful experience," her aunt, Katiuska Pimentel, told the San Jose Mercury News. "You don't go to a garlic festival and expect to come out without a loved one who has been shot and killed," she said.
"She wanted to build her own YouTube channel and her dream was to draw animations for video games and movies," Pimentel added. "It's a shock for all of her family. We can't believe it, that it's happening."
The third victim killed was Trevor Irby, who had been living in Santa Cruz with his girlfriend. Irby graduated from Keuka College in upstate New York in 2017. Amy Storey, the school's president, released a statement.
"Our hearts go out to Trevor's family and loved ones," she wrote. "We are shocked that this latest episode of senseless gun violence resulted in the loss of one of our recent graduates — graduates in whom we place so much hope because of their potential to create a brighter tomorrow."
This post has been updated throughout.