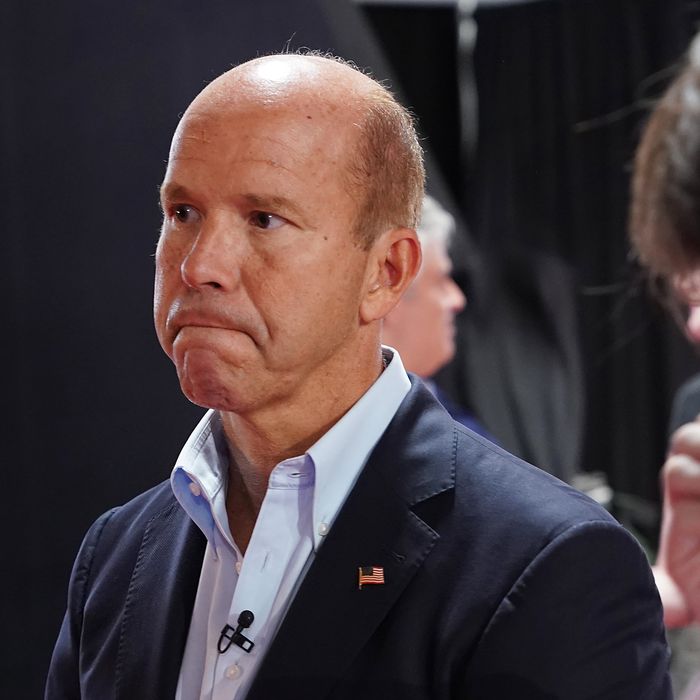 Photo: Scott Olson/Getty Images
Earlier in July, Axios reported that John Delaney's campaign staff prodded him to drop out of the race, owing mostly to his polling somewhere in the zero percent neighborhood. Apparently CNN didn't get the memo: During the first night of the second round of Democratic debates, the former Maryland representative appeared with great regularity, to the point that observers began to dabble in conspiracy theories.
For a guy who is unlikely to be in the next debate, he sure voiced a lot of opinions. Though in some of his more notable moments, it seemed he was brought in mainly to set up a question for a front-runner, as was the case when Jake Tapper shifted from the former Maryland representative to Bernie Sanders on Medicare for All or the switch from Delaney to Warren on the issue of electability and big ideas.
In the first hour of the debate, Delaney led the candidates in search interest, with his Google queries up 3,400 percent over baseline. But that might not have benefited the ex-rep toward the end of the night:
Somehow, the New York Times' count of candidate-speaking time only shows Delaney in sixth place (though he came within 30 seconds of the three candidates ahead of him, Bullock, O'Rourke, and Klobuchar).
Could the debate spotlight bump Delaney's poll numbers into the upper single digits? Only time will tell, but some are already seeing the up side of America getting to know him a little better.