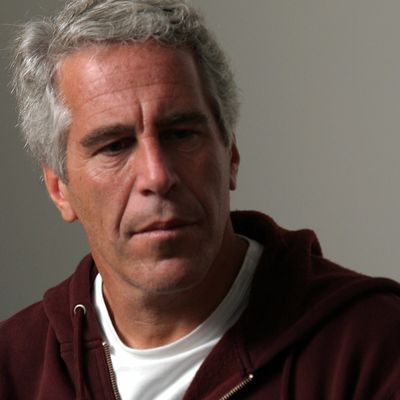 Photo: Rick Friedman/Corbis via Getty Images
Since Jeffrey Epstein was charged with sex trafficking and sex-trafficking conspiracy early last month, the tone of public interest in the story has turned conspiratorial, a shift that was magnified tenfold following the sex offender's jail-cell death by suicide.
Considering the horrid and bizarre details, the high-society company that Epstein kept — including two presidents and a member of the royal family — and the Manhattan Metropolitan Correctional Center's failure to keep him safe following a reported suicide attempt in July, close observers of the story have had a hard time waiting for all the facts to come in to start drawing conclusions. Politicians, reporters, and pretty much everyone on Twitter are responding to Epstein's death, reaching for conspiracies and provocative — if unfounded — theories on how it might have happened.
Below is a collection of some of the more prominent theories that are floating around and some representative examples from their backers.
Maybe it was the Clintons
Linking Bill and Hillary Clinton to Epstein's death first got a boost from Trump World fixture Lynne Patton and Fox Business host Lou Dobbs, then became a trending topic on Twitter, and eventually gained an inevitable endorsement from the president of the United States (who doesn't seem to realize that his administration runs the prison where Epstein died):
Maybe it was Trump, or his administration
Former Senator Claire McCaskill implied foul play based on the ultimately false assumption that Epstein's death came while he was on suicide watch:
Once it came out that Epstein was reportedly (and astoundingly) not on suicide watch anymore, that became a target of suspicion:
Maybe it was Jeffrey Epstein
Maybe it was… someone
(Scarborough later said that he wasn't being serious.)
And then there were the jokes
This post has been updated to include additional context, theories, and President Trump's involvement. This post also originally included a tweet from Seth Abramson. It was removed after he said it mischaracterized the point he was making.