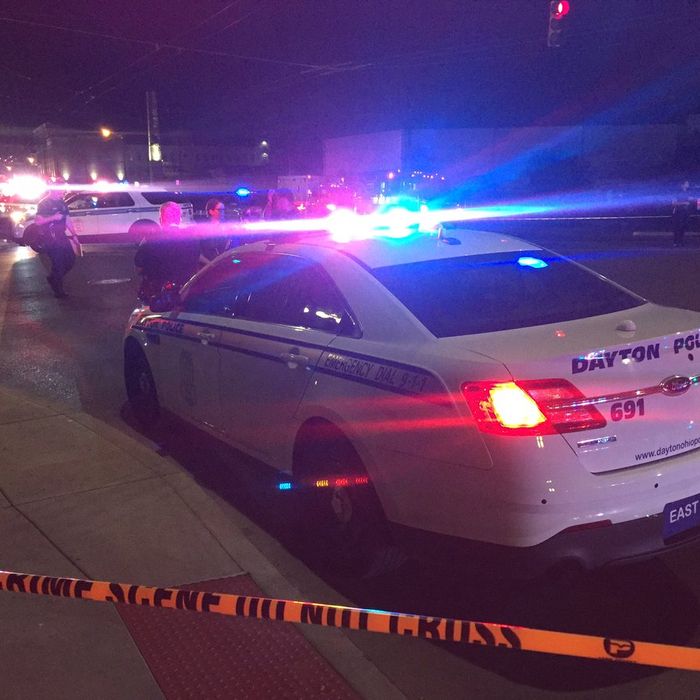 Nine people were killed and 27 were injured after a gunman opened fire early Sunday morning in the nightlife district of Dayton, Ohio. It was the second deadly mass shooting in America in less than a day, and the third in less than a week.
Dayton police officials announced that 24-year-old Connor Betts opened fire on bystanders just after 1 a.m. outside of Ned Peppers Bar in the city's historic and popular Oregon District. Betts was wearing body armor and came armed with a .223-caliber "long gun," high-capacity magazines, and extra ammunition. He left a shotgun in his car.
Six police officers, who were already in the area, arrived just 20 seconds after the shooting began and only needed another ten seconds to take down the gunman. The attack had lasted less than a minute, yet the well-armed shooter was still able to kill nine people and injure another 27 before he was stopped.
Police confirmed witness accounts that Betts opened fire on people gathered outside the bar, then attempted to make his way into the venue. Videos recorded and shared on social media by bystanders showed multiple bodies on the ground in the aftermath. Dozens of rapid-fire shots could be heard in one video recorded a short distance away during the assault. Surveillance shows the scene on the street as Betts began firing.
Officals told reporters that Betts arrived in Dayton's nightlife district with his sister, Megan, and a mutual acquaintance, Charles Beard. On Tuesday night, CNN aired footage of Betts, his sister, and Beard entering the bar at around 11:09 p.m. Police say they've found no evidence that Megan Betts or Beard knew that Connor Betts had weapons.
Footage shows Connor Betts leaving around 12:13 a.m., while his two companions stayed in the bar for another 45 minutes. Police received the first reports about a shooting at 1:06 a.m. Sunday. Betts shot one person in the alley and then moved on to the crowded streets. Megan Betts was killed in the attack along with eight other people, and Beard was wounded.
The gunman could have inflicted much more carnage. Betts was armed with a .223 caliber AR-15-style pistol fitted with an extended magazine that could hold 100 rounds. This appears to be the first time an AR-15 style pistol, which is similar to the AR-15 style rifle but more concealable due to its shorter barrel, has been used in a mass shooting.
"It was modified, in essence, to act as a rifle," Dayton police Chief Richard Biehl said on Monday. "And to avoid any legal prohibitions."
Biehl said Betts fired at least 41 shots, and six officers fired a total of 65 rounds at him, killing him as he tried to enter the bar. The police chief credited the the responding officers with preventing "catastrophic injury and loss of life" by stopping the the gunman before he could enter the bar.
Betts's motive is not yet clear, and police said their investigation is ongoing with assistance from the FBI. (The ATF was also on the scene after the attack.)
The victims
Nine people were killed in the attack early Sunday morning. They have been identified as:
Lois L. Oglesby, 27, a mother of two who was in nursing school. She had reportedly just returned from maternity leave to her job at a day care center.
Megan K. Betts, 22, the sister of the shooter and a student at Wright State University.
Saeed Saleh, 38, a native of Eritrea.
Derrick R. Fudge, 57, a "good man" who "loved his family." He lived in Springfield and had been out in Oregon District with his son, his son's fiancé, and several others when he was killed, according to his sister.
Logan M. Turner, 30, a machinist whose mother described him as the "world's best son."
Nicholas P. Cumer, 25, a graduate student in Pennsylvania who was in Dayton as a part of his internship at the Maple Tree Cancer Alliance. His friends, all co-workers at a cancer treatment, had taken him out for some fun in the Oregon District on Saturday night. The group was standing on Fifth Street when the attack began. Seconds later, Cumer was dead and two of his friends had been shot, though they survived their injuries. One of Cumer's friends called the caregiver "an extraordinary human being."
Thomas J. McNichols, 25, known as TeeJay, was a tall father of four who was living with his aunt in the Dayton's Westwood neighborhood. His aunt told reporters he was a "gentle giant." He worked a Dayton-area factory, and had gone to Oregon District on Saturday night with his cousin.
Beatrice N. Warren-Curtis, 36, a mother of one who recently moved to Dayton.
Monica E. Brickhouse, 39, a native of Springfield, Ohio, who lived in Virginia and ran her own business.
The shooter
Two people who went to high school with Betts told the Associated Press that he was suspended from school at least two times after threatening classmates:
Both former classmates told the Associated Press that Betts was suspended during their junior year at suburban Bellbrook High School after a hit list was found scrawled in a school bathroom. That followed an earlier suspension after Betts came to school with a list of female students he wanted to sexually assault …
The AP found contemporaneous news accounts of the hit list in the Dayton Daily News, but Betts wasn't identified, because he was 17 at the time. After the discovery of the 2012 hit list, around a third of Betts's classmates reportedly skipped school.
Adelia Johnson, who dated Betts earlier this year, told NBC News that she met him in a psychology class, and that the two had bonded over their struggles with depression. She said that Betts often spoke about mass murders — he showed her body-camera footage from the Pittsburgh synagogue shooter on their first date — and that they had once shot rifles together. Johnson said that Betts once told her that he "would have known that his actions were deplorable."
Johnson told the Toledo Blade that while Betts had once drunkenly spoken of wanting to hurt people, she didn't think he was actually capable of such actions. She said she broke off the relationship after he attempted to deliver a letter to an ex-girlfriend whose address he had tracked down, with text to the effect of "Welcome to the neighborhood. You can't escape your past."
Further discussions with Betts's former classmates by the Dayton Daily News reveal someone whose thoughts could be so violent they disturbed even him, as one woman recalled. She told the paper that Betts once confessed to her that he'd thought "about tying her up and slitting her throat," and that he was scared of such thoughts. She said she and her parents went to the police, but they didn't take her seriously.
Another former classmate, David Partridge, said he reported Betts to the police over the hit list and he was taken into custody. "I want people in Dayton and I want people in America all to know that this could have been prevented possibly," Partridge said.
"He bought these firearms legally, and this was an individual that had a repeated pattern of violent thoughts, speaking and behavior, for years," he continued. "Somebody knew that he was collecting weapons. People were around him when he was continuing to say disturbing, violent things."
A former friend, Will El-Fakir, told the Dayton Daily News that he cut ties with Betts after he pulled out a gun and held it to his head about five months ago. "He was getting a little violent with friends," El-Fakir said. "He started bringing guns around us for no particular reason."
El-Fakir said Betts had also talked about shooting people when they were at Timothy's Bar and Grill, a popular student bar.
"There were times when he went to bars and just scoped the place out," El-Fakir said. "He'd say, 'If I brought this-or-that through here, it would have done some damage.'"
El-Fakir said he asked Betts if he was serious but he didn't answer. "No one really took him seriously," El-Fakir said. "We were all young guys and we had known each other for years. It's not something you'd see your friends doing."
Despite these incidents and the police's knowledge of them, Dayton police chief Richard Biehl said Sunday that there's "nothing in this individual's record that would have precluded him from getting these weapons."
BuzzFeed reported on Monday that Betts was the lead singer of a band called Menstrual Munchies, which was part of the Midwest "pornogrind" scene. The outlet describes pornogrind as a "genre defined by its explicit subject matter and themes of gore and violence, specifically sexual violence and necrophilia." Betts was wearing the sweatshirt of a metalcore band when he committed his massacre; the lead singer of that group condemned his actions.
As for Betts's politics, El-Fakir said he was "definitely not a right-leaning person. His political views definitely leaned to the left. And believe it or not, he was actually pro-gun control. He was actually anti-2nd Amendment."
CNN reports that Betts had expressed support for left-wing causes on his Twitter account, which was registered under the handle @iamthespookster:
The account retweeted messages supporting Sens. Bernie Sanders and Elizabeth Warren, as well as posts against ICE agents, including one that said, "these people are monsters," and multiple posts condemning police, and supporting Antifa protesters, who often use violent tactics. There were also many tweets of selfies, photos with a friend and ordinary memes and nonpolitical content.
Betts's Twitter bio read: "he/him / anime fan / metalhead / leftist / I'm going to hell and I'm not coming back." His last post reads: "Millenials [sic] have a message for the Joe Biden generation: hurry up and die." But there is no indication that Betts's politics played a role in his shooting.
Betts also appeared to be closely following the El Paso mass shooting that took place just hours before his own massacre, "liking" several tweets related to the incident, including one that labeled the suspected gunman a "white supremacist."
A federal law enforcement official said investigators are looking into whether Betts was associated with any incel groups. On Tuesday, Todd Wickerham, the special agent in charge of the F.B.I.'s Cincinnati field office, told reporters that they have "uncovered evidence that the shooter was exploring violent ideologies." He added that so far they've found no evidence of a racial motivation for the shooting.
The continuing epidemic
The rampage came about 13 hours after a 21-year-old white domestic terrorist killed 20 people and injured another 26 in an anti-immigrant attack at a Walmart in the border city of El Paso, Texas. There is no known link between the two attacks — other than being horrifying back-to-back examples of the same unchecked gun-violence epidemic. The attack also came less than a week after three people were killed and 13 injured at another mass shooting at a food festival in California.
This is a developing news story and this post will be continuously updated with new information as it becomes available.