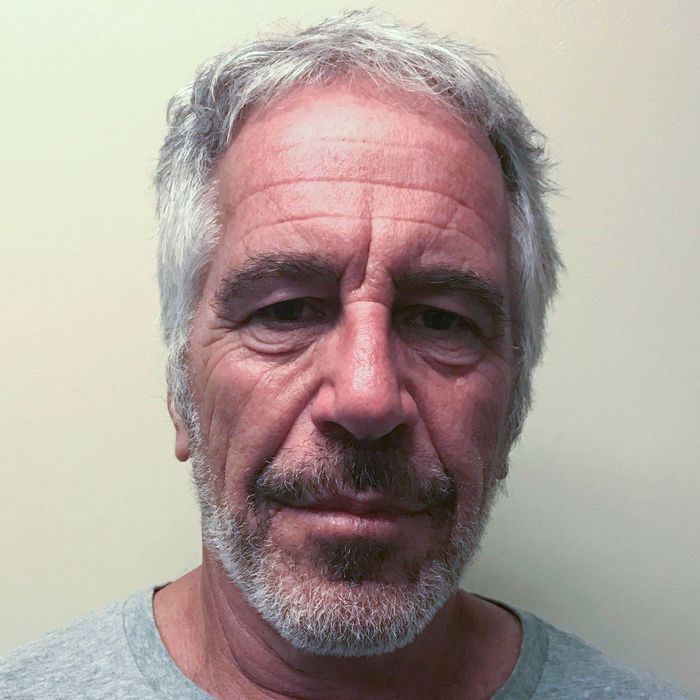 Photo: New York State Sex Offender Registry
Jeffrey Epstein, the millionaire financier and convicted sex offender, was found dead by suicide in his jail cell on the morning of Saturday, August 10. Epstein was awaiting trial on sex-trafficking charges in Manhattan's Metropolitan Correctional Center. The 66-year-old's death came less than a day after a trove of disturbing court documents was made public offering details about his alleged abuse of dozens of mostly underage girls, as well who assisted him with or participated in the abuse — documents that implicate many rich and powerful men from the elite circles Epstein was once a member of.
While conspiracy theories have run amok in the aftermath of Epstein's death, New York City's chief medical examiner has ruled that he died by suicide, and reports suggest his death may have come as a result of multiple failures on the part of the MCC and its staff. Below is everything we know so far.
The details of his death
According to NBC News, Epstein hanged himself at some point overnight Friday in his cell and was taken to a local hospital from the MCC on Saturday morning. Per the Department of Justice's official statement:
On Saturday, August 10, 2019, at approximately 6:30 a.m., inmate Jeffrey Edward Epstein was found unresponsive in his cell in the Special Housing Unit from an apparent suicide at the Metropolitan Correctional Center (MCC) in New York, New York. Life-saving measures were initiated immediately by responding staff. Staff requested emergency medical services (EMS) and life-saving efforts continued. Mr. Epstein was transported by EMS to a local hospital for treatment of life-threatening injuries, and subsequently pronounced dead by hospital staff. The FBI is investigating the incident.
CBS News reported that there was shrieking and shouting when Epstein's body was discovered the following day. Guards were heard attempting to revive him, saying, "Breathe, Epstein, breathe."
BuzzFeed revealed that purported details about Epstein's death were posted on 4Chan less than 40 minutes before ABC News broke the story on Saturday morning.
"[D]ont ask me how I know, but Epstein died an hour ago from hanging, cardiac arrest. Screencap this," reads the post, which was published along with an image of Pepe, the mascot of right-wing trolls. When others said they did not believe the original poster, the person added additional information about procedures supposedly used in an effort to revive Epstein.
A FDNY representative said that if accurate, the disclosure would be a violation of multiple privacy laws. The department is investigating.
Epstein's autopsy
On Sunday August 11, New York Medical Examiner Barbara Sampson announced that she had completed an autopsy of Epstein under the observation of a private pathologist, but that she needed more information before she could officially determine his cause of death (which is not abnormal):
Michael Baden, who was hired by Epstein's representatives, is a celebrity pathologist who conducted private autopsies of Michael Brown and former NFL tight end Aaron Hernandez.
While a Washington Post report that Epstein sustained multiple breaks in his neck bones, sparked a new round of speculation about his death possibly being a homicide, Sampson ruled out foul play in her final report. She said on Friday, August 16 that after "careful review of all investigative information," she had determined the cause of his death was "hanging" and the manner was "suicide."
Epstein's attorneys said they will conduct their own investigation.
"We are not satisfied with the conclusions of the medical examiner," the lawyers said in a statement. "We will have a more complete response in the coming days."
Epstein had been taken off suicide watch, then left alone and under-monitored
Three weeks before his death, on July 23, Epstein had been found semiconscious in his cell with marks on his neck — though it was not clear if he had tried to harm himself or had been attacked. Prison officials investigated the injury as a possible suicide attempt and put Epstein on suicide watch, which would entail placing him in a special cell where he could be constantly monitored by prison personnel and prevented from having access to any means by which he could take his own life. Epstein was also subject to a daily psychiatric evaluation during this time, according to the New York Times.
But Epstein was taken off of suicide watch on July 29 and returned to the MCC's special housing unit after a psychiatric evaluation determined he was no longer at risk of harming himself. The Wall Street Journal reported that Epstein's lawyers had requested he be removed from suicide watch.
According to The New York Times, it is standard practice at the facility for inmates who have been on suicide watch to then be housed with other inmates. Epstein was placed in a cell with another inmate at first, but that inmate was later transferred out of the special housing unit, leaving Epstein alone in the cell, which reportedly had a metal door and a small glass window. It is not clear why Epstein was not immediately assigned another cellmate.
MCC personnel then failed to follow proper procedures, which MCC officials had apparently assured Justice Department personnel they would adhere to. In addition, MCC guards are supposed to check on inmates in the special housing unit every 30 minutes, but failed to do so on Friday night. The New York Times reported that two guards in Epstein's jail unit fell asleep and failed to check on him for about three hours. In an apparent cover-up attempt, they falsified records to hide their mistake.
MCC's failures may be linked to staffing shortage, overworked employees
A prison official who spoke with the Times said that the two guards who were on duty on Friday night were both working overtime, and one was working his fifth consecutive overtime shift. According to Serene Gregg, the president of the union that represents the MCC's employees, the two guards do not normally work as correctional officers, though they were trained to do so. She told the Washington Post that many of the jail's employees have been working mandatory overtime, including 60 to 70-hour workweeks, thanks to the MCC having less than 70 percent of the correctional officers it should have. According to the New York Times, one of the guards on watch when Epstein hanged himself was a substitute.
The Justice Department announced on August 13 that it had removed MCC's warden and assigned a temporary replacement. It also placed two guards who had been assigned to Epstein on leave, pending the outcome of the investigation into Epstein's death.
On Monday, August 19 Attorney General Barr said he removed the acting director of the federal Bureau of Prisons from his job following Epstein's suicide. Hugh Hurwitz, who had been the agency's acting director, will remain at the department, serving as assistant director of Reentry Services Division.
The earlier possible suicide attempt, and what other inmates noticed about Epstein
Here is what the Daily Beast reported regarding the earlier possible suicide attempt and Epstein's behavior in jail:
Epstein had initially been held in general population at MCC, where he'd been targeted for extortion as a wealthy pedophile, a source with knowledge of his circumstances told The Daily Beast, describing Epstein's injuries from his prior alleged suicide attempt as small abrasions around his neck. …




At the time of [that] attempt, he shared a cell with Nicholas Tartaglione, a former police officer charged with kidnapping and murdering four people in 2016. …




Tartaglione's lawyer, Bruce Barket, told authorities his client had saved Epstein's life during the first suicide attempt by alerting corrections officers. He claimed Tartaglione was being implicated in the suicide attempt because he'd recently complained about conditions at the Metropolitan Correctional Center, saying in a statement at the time, "we warned the judge that officials at the jail would retaliate against Nick because we have been exposing the inhumane conditions at the facility."
The Beast's source said that Epstein "lived like a pig in a sty" after his first attempted suicide, eating meals off the floor and making frequent requests for toilet paper.
There is apparently no video footage of what happened
The New York Post reported that no surveillance video exists of Epstein's death. According to the Post's sources, there are indeed video cameras in the section of the MCC where Epstein was housed on Friday night, but none target the inside or outside of the cells there.
The Washington Post reported that "at least one camera in the hallway outside the cell where authorities say registered sex offender Jeffrey Epstein hanged himself earlier this month had footage that is unusable" and that it is "unclear whether the flaw in the taping affected a limited duration of the footage or whether it was a chronic problem in the beleaguered Manhattan facility."
Epstein's death being investigated by the FBI, Justice Department, and New York Medical Examiner's Office
The Department of Justice announced on Saturday, August 10, that the FBI had opened an investigation into the circumstances of Epstein's death — meaning that the FBI is looking to see whether or not a crime was committed. Attorney General William Barr additionally announced that the Justice Department's inspector general would be conducting an investigation. Barr said he was "appalled to learn" that Epstein had taken his own life while in federal custody and that the incident "raises serious questions that must be answered."
Two days later, he said the Justice Department had found "serious irregularities" at the Metropolitan Correctional Center, and that prison staff had "failed to adequately secure this prisoner," but did not go into further detail.
It seems likely that there will be some congressional inquiries into the matter.
The investigation into Epstein, his crimes, and his co-conspirators will continue
One major concern following Epstein's death is the fate of the investigation into his abuse of countless underage girls, as well as the potential consequences for his accomplices.
According to former federal prosecutor Renato Mariotti, the criminal case against Epstein dies with him:
Jeffrey Epstein's suicide ends the criminal case against him because no one else was charged in the indictment. … [It] means that there won't be a public trial or other proceedings that could reveal evidence of his wrongdoing. Evidence collected via grand jury subpoena won't be released to the public. It's still likely that the public will learn additional information from civil cases by victims against his estate or non-criminal investigations (for example, the DOJ OIG investigation).
On the Cut, Matthew Schneier pointed out that Epstein's death still meant that "thousands of questions may never have satisfactory answers, and focus is likely to intensify on his collaborators, co-conspirators, enablers, and friends." Schneier then highlighted what a trove of newly unsealed court documents says about Ghislaine Maxwell, Epstein's best friend and alleged accomplice.
Epstein's associates may now receive the full brunt of prosecutors' attention, according to the Miami Herald's Julie K. Brown:
[With Epstein's] death, prosecutors in the Southern District of New York will likely refocus their probe on Maxwell, Sarah Kellen Vickers, Adriana Ross and Lesley Groff — all of whom allegedly helped run Epstein's operation in the mid- to late-2000s. Another woman, Nadia Marcinkova, who is now a commercial pilot, was accused of sexually abusing some of the underage girls.
The SDNY ultimately confirmed as much:
But the result of that process is hard to predict, former U.S. attorney Barbara McQuade added in an interview with Intelligencer:
It may be that never pans out into any charges, for lots of reasons: A lack of evidence, evidence that's unavailable because you needed Epstein. So it could be that we never hear anything more about it. But I think they'll continue to investigate, and if they find evidence of a crime, that will become publicly known.
On Monday August 12, at least a dozen FBI agents raided Epstein's Little St. James residence. According to NBC News, the bureau was searching for evidence that could link co-conspirators to alleged crimes committed on the island.
Public pressure has increased on Epstein's co-conspirators: Ghislaine Maxwell has been reportedly been found laying low in a colonial mansion in the seaside town of Manchester-by-the-Sea, north of Boston. And Prince Andrew, the royal who allegedly had sex with Epstein victim Virginia Roberts Giuffre, has reportedly retired from public life.
After video of Prince Andrew hanging out in Epstein's New York home in 2010 surfaced online, Buckingham Palace released the following statement:
The Duke of York has been appalled by the recent reports of Jeffrey Epstein's alleged crimes. His Royal Highness deplores the exploitation of any human being and the suggestion he would condone, participate in or encourage any such behaviour is abhorrent.



The response from Epstein's victims
The Miami Herald's Julie K. Brown passed along some reactions from Epstein's stunned victims:
Jena-Lisa Jones, who was molested by him when she was 14, said that Epstein took the coward's way out. "I just can't believe it, we were finally feeling that we might have some justice after all these years,'' she said, her voice cracking.




Eva Ford, the mother of victim Courtney Wild, was angry. "How does someone who is this high profile commit suicide? They had to have cameras on him! Someone must have been paid to look the other way,'' Ford said.




"I just want wanted him to be held accountable for his actions. I would never wish that somebody would die but he took the easy way out,'' said victim Michelle Licata.
Added Jack Scarola, an attorney representing several of Epstein's victims:
It is inexplicable how such a high-profile person on suicide watch could commit suicide without help. … Epstein once again cheated his victims out of an opportunity for justice. While I'm sure none of them regret his death, all of them regret the information that died with him. The one expectation is that Epstein's death not derail the investigation into others who participated in his criminal activities. There are named and unnamed co-conspirators who still need to be brought to justice.
Roberta Kaplan, who represents one of Epstein's then-underage victims, said that Epstein's demise was "not only emotionally devastating but a real emotional roller coaster."
Jennifer Araoz, one of Epstein's accusers, forged ahead with plans to sue Epstein on Wednesday, filing a suit against his estate, his alleged madam, Ghislaine Maxwell, and three unnamed female household staffers. Arazoz, who was not named in the sex-trafficking indictment against Epstein, came forward last month, saying Epstein repeatedly sexually assaulted her when she was 14 and 15 years old, and forcibly raped her in 2002. The lawsuit was one of the first filed under New York's Child Victims Act, which went into effect last week. It gives victims of child sexual abuse a chance to file civil cases against alleged abusers for the next year even if the statute of limitations has passed.
Two more Epstein accusers filed a lawsuit against his estate and an unnamed "recruiter" on Thursday, August 15, seeking $100 million in damages.
The inevitable suspicion and speculation
Considering Epstein's extensive links to the rich and powerful — including presidents Trump and Clinton — Epstein's death by post-suicide-watch suicide quickly led to suspicion and conspiracy theories from across the political spectrum. (Read our roundup of the top theories here.)
As tech and media commentator Charlie Warzel noted on Sunday, Epstein's death is "in many ways, the post-truth nightmare scenario":
The sordid story contains almost all the hallmarks of stereotypical conspiratorial fodder: child sex trafficking, powerful global political leaders, shadowy private jet flights, billionaires whose wealth cannot be explained. As a tale of corruption, it is so deeply intertwined with our current cultural and political rot that it feels, at times, almost too on-the-nose. The Epstein saga provides ammunition for everyone, leading one researcher to refer to Saturday's news as the "Disinformation World Cup."
Trump and allies push anti-Clinton conspiracy theory
Soon after the news broke, controversial Trump administration personality (and regional HUD director) Lynne Patton wrote on Instagram that Epstein had been "Hillary-d" — an attempt to promote a longstanding right-wing conspiracy theory falsely alleging that Bill and Hillary Clinton were responsible for the death of former White House lawyer Vince Foster.
Patton specifically referenced Foster, tagging the tabloid news post she shared about Epstein's death "#VinceFosterPartTwo."
She wasn't the only one trying to connect Epstein's death to the Clintons. Fox Business host Lou Dobbs tweeted a reference too, and #clintonbodycount began trending on Twitter on Saturday morning — a reference to a debunked conspiracy meme suggesting the Clintons had ordered dozens of people killed. Later, #trumpbodycount started trending in response, but it's important to remember that both efforts may have been boosted by trollbots, and much of the conspiracy-minded response was based on the reportedly mistaken notion that Epstein died while on suicide watch.
By the early evening, the trending theory had attracted the attention-obsessed president of the United States, who himself retweeted two tweets linking the Clintons to Epstein and his death. A senior White House official told Axios: "I think we're beyond the point of trying to control these things."
The non-Trump political response
Politicians on both sides of the aisle have been expressing their alarm over what happened. Senator Ben Sasse, the Nebraska Republican who chairs the Senate Judiciary Committee, said that it was "inexcusable that this rapist was not under constant suicide watch," and that by letting Epstein take his own life, the federal government had failed Epstein's victims for the second time. "Obviously, heads must roll," Sasse added in a letter to Attorney General William Barr:
Every single person in the Justice Department — from your Main Justice headquarters staff all the way to the night-shift jailer — knew that this man was a suicide risk, and that his dark secrets couldn't be allowed to die with him. … It should have been abundantly clear that Epstein would go to any lengths to avoid being held accountable for his crimes, including by killing himself. Being responsible for Epstein's custody and prosecution, the Department of Justice should not have allowed this to happen.



Sasse hasn't said anything about the Senate Judiciary Committee investigating the matter yet. California Democrat Ted Lieu, meanwhile, has called for the House Judiciary Committee to launch an inquiry in Epstein's death.
Epstein's finances, and the fate of his fortune
Another recurring question in light of Epstein's demise is what will happen to his alleged fortune. Federal prosecutors have estimated Epstein's wealth at over $500 million, but it still remains a mystery how much he really had — or how he earned it.
The New York Times reported that two of the banks that did business with the shady financier, Deutsche Bank and JPMorgan, have been going through their records in order to determine what he used his accounts for. Deutsche Bank has already been sharing its Epstein records with authorities, while JPMorgan anticipates being asked to do the same.
Lisa Bloom, who is representing some of Epstein's victims, said on Sunday that she intends to sue Epstein's estate on behalf of two clients. It is also possible that the SDNY could try to seize Epstein's assets with a civil-forfeiture action.
Highlighting an epidemic
Reform advocates, academics, and others who are familiar with the prevalence of inadequate mental health care in America's jails and prisons seem to be the least surprised by Epstein's death by suicide.
The Miami Herald spoke with criminal justice professor Christine Tartaro, who has written a book about the issue of suicide behind bars. She explained that inmates often harm themselves at pretrial facilities (jails), where suicide is the leading cause of death. She said that Epstein being put on, and then taken off, suicide watch is not uncommon — nor is an inmate relapsing back into suicidal behavior afterward.
"The point of suicide watch is to get them through the initial suicide crisis, and then to work on helping the inmate navigate the correctional environment without attempting suicide," she explained, adding, "There are situations in which the inmate will feel better, and then regress and become suicidal again."
The Human Rights Defense Center's Deborah Golden told the Herald that the Bureau of Prisons, which runs federal facilities like the MCC, is known for providing inadequate mental health care and not employing enough psychiatrists. "They do a bad job at suicide prevention," the reform advocate insisted, noting that suicide watch in federal facilities is typically more like special punishment than an intervention.
Inmate suicide expert Lindsay M. Hayes added that the punitive nature of suicide watch, which is highly restrictive and difficult to endure for inmates, leads many of them to fake feeling better when speaking with their evaluators. In addition, Hayes explained, assessing the suicide risk of inmates is a difficult process, and may have been even more challenging with an atypical inmate like Epstein.
This is a developing story and this post has been updated throughout. Please check back for more updates.