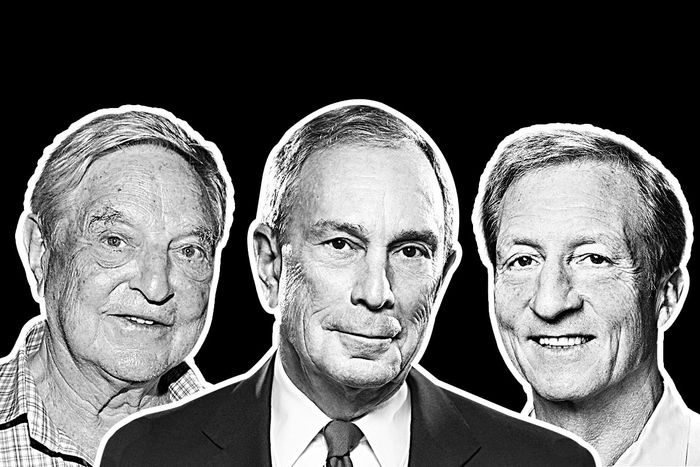 Whose money are the 2020 hopefuls gunning for?
Photo: Patrick McMullan/Bloomberg Philanthropies/Wikimedia/Gage Skidmore/Wikimedia
It's a weird time to be a liberal billionaire. Almost all of the Democratic presidential candidates have sworn off help from super-PACs and made a big show of rejecting cash from a wide range of potential donors: lobbyists, corporate PACs, and pharma execs included. Bernie Sanders and Elizabeth Warren have ruled out headlining closed-door fund-raisers altogether.
But that doesn't mean the moguls of the left aren't watching the race closely. Some rich progressives are looking at ways to sway the primaries, and others are biding their time until a nominee emerges. Still, while Hillary Clinton had decades-long relationships with some of the party's biggest contributors last time around — like investor Haim Saban, who has sent Democrats tens of millions of dollars over the years and stayed in close touch with Clinton throughout her campaign — few of today's candidates have those friendships. And the donor pool has changed since 2016 with the arrival of a handful of tycoons who have woken up to politics in the Trump era, like Facebook co-founder Dustin Moskovitz (see below), and with the departure of others, like J. B. Pritzker of the Hyatt-hotel family, who's no longer a megadonor because he got a new job (as the governor of Illinois). While none of the available contributors have shown a willingness to go full Sheldon Adelson (who has given $300 million-plus in donations to Republican candidates and groups in federal elections since 2012, according to Center for Responsive Politics' analyses of Federal Election Commission data) or Koch brothers (with their own sprawling political empire), here are the ones who could have the most sway over the coming year in both the primaries and the general election, according to campaign veterans and a review of donation records.
*This article appears in the August 19, 2019, issue of New York Magazine. Subscribe Now!