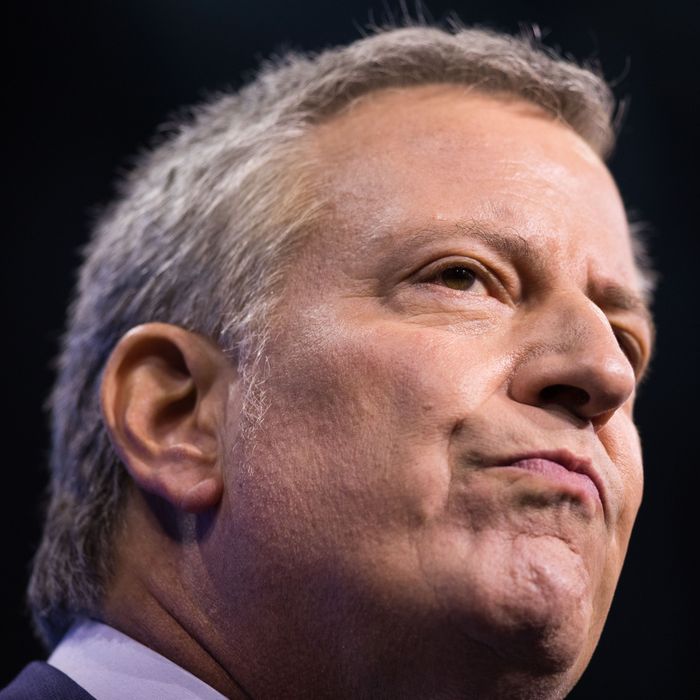 Photo: SCOTT EISEN/Getty Images
On Friday morning, there was a significant addition to the long list of people who believe Bill de Blasio should not be running for president: the New York mayor himself. De Blasio announced he would drop out of the 2020 race during an interview on MSNBC's Morning Joe.
"I feel like I have contributed all I can to this primary election. It's clearly not my time, so I'm going to end my presidential campaign," de Blasio said.
Despite a list of progressive accomplishments in New York, such as universal pre-K and raising the minimum wage to $15, what de Blasio contributed to the primary race was mainly an opportunity to make jokes about the wild unpopularity of his presidential bid. In the months before the mayor announced his campaign, everyone from former aides to his own wife expressed doubts about his run. In April, a Quinnipiac poll found 76 percent of New Yorkers felt he should not launch a 2020 campaign, with only 18 percent supporting the idea. These reservations proved well-founded. After he entered the race, de Blasio consistently polled around 0 to 1 percent, and he had little chance of qualifying for the October debate. A Siena College poll released three days ago had de Blasio at 0 percent among voters in both New York City and New York State.
As New York's Ed Kilgore noted, de Blasio's presidential bid wasn't really that ridiculous on paper, but he suffered a unique disadvantage: "New York media is a tad larger and more carnivorous than, say, the media in the hometown of his fellow mayor, Pete Buttigieg of South Bend, Indiana."
Were people in Pennsylvania's 7th congressional district rolling their eyes when their former congressman, Joe Sestak, entered the race? Maybe, but his campaign launch wasn't met with a cover story like this in his hometown paper:
Who knows what humiliations Tim Ryan suffered while the media was focused on de Blasio's campaign announcement being scooped by a high school journalist, his aimless day at the Iowa State Fair, his absence during New York's massive summer blackout, and his Trump Tower press conference being drowned out by chants of "you suck."
To be fair, that heckling came from people holding "Trump 2020" signs, not fellow Democrats. De Blasio tried to cast himself as the perfect foil to Donald Trump, as he'd already taken on the president and won. But even his most memorable attack, calling the president "ConDon," drew mockery because it means condom in Spanish. And of course, the president had to get in one last jab at his hometown challenger:
This post has been updated throughout.