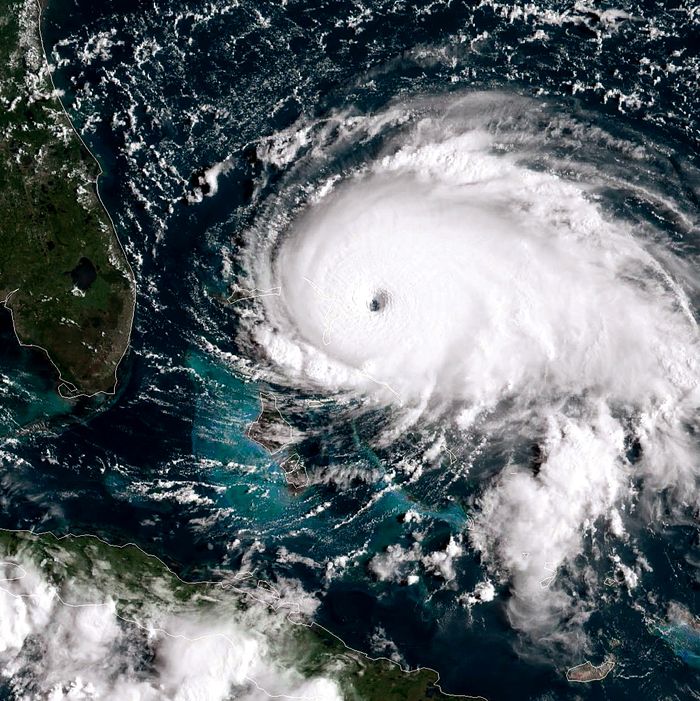 Hurricane Dorian hovering over the Bahamas on Sunday.
Photo: NOAA Handout/Getty Images
Hurricane Dorian, now the second most powerful Atlantic storm ever recorded, smothered and battered the northern Bahamas at Category 5 strength on Sunday and Monday, making landfall with sustained wind speeds of 185 miles per hour. The storm dropped to a Category 1 early on Friday morning, but continued lashing eastern North Carolina and southeast Virginia, delivering heavy rains, storm surges, and sustained winds of up to 90 miles per hour.
Below is what we know about the storm's present state, path, and potential impact.
Where is Dorian now — and how strong is it?
For days Dorian remained offshore as it crawled up the East Coast, but it finally made landfall at 8:35 a.m. Friday over Cape Hatteras, North Carolina.
Thursday and overnight into Friday, Dorian caused flooding in the Carolinas and spawned nearly two dozen tornados. As of Friday morning, more than 418,000 people were without power in the Carolinas and Virginia, according to poweroutage.us.
"Life-threatening storm surge and dangerous winds are expected to continue along portions of the North Carolina coast, portions of southeast Virginia and the southern Chesapeake Bay," the National Hurricane Center said Friday morning. "Flash flooding is occurring, and will continue to become more widespread across the eastern Carolinas and far southeast Virginia this morning."
North Carolina governor Roy Cooper issued a mandatory evacuation order for residents living in vulnerable coastal areas on Tuesday. The order went into effect at 8 a.m. on Wednesday, and all residents of the state's barrier islands were required to evacuate. Governor Cooper also requested a federal emergency designation for the state, which was approved by President Trump.
"We know we can't make everybody happy, but we believe we can keep everyone alive," McMaster said.
All evacuation orders have been lifted from South Carolina, Georgia, and Florida.
Where will Dorian strike next, and when?
Dorian is moving northeast at a pace of 14 miles per hour, and is expected to maintain speed through Saturday. According to the National Hurricane Center's 8 a.m. forecast, the center of the storm should move to southeastern New England from Friday night to Saturday morning. It is expected to become a post-tropical cyclone with hurricane-force winds by Saturday night as it moves to Nova Scotia.
How has Dorian affected the Bahamas?
The National Hurricane Center described conditions in the Bahamas Sunday as a "life-threatening situation," and by Monday afternoon it was clear that description was accurate. Thirty deaths have already been reported, and the number is expected to rise. (Click here for a full accounting of the rescue and recovery efforts in the Bahamas.)
When the storm made landfall just after midday Sunday at Elbow Cay, Abacos, its sustained wind speeds of 185 mph were the second highest ever recorded in the Atlantic (a tie with three other storms) and the highest among Atlantic storms that have made landfall (a tie with the devastating 1935 Labor Day hurricane that struck the Florida Keys).
As a result, the Bahamas faced the most powerful storm in its recorded history on Sunday and Monday. The northern islands in Dorian's path experienced "catastrophic" conditions — including wind gusts of more than 220 mph, an 18-to-23-foot storm surge, and as much as 30 inches of torrential rain in some areas. As it sat over the archipelago, Dorian maintained Category 4 and Category 5 intensity for an abnormally long time.
Darren Henfield, Bahamian minister of Foreign Affairs, said there have been multiple unconfirmed reports of casualties. "From all accounts, we have received catastrophic damage," he said. "We have reports of casualties. We have reports of bodies being seen. We cannot confirm those reports until we go out and see for ourselves."
The damage to the Bahamas is "unprecedented," the prime minister of the Bahamas, Hubert Minnis, said in a tweet. "Our focus right now is rescue, recovery and prayer," he wrote. The storm has spent a devastating amount of time sitting over Grand Bahama.
Social media videos showed flooding and vicious winds ripping through the islands. Reports indicated that the Grand Bahama International Airport in Freeport, the country's second-largest city, was five feet underwater.
The island of Great Abaco was hit particularly hard. Per the Washington Post: "Social media images showed patches of land, homes and buildings entirely submerged. In other images, homes appeared ripped off their foundations by a storm that could feel like a massive tornado."
This post has been repeatedly updated and revised across the progression of the storm.