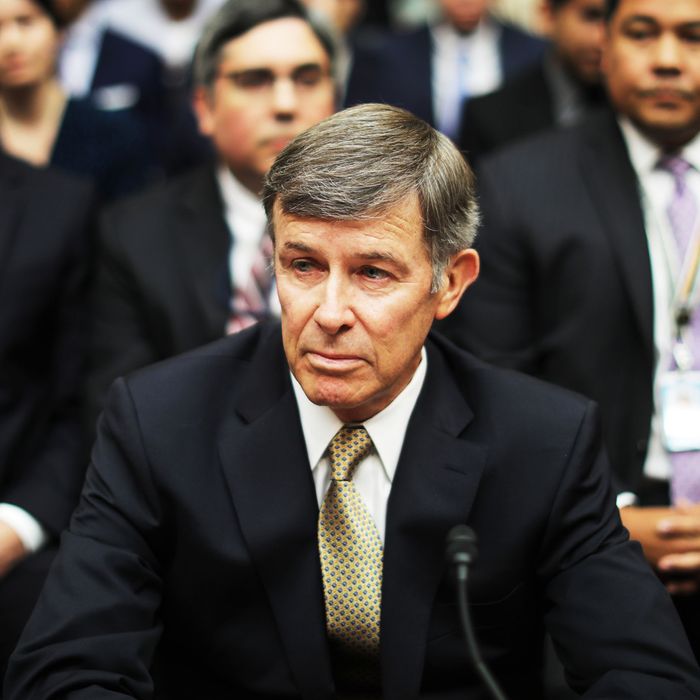 Acting Director of National Intelligence Joseph Maguire appears in front of Congress.
Photo: Chip Somodevilla/Getty Images
Joseph Maguire, the acting director of national intelligence, went before the House Intelligence Committee Thursday to discuss his handling of a whistle-blower complaint that raises concerns over President Trump's communications with Ukraine's president and led Democrats to launch impeachment proceedings against Trump this week.
A declassified version of the complaint was released to Congress on Wednesday and, minutes before Maguire's testimony, House Intelligence Chair Adam Schiff released it to the public. "This complaint should never have been withheld, and it provides a roadmap for our investigation," Schiff wrote in a tweet. "We will do everything we can to protect this courageous whistle-blower. The public has a right to see the complaint and what it reveals."
The complaint alleges that Trump is "using the power of his office to solicit interference from a foreign country in the 2020 U.S. election." It also says there was an attempt to cover up Trump's actions.
Below are live updates from Maguire's testimony, with the most recent developments first:
The hearing is over.
The hearing ended just before 12:30 Thursday, after three hours of testimony from Maguire, who will now head to a closed hearing of the Senate Intelligence Committee. His House testimony produced some key sound bites that will mostly please Democrats. He called the whistle-blower complaint "unprecedented" and "unique." He said the whistle-blower "did the right thing." And he said pressuring a foreign government for help with a U.S. election is "bad for the nation."
Republicans, meanwhile, are signing roughly the same tune after the hearing as they were before it. Kayleigh McEnany, National Press Secretary for Trump's re-election campaign, said in a statement Thursday, "Democrats are trying to block the inevitable re-election of President Trump because they know they can't beat him fair and square at the ballot box. "
Another key quote.
"Is it ok for a president to pressure a foreign government for help to win an election?" Rep. Denny Heck asked Maguire as the hearing began to wind down.
"It is unwarranted, it is unwelcome, it is bad for the nation to have outside interference," Maguire said.
Eric Swalwell brings up the alleged cover-up.
One of the new revelations in the whistle-blower complaint that did not come up until Rep. Eric Swalwell questioned Maguire is the allegation that the transcript of Trump's call with Zelensky was improperly moved to a secure storage system. According to the whistle-blower complaint, a White House official described this as an abuse of the system. In a press conference Thursday, House Speaker Nancy Pelosi described it a bit differently, saying, "This is a cover up."
Under questioning from Swalwell, Maguire would not comment on this part of the complaint. "This is an allegation that has been made, does not necessarily mean that that is a true statement," he said.
What is Rudy Giuliani's job anyway?
Representative Mike Quigley, a Democrat, brought up Rudy Giuliani's role in Trump's attempts to have Ukraine investigate former Vice-President Joe Biden. What, Quigley asked, is Maguire's reaction to Giuliani, a civilian, working on such sensitive issues with the president. "Were you aware of his role?" Quigley asked.
"My only knowledge of what Mr. Giuliani does, I have to be honest with you, I get from TV and from the news media. I'm not aware of what he does, in fact, for the president," Maguire said.
Maguire won't say if he discussed whistle-blower complaint with Trump. But …
During questioning from Representative Jim Himes, a Democrat, Maguire refused to say whether he had discussed the whistle-blower complaint with President Trump because, he said, he couldn't talk about any conversations with Trump. "My conversations with the president, because I'm the director of national intelligence, are privileged," he said. "I will not divulge privileged conversations that I have, as the director of national intelligence, with the president."
Later though, he did divulge a conversation with Trump — or the lack of one, at least. When Democratic Representative Jackie Speier asked if Trump asked Maguire to "find out the identity of the whistle-blower," Maguire answered: "Although I would not normally discuss my conversations with the president, I can tell you emphatically, no."
Republicans are unhappy with Schiff.
Some GOP members of the committee have taken issue with the way Schiff opened the hearing. In his remarks, the chairman reconstructed the call between Trump and Zelensky but exaggerated many of the president's quotes. It was, he said later, a "parody." Expect to hear more about this from Trump and his allies.
GOP congressman to Trump: "This is not okay."
During his time to question Maguire, Ohio congressman Mike Turner, a Republican, made a somewhat surprising statement about the conversation between Trump and his Ukrainian counterpart. "Concerning that conversation, I want to say to the president: This is not okay. That conversation is not okay. And I think it's disappointing to the American public when they read that transcript."
Nunes tells Maguire to "have fun" and "be careful."
At the end of his questioning of Maguire, Nunes told the acting DNI to "have fun" and "be careful what you say because they're going to use these words against you." Maguire, of course, is under oath.
Schiff gets the money quote.
After pressing Maguire on how he handled the whistle-blower report, Schiff turned to the person who blew the whistle. Is that person a "political hack," as Trump has said, Schiff asked? Maguire danced around the answer before providing the quote that Schiff was no doubt looking for: "I believe the whistle-blower did the right thing."
Maguire defends himself — and the whistle-blower.
"I am not partisan, and I am not political," Maguire told the committee in his opening statement. He pushed back against criticism for not previously giving the committee the whistle-blower complaint, saying that the White House counsel's office told him it was a matter of executive privilege. That is a "privilege that I do not have the authority to waive," he said.
Maguire also said the whistle-blower and Michael Atkinson, the inspector general of the intelligence community, "acted with good faith throughout." He added: "I have every reason to believe that they have done everything by the book and followed the law."
Devin Nunes defends Trump and trashes Democrats.
Devin Nunes, the lead Republican on the House Intelligence Committee, previewed the argument that many Trump allies are sure to make at today's hearing. He compared the whistle-blower complaint to the Steele dossier, brought up the "Russia hoax" and "fake news," and accused Democrats of trying to obtain nude pictures of Trump from Ukraine.
Adam Schiff says Trump "betrayed his oath of office."
Schiff began Thursday's testimony with an opening statement in which he said that the summary of the phone call between Trump and Ukraine's president, Volodymyr Zelensky, is "the most graphic evidence yet that the president of the United States has betrayed his oath of office." The call, Schiff said, "reads like a classic organized crime shakedown."
"It would be funny it wasn't such a graphic betrayal of the president's oath of office."