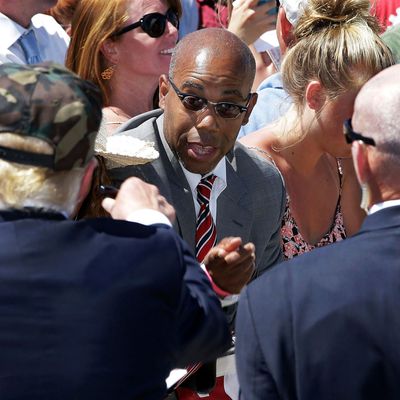 Gregory Cheadle, real-estate broker and former Trump supporter once described as "my African-American."
Photo: Rich Pedroncelli/AP/Shutterstock
One of the memorably surreal moments of the Trump era came during the 2016 campaign when Trump scanned his crowd, noticed a black face and blurted out, "Look at my African-American over here!" The combination of the singular and the possessive ("my") made the tokenism of the gesture hilariously overt.
Yamiche Alcindor reports that Gregory Cheadle, the man Trump called out at that rally, has had enough. Cheadle, a real-estate broker who approves of Republican economic policy, is reclassifying as an independent due to what he calls Trump's "white superiority complex," and the failure of the party to stand up to the president's bullying, including his offensive tweets against nonwhite Democrats in Congress.
"We just haven't had people called the names publicly that we have had with this administration," says Cheadle. "To stay on this ship now, as a black Republican, I couldn't do it."
Despite the loss of his African-American, at least some of the roughly 37 million African-Americans still support him. Trump's campaign has positioned a man they call "Michael the Black man" behind Trump at many rallies, where he holds a sign identifying himself as a member of (shrewdly using the plural) "Blacks for Trump." His actual name is Maurice Symonette, not Michael. Also he is crazy.
Trump has also thanked the African-American community for not voting. So even with "my African-American" gone, he still has alternative ways of expressing his very deep support in the community.