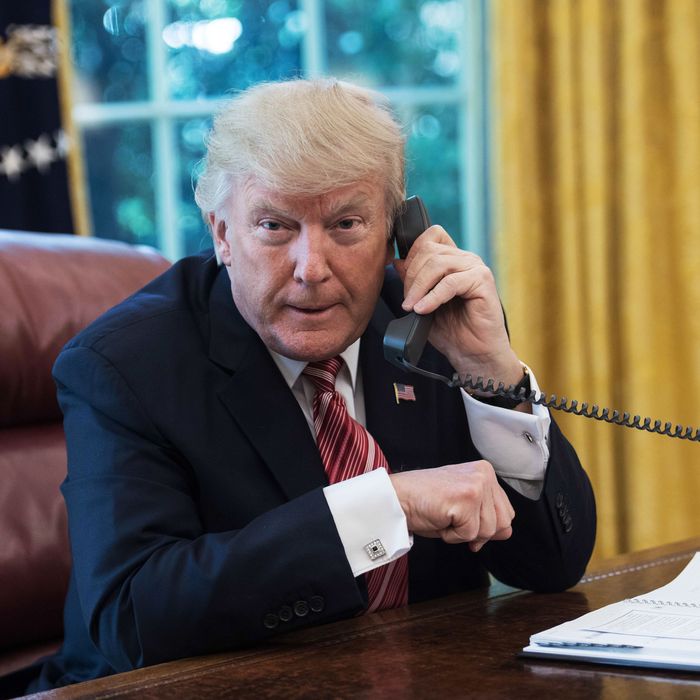 Trump asked Ukraine for a "favor."
Photo: Nicholas Kamm/AFP/Getty Images
The White House on Wednesday released a memorandum summarizing the July 25 telephone conversation between President Trump and President Volodymyr Zelensky of Ukraine, which was the subject of a whistle-blower complaint, as well as weeks of intense speculation.
The memo begins with Trump congratulating Zelensky on a recent electoral victory. The Ukrainian president then tells Trump he would like to buy more Javelin anti-tank missiles, which the U.S. first sold to Ukraine last year. Trump replies by saying, "I would like you to do us a favor though because our country has been through a lot and Ukraine knows a lot about it." He goes on to mention CrowdStrike, the U.S.-based technology company that investigated the hacking of the Democratic National Committee in 2016, and former special counsel Robert Mueller.
Later in the conversation, Trump asks Zelensky to work with Attorney General William Barr to "get to the bottom" of corruption claims against former Vice-President Joe Biden and his son, according to the memo. "There's a lot of talk about Biden's son, that Biden stopped the prosecution and a lot of people want to find out about that so whatever you can do with the Attorney General would be great," Trump says.
It is unclear what has been left out of the memo, in which Trump also discusses the investigation into the 2016 election, and sending his personal attorney Rudy Giuliani to Ukraine. Among the other notable parts of the conversation is Zelensky telling Trump that last time was in the U.S., he stayed at a Trump property. Read the entire memo below: