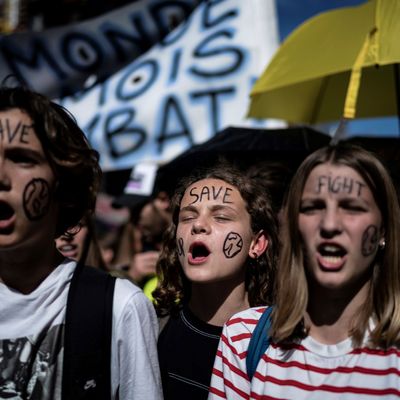 Protesters take part in a protest for climate action as part of a Global Climate action day in Brussels on September 20, 2019.
Photo: Kenzo Tribouillard/AFP/Getty Images
On September 23, the United Nations will open its Climate Action Summit here in New York, three days after Friday's Global Climate Strike, led by Greta Thunberg, sweeps through thousands of cities across the globe. Here, Intelligencer is gathering images of the strike from around the world, starting with the very first marches in the Solomon Islands — check back throughout the day for updates. And for further reading, dive into State of the World, a series of in-depth interviews with climate leaders from Bill Gates to Naomi Klein and Rhiana Gunn-Wright to William Nordhaus interrogating just how they see the precarious climate future of the planet.
New York
Washington, D.C.
New Orleans, Louisiana
Austin, Texas
Chicago, Illinois
San Francisco, California
Mexico City, Mexico
Santiago de Chile, Chile
London
Kent, England
Edinburgh, Scotland
Cardiff, Wales
Brussels, Belgium
Paris, France
Berlin, Germany
Vienna, Austria
Stuttgart, Germany
Turin, Italy
Stockholm, Sweden
Kraków, Poland
Warsaw, Poland
Zagreb, Croatia
Kiev, Ukraine
Cape Town, South Africa
Johannesburg, South Africa
Nairobi, Kenya
Wakiso, Uganda
Kathmandu, Nepal
Dhaka, Bangladesh
Hong Kong
Bangkok, Thailand
Islamabad, Pakistan
Karachi, Pakistan
Kolkata, India
New Delhi, India
Colombo, Sri Lanka
Bali, Indonesia
Jakarta, Indonesia
Quezon City, Philippines
New Caledonia
Tokyo, Japan
Seoul, South Korea
Melbourne, Australia
Sydney, Australia
Vanuatu
Solomon Islands