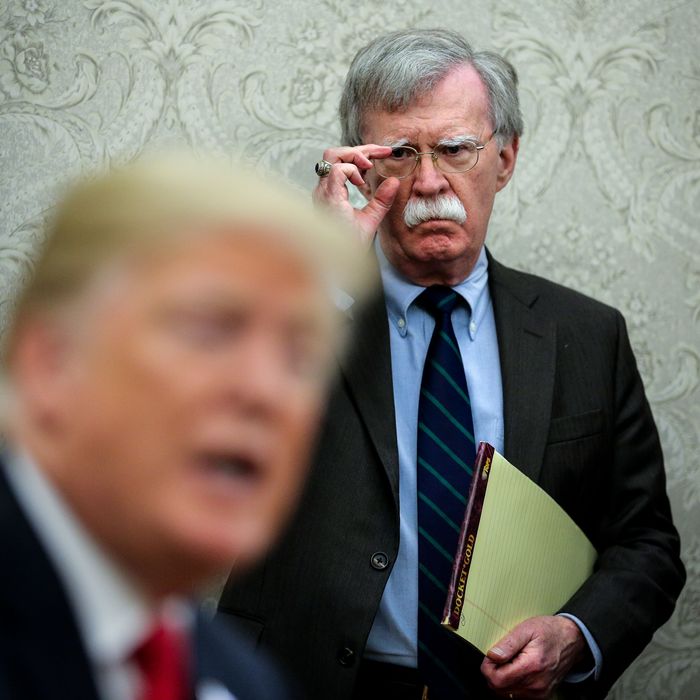 Not a view Bolton will enjoy anymore.
Photo: Oliver Contreras/The Washington Post/Getty Images
With no warning, President Trump announced on Tuesday that John Bolton, the bellicose national security adviser whose instinct for foreign intervention has clashed with the president's relative dovishness, is no longer working in the White House.
Bolton was Trump's third national security adviser, after Michael Flynn (who may be on his way to prison) and H.R. McMaster (whom Trump apparently now misses). Deputy National Security Adviser Charlie Kupperman, a close aide of Bolton's, was announced as his temporary replacement.
Bolton responded to the news of his departure almost immediately on Twitter, seeming to dispute the details of how, exactly, he was let go.
A few minutes later, Fox News' Brian Kilmeade received a text from Bolton claiming that he did, in fact, resign. But Bolton continued to maintain that he was never explicitly asked to do so.
Just an hour before Trump's tweets, Bolton was leading a meeting about refugee admissions. He had also fired off a characteristically aggressive tweet about Iran on Tuesday morning. And the White House had scheduled an afternoon press conference featuring Bolton, Secretary of State Mike Pompeo, and Treasury Secretary Steven Mnuchin before the news came down.
Bolton's detractors — a large group, reportedly including the First Lady, the Vice President, and, according to the Post, "countless Defense Department officials" — were happy to see him go. Among them was Republican senator Rand Paul, who once called Bolton a "menace" who "never learned and never will."
But Senator Mitt Romney said he was "very, very unhappy" that Bolton was out, and other Republican lawmakers, including Senator Lindsey Graham, had kind things to say about him.
Dating back to Bolton's stint as undersecretary of state and ambassador to the United Nations and beyond, the mustachioed hawk has maintained a reputation as a ferocious political infighter who tends to alienate those who work for and around him — including Pompeo, with whom he reportedly had a strained relationship.
Bolton's bomb-first-ask-questions-later philosophy also stood in stark contrast to President Trump's less martial instincts. On Venezuela, Iran, and North Korea, Bolton has consistently advocated for a more aggressive posture than his boss.
The latest issue to divide the two was Afghanistan; Bolton disagreed strongly with Trump's decision to invite Taliban negotiators to Camp David, and did not think the president should support the peace deal he came close to approving. Though the Taliban meeting was ultimately called off and the deal is off the table for now, the New York Times reports that Trump was "irritated" with Bolton over his objections, and that Bolton's attempt to portray Vice-President Pence as similarly opposed to the peace deal may have been the straw that broke the camel's back. Bolton, the Washington Post reports, had begun to annoy the White House in recent months by lobbying members of Congress to push his preferred policies to Trump. And personally, he was "increasingly abrasive and self-promoting," the paper reports. There is, apparently, room for only one Trump in the White House.
For Bolton's part, he said it was an "accumulation of things" that led to his resignation.
With their markedly different philosophies on foreign conflict, Trump and Bolton were an unlikely pair from the start. But Axios reported earlier this year that the president saw him as a "bad cop" who could increase the White House's leverage against adversaries. But Bolton's tendency to get under his co-workers' skin apparently outweighed his value in negotiations.
At Tuesday afternoon's press conference, which went ahead with just Pompeo and Mnuchin on Tuesday, the pair did not exactly seem upset about their colleagues' departure.
Those smiles, especially Pompeo's, are likely about more than the departure of a notorious crank. The Secretary of State has also lost his main rival for Trump's ear of foreign-policy issues. As Eurasia Group chairman Cliff Kupchan told the Post, "Bolton's departure gives Pompeo more running room."
Later on Tuesday, Bolton made things official with his resignation letter, which, like the man, was unsentimental.
For now, Bolton's former deputy Charlie Kupperman will fill in as national security adviser. A one-time official in the Reagan administration and former executive at both Lockheed Martin and Boeing, Kupperman has reportedly endeared himself to Trump with a facts-only style and general blandness that, the Times reports, has earned him the nickname "Kupperware." Among the other candidates to step into the role of national security adviser are Stephen Biegun, the U.S. special representative to North Korea, and Brian Hook, the special representative for Iran. Also reportedly on the shortlist is Douglas Macgregor, who made the case for himself Tuesday night on Tucker Carlson's Fox news show.