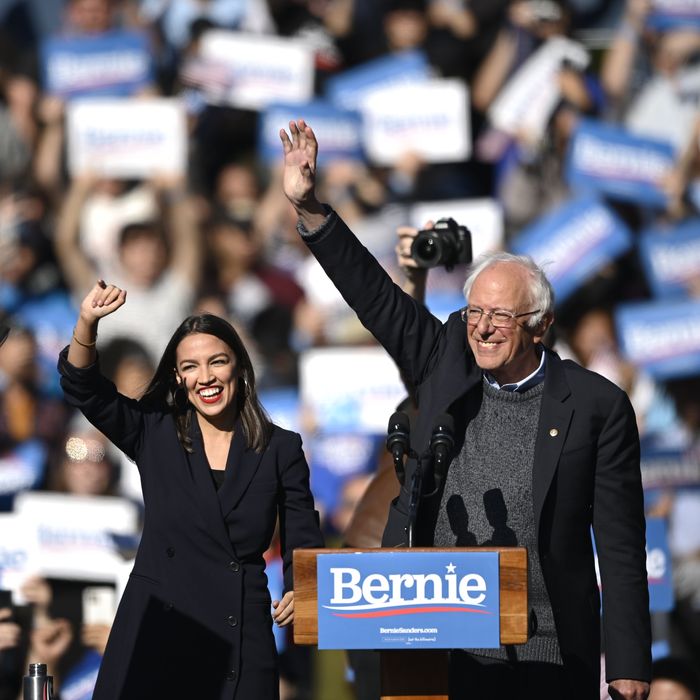 2020 Democratic presidential hopeful US Senator Bernie Sanders (D-VT) and representative Alexandria Ocasio-Cortez (D-NY) wave to a crowd of supporters during a campaign rally on October 19, 2019 in New York City.
Photo: Johannes Eisele/AFP via Getty Images
Vermont senator Bernie Sanders is hosting a major rally in Queensbridge Park in Long Island City on Saturday, which not only marks the Democratic presidential candidate's return to the campaign trail after suffering a heart attack in early October, but in which he'll be joined for the first time by his new big-name endorser, Representative Alexandria Ocasio-Cortez. As Intelligencer's Gabriel Debenedetti noted in his preview of the event, with a little over three months remaining before voters begin weighing in on the Democratic primary race, the Sanders campaign hopes the "Bernie's Back" rally will not only help counteract concerns about his health, but act "as a triumphant return to the trail just in time for the campaign to get serious."
Below are updates and images from the rally, which got started at 1 p.m., and, according to Sanders, surpassed the 20,000-person limit the campaign was allowed on their permit.
Sanders Celebrates AOC's Impact, Declares "I am Back"
Sanders referenced Ocasio-Cortez several times during his speech on Saturday. After she introduced him, he praised the congresswoman and the speed in which she has become influential. "I've been around politics a few years," the candidate explained, "and it is hard to believe the degree to which in less than one year, this woman, the youngest woman ever elected to Congress — it is hard to believe the degree to which she has transformed politics in America."
Later Sanders said that he looked forward to "traveling with [AOC] all over this country."
It came as no surprise that Sander's also emphasized how ready he was to keep campaigning after taking more than two weeks off following his heart attack.
"I am happy to report to you that I am more than ready, more ready than ever to carry on with you the epic struggle that we have today," Sanders told his supporters. "I am more than ready to assume the office of President of the United States. I am more than ready to take on the greed and corruption of the corporate elites and their apologists."
"To put it bluntly, I am back."
Another theme throughout Sanders speech was diversity, which clearly reflects one of the ways his campaign hopes to build more support in the coming months.
He also criticized — at least generally — some of his moderate rivals for how they had painted his (and Elizabeth Warren's) policy proposals as unrealistic at last week's debate.
Ocasio-Cortez Shared Her Sanders-Centered Origin Story
Before an enthusiastic hometown crowd, Alexandria Ocasio-Cortez made her first official appearance in support of Bernie Sanders's presidential campaign, or at least as a congresswoman and left-liberal icon. Ocasio-Cortez worked as an organizer for Sanders's campaign in 2016, and explained how — thanks to Sanders and that experience — a "sexually harassed waitress in downtown Manhattan" became an elected member of the U.S. Congress.
"It wasn't until I heard of a man by the name of Bernie Sanders that I began to question and assert and recognize my inherent value as a human being that deserves health care, housing, education and a living wage," she told rallygoers. She also noted that Sanders's 2016 campaign provided a model for her own, adding that she was "proud to say the only reason I had any hope in launching a long-shot campaign for Congress is because Bernie Sanders proved you can run a grassroots campaign and win in an America where we almost thought it was impossible."
Ocasio-Cortez challenged and defeated longtime New York City congressman Joe Crowley in 2018 (but did not receive an endorsement from Sanders in that race).
"The halls of Congress are no joke," the freshman Democrat insisted on Saturday. "Standing up to corporate power, and established interests is no joke. It's not just about standing up and saying these things, but behind closed doors, your arm is twisted, the vise of political pressure gets put on you, every trick in the book, psychological, and otherwise is to get us to abandon the working class." Understanding that dynamic firsthand, she continued, has made her "appreciate the enormous, consistent, and nonstop advocacy" Sanders offers even more.
The key part of Representative Ocasio-Cortez's 20-minute speech:
Big Crowd, Gorgeous Day
Many attendees have been sharing images from the event, which has some of the most dramatic scenery any rally-goer could hope for.
Nina Turner Knocks Warren and Biden
Ohio Democrat, progressive organizer, and Sanders campaign national co-chair Nina Turner deployed some criticism at Sanders's main rivals, Elizabeth Warren and Joe Biden.
But Turner also falsely said that Sanders was the only candidate who was asked about age during Tuesday's debate — Biden and Warren were also asked to respond to concerns about their age.
Michael Moore Offers His Support
Documentarian and longtime liberal activist Michael Moore gave a speech explaining his endorsement for Sanders on Saturday and also aimed at downplaying concerns about the candidate's age and health.
Jane Sanders Emphasizes Bernie's Health
The rally opener from Jane Sanders, the candidate's spouse, had a clear purpose (and yes, her name was misspelled in this tweet):
This post has been updated throughout.