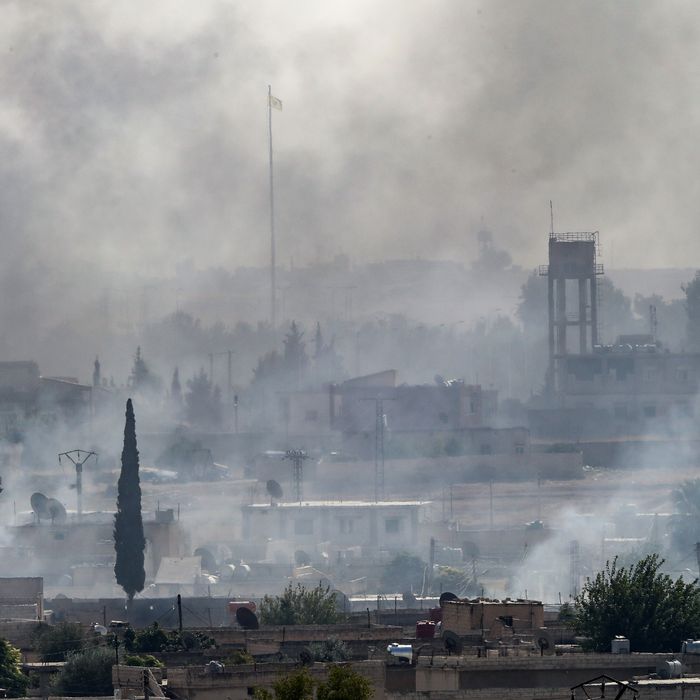 Smoke rises over the Syrian town of Tel Abyad, as seen from the Turkish border town of Akcakale on October 13, 2019 in Akcakale, Turkey.
Photo: Burak Kara/Getty Images
Less than a week after President Trump gave Turkey the green light to attack the U.S.-allied, Kurdish-led Syrian Democratic Forces in northeastern Syria, the conflict in the border region has already become a full-blown disaster — and may still get worse.
As the fighting has intensified, nearly 800 suspected ISIS members escaped from SDF custody following a Turkish airstrike, and Trump's impulsive decision to abandon the Syrian Kurds ultimately prevented the U.S. military from taking custody of five dozen high-value ISIS detainees to ensure they did not escape amid the chaos. There have also been attempted escapes at other facilities, two ISIS car bomb attacks, and a report of an ISIS flag being raised in the border region since the fighting began on Wednesday.
Furthermore, there have been confirmed incidents of sectarian atrocities perpetrated by Turkish-backed Syrian Arab militants, as well as indications that Turkey has expanded its offensive beyond the limited scope it promised ahead of the invasion. Meanwhile, the civilian death toll is rising, more than 130,000 people have been displaced, and the humanitarian crisis could affect more than half a million.
On top of all that, U.S. troops appear to have been deliberately targeted by Turkish forces in an attempt to force them to withdraw — which they are. U.S. Defense Secretary Mark Esper announced on Sunday that the Pentagon is evacuating 1,000 American troops from the region after President Trump ordered a "deliberate withdrawal" on Saturday night. Esper, who just days ago promised that the U.S. would not abandon the region and its SDF allies, called the escalating violence a "terrible situation."
That situation got even worse later Sunday, when the desperate SDF formed a Russia-brokered alliance with Iran-backed Syrian dictator Bashar al-Assad — who has reportedly sent troops to the region to help repel the Turkish forces in exchange for, at minimum, regained control over the border. Russia has also reportedly agreed to establish a no-fly zone over northern Syria.
Whether this escalation leads to a wider war with Turkey, or just an abrupt and bitter end to Kurdish autonomy, the situation in northeastern Syria has gone from fragile peace to humanitarian and foreign policy catastrophe in less than a week — and now Assad and Russia will happily fill the void Trump left behind.
Below is everything we know about the recent developments.
SDF Forms Desperate Alliance With Assad, Russia
Left with no other option on Sunday, the Syrian Kurdish leaders reportedly formed a Russia-brokered, Iran-backed alliance with Syrian dictator Bashar al-Assad for protection.
The full parameters of the deal are not yet clear. Syrian Kurdish authorities released a statement on Sunday explaining that the deal allows Syrian forces to deploy along the northern border in order to help the SDF repel the Turkish forces and retake the territory, as well as "preserve Syrian sovereignty." It appears SDF forces may also help Syrian forces take back the small amount of territory still held by Turkish-backed rebels in northwestern Syria.
As news of the deal broke, Syrian state media reported that Syrian government troops have been sent to the region. Russia has also reportedly agreed to set up a no-fly zone over northern Syria to protect the newly allied forces from Turkish airstrikes.
It's not clear what autonomy, if any, Syria's Kurds will retain. The emerging analysis from journalists and experts indicates Syrian Kurdish leaders have effectively surrendered to Assad and Russia in exchange for protection from the Turkish onslaught. That would effectively return control of the vast majority of Syria, and almost all of its borders, to the Assad regime for the first time since before the Syrian Civil War began.
The U.S. Left Behind Dozens of "High Value" ISIS Prisoners Amid the Chaos
President Trump impulsive decision-making appears to have prevented the American military from transferring five dozen "high value" ISIS detainees to U.S. custody from SDF-run prisons ahead of the Turkish assault. It had planned to do so, but by the end of last week, the SDF was so angry about Trump's betrayal that it refused to cooperate with U.S. efforts to transfer the prisoners, according to the New York Times.
Though Trump said last week the worst ISIS prisoners had been grabbed by the U.S. so they could not escape amid the fighting, in fact the U.S. took custody of only two.
The End of Rojava?
It seems likely that the Syrian Kurdish leaders have sacrificed their remarkable autonomous region in Syria, which they referred to as Rojava, rather than risk sacrificing their population in a war with Turkey.
At the Conversation last week, history professor James L. Gelvin called Rojava "the most full-fledged democracy the Middle East has yet to see," and though he acknowledged the Syrian Kurd's issues with tribalism and Kurdish militants, he lamented Rojava's coming demise and celebrated its use of "confederalism":
The Kurds are so serious about devolving power to the local level that Rojava's charter requires each of its three regions to have its own flag. And within each region, local elected councils are in charge. They organize garbage collection, adjudicate disputes and manage public health and safety. … Rojava's charter guarantees freedom of expression and assembly and equality of all religious communities and languages. It mandates direct democracy, term limits and gender equality. Men and women share every position in government. Kurdish women have fought the Islamic State in Syria as soldiers in an all-female militia.




In a region where religion and politics are often intertwined, the Kurdish state is secular. Religious leaders cannot serve in politics. Rojava's charter even affirms the right of all citizens to a healthy environment.




Surrounding countries, including Syria, also have constitutions with eloquent endorsements of political and human rights. In Rojava, however, the constitution is actually in effect. Syrian Kurds have realized the dream of the 2010-2011 pro-democracy uprisings across the Arab world.
As Expected, ISIS Has Been Taking Advantage of the Crisis
On Sunday morning, nearly 800 relatives of suspected ISIS fighters escaped from a secure facility in the Ain Issa displacement camp, one of several large camps where SDF personnel have been detaining ISIS family members. After Turkish airstrikes targeted the town, the suspected ISIS members escaped amid the ensuing panic at the camp, which houses some 13,000 people displaced by the five-year-war against ISIS, including a few thousand family members of suspected ISIS fighters.
An aid worker told the New York Times that the secure facility in the camp that housed ISIS relatives was empty, though it wasn't clear how many of the detainees had fled, or had been removed by SDF or coalition forces.
Prior to the Ain Issa escape, there had also already been an attempted escape by ISIS relatives following unrest at the displacement camp in al-Hawl, as well as an ISIS car-bomb attack at a prison near Hasakah, and an ISIS car-bomb attack that killed three people in Qwamishli, where five inmates recently escaped an SDF prison amid the chaos following a Turkish airstrike.
In addition, a Kurdish official announced on Sunday that an ISIS flag had been raised in a region between Ain Issa and the Turkish border, though it's not yet clear what that means.
The risk of more ISIS supporters and fighters breaking free during the conflict remains very high, and could easily lead to a resurgence of ISIS in Syria. The SDF holds some 10,000 suspected ISIS fighters, including 2,000 foreign fighters, across 20 mostly makeshift prisons in its territory, and another 70,000 women and children who are alleged family members of the fighters at displacement camps, including the massive al-Hawl camp where Kurdish guards have already had trouble keeping control in recent months. The U.S. estimates that 15 percent of the fighters are held in the part of northern Syria which Turkey has claimed it wants to occupy, but there is little reason to believe the fighting will remain contained to only that region.
Syrian Kurdish authorities have announced that repelling the Turkish forces would take priority over guarding the prisons and camps, and that is apparently what happened in Ain Issa.
SDF forces will undoubtedly be stretched thin, which will make its already understaffed prisons vulnerable to unrest and/or ISIS attacks meant to free the imprisoned fighters. As for the U.S. stance, apart from its botched plan to transfer five dozen "high value" detainees from SDF custody — there was no apparent plan to maintain security at the prisons should the SDF forces be pulled away or become overwhelmed. Instead, it appears the U.S. — at Trump's command — was simply walking away.
It's not clear what impact the SDF's new alliance with Assad will have on the security situation at the facilities.
Unfriendly Fire and the U.S. Pullout
U.S. Defense Secretary Mark Esper announced on Sunday morning that President Trump ordered a "deliberate withdrawal" of U.S. forces from northern Syria on Saturday night, and the Pentagon began pulling some 1,000 U.S. troops from the region on Sunday. (Once the those troops are gone, the only remaining U.S. force in the country will be a small base in Al-Tanf near Jordan and Iraq, according to Al Monitor.)
This pullout was the presumed goal of Turkish artillery fire that struck just outside a U.S. special forces outpost near the Syrian border town of Kobane on Friday night. No troops were harmed in the strike, according to the Pentagon, which demanded that "Turkey avoid actions that could result in immediate defensive action."
The shells exploded just 100 meters from a U.S. observation post overlooking Kobane — and had to be deliberate, a U.S. Army officer stationed in the region told the Washington Post on Saturday. He noted that the artillery struck on both sides of the outpost in a "bracketing effect," and that Turkish forces definitely knew a U.S. outpost was there. "We had been there for months, and it is the most clearly defined position in that entire area," the officer explained, adding that the shelling was "not something we ever would have done to a partner force."
The U.S. troops pulled out of the base following the shelling, then returned on Saturday. Turkey's Defense Ministry has claimed that the shells were not targeting U.S. forces, but were fired "in self defense" after a Turkish border post was attacked. The Pentagon has not directly accused Turkey of firing at U.S. personnel, but there doesn't seem to be any doubt among U.S. experts and officials that the artillery fire was intentional.
Then on Saturday night, Turkey got what it wanted when Trump ordered the withdrawal of U.S. forces from the conflict area — which led to Russia and Assad getting what they wanted on Sunday — a deal with Kurdish leaders to regain control of the northern border.
This will also make the U.S. departure from the region permanent.
Executions Confirm Fears of Sectarian Atrocities and Ethnic Cleansing
Less than 200 kilometers east of Kobane, multiple Kurdish prisoners were reportedly brutalized and executed by Turkish-backed Syrian Arab militants after the fighters helped capture at least part of the Syrian border town of Ras al-Ain on Saturday. The fighters, who were from the Turkish-aligned Ahrar al-Sharqiyeh militant group, stopped cars along a major highway south of the town and targeted alleged members of SDF.
Graphic video of one of the executions was later shared on social media. It showed men from the group calling two apparently Kurdish captives "pigs," then chanting "God is great" while two of the fighters shoot and kill one of the prisoners at close range.
The Turkish-backed fighters also attacked a car carrying Hervin Khalaf, a Kurdish political leader who has had contact with with U.S. officials in the region. She was killed, along with her driver and an aide. Khalaf was the co-chair of the Syria Future Party, and a colleague told Reuters she was on her way back from a meeting when her car was ambushed.
Turkish-backed Arab militants reportedly ambushed and captured four employees of the Kurdish Red Crescent, a medical aid group, on Sunday morning, as well.
Many in and outside of Syria already fear that Turkey's offensive will result in ethnic cleansing or even genocide. And as some have argued, ethnic cleansing is effectively Turkey's official plan for the conflict zone, since it wants to resettle millions of mostly Arab Syrian refugees from northwest Syria in place of the Kurds, Christians, and SDF-allied Arabs who currently live in the northeastern border region.
The Expanding Turkish Offensive
Turkish military forces and their Syrian militant allies, including Ahrar al-Sharqiyeh, crossed into Syria from Turkey on Wednesday and began their ground offensive to take control of the SDF-controlled border area. Turkish forces have already reportedly captured at least 23 villages in northeastern Syria, but SDF forces said on Saturday they they still held part of Ras al-Ain, one of the largest towns along the border.
Turkey had originally said it intended to clear Kurdish forces a narrow buffer zone on the Syrian side of the border, but President Erdogan has since indicated the offensive will target cities deeper in Kurdish-controlled territory as well. U.S. Defense Secretary Mark Esper confirmed on Sunday that Turkey appears to be expanding its goals.
It's not yet clear how Turkey will respond to Assad's entry into the conflict, but any outcome that removes the Kurds from power in the border region, which the deal with Assad almost certainly will, is likely a win in Erdogan's mind.
The Death and Humanitarian Toll So Far
Aid agencies have estimated that half a million people may face a humanitarian crisis as a result of the Turkish ground and air offensive, and so far, an estimated 130,000 people have already been displaced by the fighting. As of Saturday, at least 38 Syrian civilians have been killed in the fighting (according to the Syrian Observatory for Human Rights) as well as 18 Turkish civilians in mortar attacks targeting Turkish towns north of the border, according to Turkey's Anadolu news agency. The Syrian Observatory for Human Rights has reported that 74 members of the Kurdish-led SDF forces have been killed in the fighting, as have 49 fighters in the Syrian forces loyal to Turkey. Four Turkish soldiers have been killed since the conflict began.