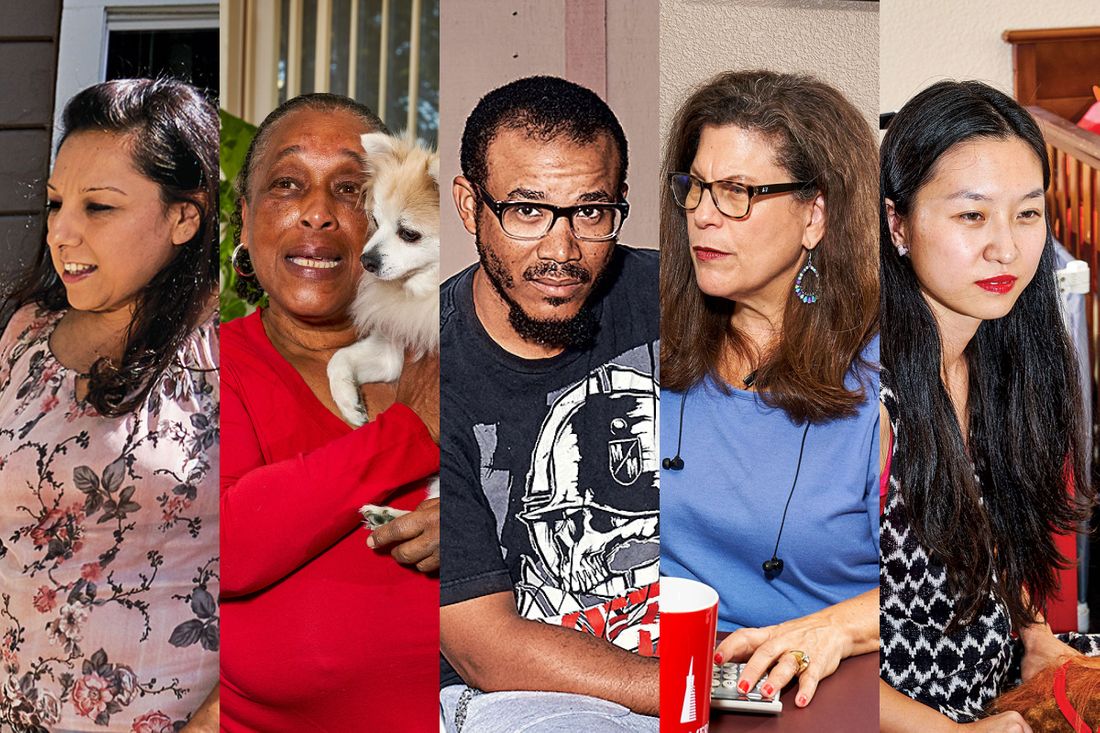 From left, Danielle, Laura, Greg, Grace, and Phyllis.
Photo: Michelle Groskopf
This article was featured in One Great Story, New York's reading recommendation newsletter. Sign up here to get it nightly.
Soon after Michael Tubbs became mayor of Stockton, California, at the age of 26 — the youngest to be elected to a city of over 100,000 and Stockton's first African-American mayor — he directed his policy fellows to research ways to reduce poverty. Four years earlier, in 2012, the city had declared bankruptcy, and it was still mired with high unemployment and crime. The team came back to report that one way to end poverty was to give people money.
This solution had a name, "universal basic income" (or UBI), and a long history in America as a social-policy idea. It had been embraced by Thomas Paine and Milton Friedman and made a cornerstone of the Poor People's Campaign advanced by Martin Luther King Jr. Both Richard Nixon and Jimmy Carter had proposed replacing welfare with a guaranteed income. More recently, the idea had been revived by Silicon Valley entrepreneurs, who saw it as a remedy for the burgeoning "useless class" — all those people whose jobs technology is making obsolete.
Tubbs was skeptical, but the following May he attended a conference on the future of work, where he sat next to the economist and developer Natalie Foster. Along with Chris Hughes, a co-founder of Facebook, Foster had launched an advocacy group dedicated to advancing the conversation about guaranteed income. She told Tubbs they were looking for a test city, and he suggested that Stockton might be the perfect place.
Less than two years later, this past February, the Stockton Economic Empowerment Demonstration gave 130 individuals, randomly selected from neighborhoods with a median household income at or below Stockton's $46,033, their first monthly payment of $500, no strings attached. Over the program's 18 months, SEED would track how the money was being spent and assess the subjects' financial security and well-being as well as more subtle measures of the money's impact, such as their feelings of hope and of mattering.
Since SEED launched, interest in UBI has only grown, in part thanks to Democratic presidential candidate Andrew Yang, who has made guaranteed income a cornerstone of his platform. There have been encouraging signs from Stockton: A preliminary report from the first six months found that 39 percent of the money goes to food, which hardly anyone would argue was money misspent. But there are limits to what data analysis can reveal about something as complicated as humans and money. Since February, I have followed a handful of UBI recipients to watch, closely, how this unexpected windfall has changed their lives. These five accounts are a first look at what a basic income policy actually does to people. The money can be transformative, yes, but it also seems to make them more themselves.
This project was supported by a grant from the investigative news site Capital & Main.
I.
Danielle has just one goal: no debt, no debt, no debt.
Month One
When
she
needed
extra
money,
Danielle
would
change
her
tax-filing
status
to
ten
dependents
so
she
could
take
home
enough
to
pay
for
groceries.
Danielle didn't recognize the return address, but she opens all her mail so she took out the letter and read something about completing an online form to receive $500 a month. What is this?, she thought, wondering if it was a scam. That night, she was watching the local news and it mentioned the SEED program. "I was like, 'Oh my God, I just got that letter,' " she says. She filled out the questionnaire but missed a section and couldn't use the back button to complete it. Oh well, she thought. The whole idea that someone would give her $500 a month seemed so far-fetched anyway. Then, a week or two later, she got a text saying she'd been selected to receive the money.
"It was very surreal," she says. We're talking in the SEED office downtown, where she has come after work to fill out the paperwork to get the debit card on which she'll begin receiving her monthly disbursements. She has never met any of the staff before; they've communicated only by text, with the last message instructing her to come to this address. Her husband dropped her off, and she told him to note the building number "if anything happens to me," she says. As I start to reassure her, she waves away my concern. "That's just me. I worry," she says. "I never stop worrying or having anxiety."
Continue reading Danielle's story.
II.
Grace has too many big plans to settle for just a job.
Month One
"If
I
one
day
decide
to
work
for
a
company,
my
starting
salary
would
be
easily
$150,000
if
I
don't
even
do
very
well."
I visit Grace at her apartment in an ­affordable-housing complex in one of the city's "hot zones" — so called for their high crime rate. It's three days before the first disbursement. We sit side by side on a bed in her living room, which is otherwise empty except for a crib and a large playpen containing a few toys and stuffed animals. Grace's 1-year-old daughter, Jackie, is with her father so Grace can focus on her career. She and Jackie's father are "on a kind of break," she says.
Grace tells me she just got back from a ski trip to Lake Tahoe with a group of 40 "women in tech" organized by Arielle Zuckerberg, Mark Zuckerberg's younger sister. She shows me pictures on Facebook of herself among the women gathered in front of the ski lodge's fireplace, all of them wearing matching facial masks. Grace doesn't ski, so she rented the gear and bought herself a jacket and ski pants, putting about a thousand dollars on a credit card.
Continue reading Grace's story.
III.
Laura just wants to retire with dignity — and maybe visit her new great-granddaughter.
Month One
"I
feel
like
I
had
beat
my
body
up
enough
20-something
years
for
those
people."
When I arrive, Laura is smoking on the top of the stairs outside her apartment in a sprawling affordable-housing complex on the north side of Stockton. Her Pomeranian-Yorkie, Poopee, stands beside her. "I guess they haven't got to the gate," she calls down after I get out of my car. The gate into the complex requires a code, but Laura told me on the phone that people keep busting through it, so I might be able to just drive in.
Laura, who is 68, moved to Stockton from Oakland five years ago in search of more affordable rents. She'd just been fired from her job at the Oracle Arena after working there for 21 years. She collects about $1,500 a month in Social Security and a small pension for her years as a union officer in the SEIU, which isn't enough to live on in the Bay Area.
Continue reading Laura's story.
IV.
Phyllis knows she's more than her circumstances.
Month One
"I
said,
'I'm
going
to
need
surgery,
too.'
He
said,
'Why?'
I
said,
'My
thyroid.
I
have
cancer.''
I ring Phyllis's doorbell, setting off a cacophony of barking inside. I can hear Phyllis directing her daughter to put this dog in the kennel, that one outside, hold on to the other one. When she finally opens the door, she's gripping the collar of a large pit-bull mix who eyes me suspiciously. "Just stand still and let her smell you," she says. "Come on, Bella, easy."
Twenty minutes later, Phyllis and I are on the couch in her living room and Bella is spread across our laps. She's my 85-pound lapdog, Phyllis says, stroking her head. A big frisky puppy, Marley, tries to join us on the couch, but Bella growls, warning her away. The two small dogs, Lilly and Max, and Phyllis's 13-year-old daughter wander in and out. An inversion table stands in the middle of the living room. Family photos, ceramic tchotchkes, and a menorah decorate an armoire. A nail-gun compressor, two different vacuum cleaners, and a case of seltzer line the low wall marking off the dining area.
A week or so before Phyllis's SEED letter arrived, Phyllis got a call from her doctor with the results of a biopsy of a nodule on her thyroid. She was at work, on two different phone lines, registering clients for Covered California, the state's version of Obamacare. Phyllis sells insurance and provides investment advice. She clicked over to the doctor, and he told her she had cancer that required surgery. "Okay," she said. "I'll talk to you Wednesday. I don't have time to deal with this now."
Phyllis headed straight home after work. Her husband had taken the puppy to the vet that day because she'd been limping after chasing a ball into a wall. "The minute I walked in the door, he tells me, 'Marley broke her kneecap. She needs surgery. It's going to cost like $7,000 or $8,000.' He finishes telling me everything, and I said, 'I'm going to need surgery, too.' He said, 'Why?' I said, 'My thyroid. I have cancer.' And he said, 'Oh. Well, what are we going to do about the dog? How are we going to pay for this?' " Phyllis rolls her eyes at me and laughs ruefully.
Continue reading Phyllis's story.
V.
Greg just tries not to think about the bills and the debt and his bad credit.
Month One
"I
haven't
been
really
getting
anywhere.
Just
been
working.
to
make
plans
but
never
follow
through
with
the
plan."
The day before the first $500 installment hits, I meet Greg at his house on the north side of Stockton. Small ranch homes with three-car garages line the street. Cars pack the driveways, one behind the other, suggesting households with too many adults in them. We were supposed to meet elsewhere, but Greg's car is leaking brake fluid and he barely made it home from work. When I arrive, the 1999 white Integra is sitting in the driveway with its hood up.
Greg comes out in jeans and a dark T-shirt. He has a short goatee, and his face is covered in freckles, which make him look younger than his 30 years. His head is shaved, and he rubs it a lot when he talks. Later, he'll tell me he has gray hairs from stressing too much. Greg has four kids, two girls and two boys, who range in age from 2 to 8.
We drive to a park and talk in my rental car. Greg tells me he's going to try to sell the Integra tonight because he doesn't want to bother fixing it. He has been saving up for a new car, an older BMW for $1,100. "It's tagged and smogged and good to go," he says. He just needs his $500 tomorrow morning and somebody to drive him. Greg plans to use future SEED disbursements to pay off his debts. "So by next year, I'll be able to possibly get me and my kids a house or something like that. Get us going instead of just the same cycle going over and over again."
Continue reading Greg's story.
*A version of this article appears in the October 14, 2019, issue of New York Magazine. Subscribe Now!