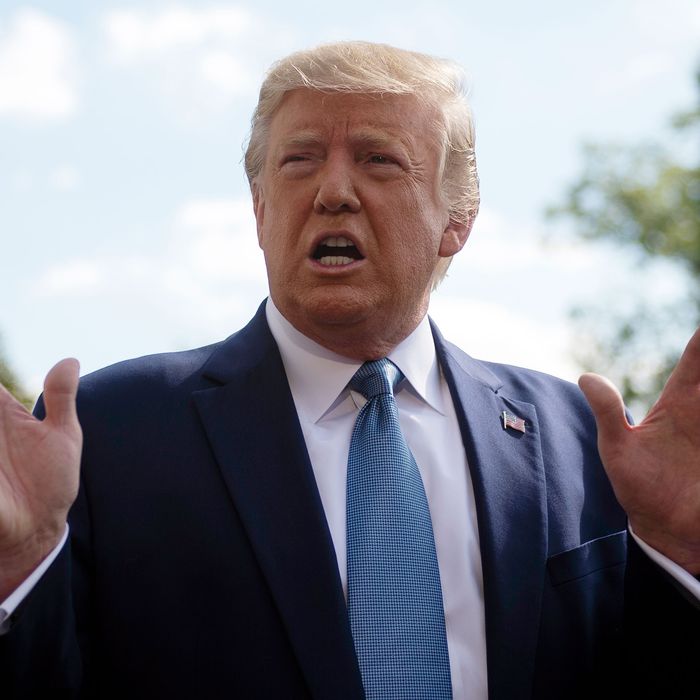 Newspaper hater.
Photo: Andrew Caballero-Reyolds/AFP via Getty Images
Donald Trump's pettiness knows no limit. It was proven yet again Tuesday, when the White House cancelled its subscriptions to the New York Times and the Washington Post, two newspapers that have become frequent administration punching bags. Trump also plans to instruct federal agencies to cancel their subscriptions to the papers, according to the Wall Street Journal, which is still being delivered to the White House.
Trump first pitched the idea of canceling the subscriptions in an interview with Sean Hannity on Fox News Monday. "The media's corrupt," Trump said, before assuring Hannity that the label doesn't apply to him: "Not all media. I know some great people, including you."
Trump called the New York Times a "fake newspaper."
"We don't even want it in the White House anymore," he said. "We're gonna probably terminate that and the Washington Post. They're fake."
On Thursday, Bloomberg News's Jennifer Jacobs tweeted that the White House followed through on the threat. Tuesday was the last day hard copies of the papers were delivered to the White House.
Still, Jacobs tweeted, White House aides "doubt Trump will stop reading" the papers. Complaining about the Times and the Post is one of his most beloved pastimes.
"He's not a fan of the New York Times or the Washington Post but he never misses a day reading them," a source told Politico this summer. "And if he doesn't read them that day, he'll put them in a box and read them a few days later."
Now, if Trump wants to get his daily dose of "fake news" from his most hated papers, he may have to learn to read them online. And for Trump, that might be harder than it sounds.