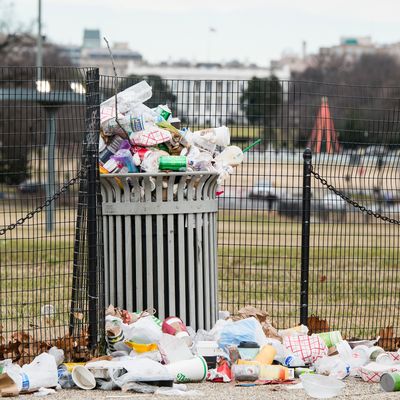 Government shutdowns are messy.
Photo: Bill Clark/CQ-Roll Call, Inc via Getty Imag
Not that anyone much noticed because of the attention being paid to impeachment hearings and the 2020 Democratic presidential nominating process, but this week Congress is set to pass another stopgap spending deal, keeping the federal government open until December 20, as Politico reports:
House and Senate leaders secured a deal on Monday afternoon that would extend government funding for four more weeks and sidestep a debilitating government-wide shutdown.




The continuing resolution unveiled by House Democrats would last until Dec. 20, leaving out any restrictions on border barrier spending, which President Donald Trump demanded in exchange for his signature. The current stopgap expires Thursday night …




Neither the White House nor congressional leaders believe a shutdown will occur — especially as House Democrats move forward with an impeachment inquiry against the president. But nearly two months into the new government fiscal year, no progress has been made on any of the 12 annual spending bills. And this comes despite a highly touted budget agreement hammered out between the White House and Congress this summer.
Trump won't get his border-wall money — the issue that produced last year's partial Christmas government shutdown that began on December 22 and lasted for 35 days — but Democrats didn't get some concessions they wanted, either:
The bill would fund a 3.1 percent military pay raise, it would provide extra cash to help the Commerce Department gear up for the 2020 census and it would allow state highway programs to avoid a $7.6 billion cut this summer. It also includes a number of health extenders and renews three expiring surveillance provisions through March.




House Democrats, however, did not secure funding for historically black colleges and universities, an item among their requested policy riders.
Even if negotiators manage to get some regular appropriations bills through between now and December 20, there's no sign of progress on the border wall:
The controversial border wall project had long been the sticking point in the 2020 spending talks as Democrats refuse to approve any money for Trump's signature issue. Trump diverted several billion dollars in Pentagon funds last year, infuriating Democrats. The issue is now in federal court.




But during a meeting last Thursday between Speaker Nancy Pelosi, Treasury Secretary Steven Mnuchin and congressional appropriators, the two sides agreed to set aside the border wall stalemate for the moment and move forward with other spending bills. That was supposed to yield a quick agreement on spending allocations, although that hasn't happened up until now.
That's all well and good, but when this stopgap bill does expire, forcing action once again, the odds are quite good that the House will have already impeached (or will be on the brink of impeaching) the president. Combine that with a Trump reelection campaign that will be revving its engines for a massively base-oriented effort in which the border wall (and alleged Democratic treason in failing to fund it) will be a major issue. I'd say chances of a second consecutive Christmas government shutdown forced by Trump are better than average.
Happy holidays, America!