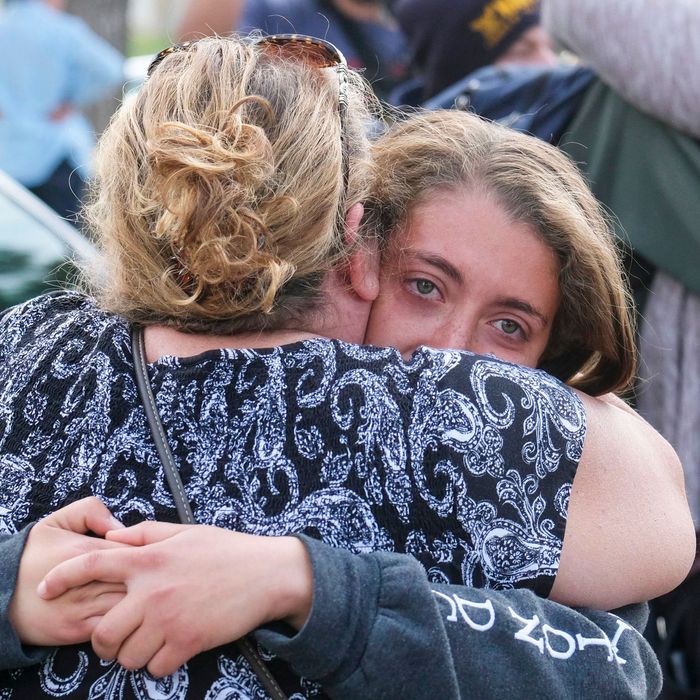 Students are embraced as they reunite at a park following a shooting at Saugus High School.
Photo: Ringo H W Chiu/AP/Shutterstock/Ringo H W Chiu/AP/Shutterstock
Five teenagers were shot Thursday at Saugus High School in Santa Clarita, California, according to local officials. Two of the victims, a 16-year-old girl and a 14-year-old boy, have died. All of the victims and the shooter, who also shot himself, were students, law enforcement said in a press conference Thursday.
The shooting took place, police said, in the school's quad, where surveillance video showed the shooter removing a gun from his backpack and shooting five students before turning the weapon on himself. The gun, police said, was a .45 caliber semi-automatic pistol.
Police did not release much information about the suspected shooter. Along with identifying him as a student, Los Angeles County sheriff Alex Villanueva said he is Asian and turned 16 years old today. Despite shooting himself in the head, the suspect is still alive but in "grave condition" at a local hospital.
Villanueva told reporters Thursday afternoon that police first received a 911 call about the shooting at 7:38 a.m. local time. At 8:17 a.m., the Santa Clarita Valley Sheriff's Station tweeted about "an active shooter situation" at the school. In another tweet, the department warned residents to "LOCK DOORS and stay inside." It appears that police did not initially realize the shooter was among the students found injured at the school.
More than 2,300 students attend Saugus High School, about 40 miles north of Los Angeles. Police placed the campus on lockdown after the initial reports of the shooting, and some students were reportedly trapped in classrooms for more than an hour as police searched for the suspect. Eventually, students were led away from the school by police. NBC Los Angeles notes that at least nine ambulances were called to the scene.
In a tweet, California governor Gavin Newsom wrote that he is "grateful for the first responders in Santa Clarita today. We simply should not have to fear for our kids' lives when we drop them off at school." He added a message for Mitch McConnell: "@senatemajldr —how many more lives will be lost? How many more shootings will we have to endure? We need commonsense gun reform. NOW."
This is a breaking-news post and will be updated.