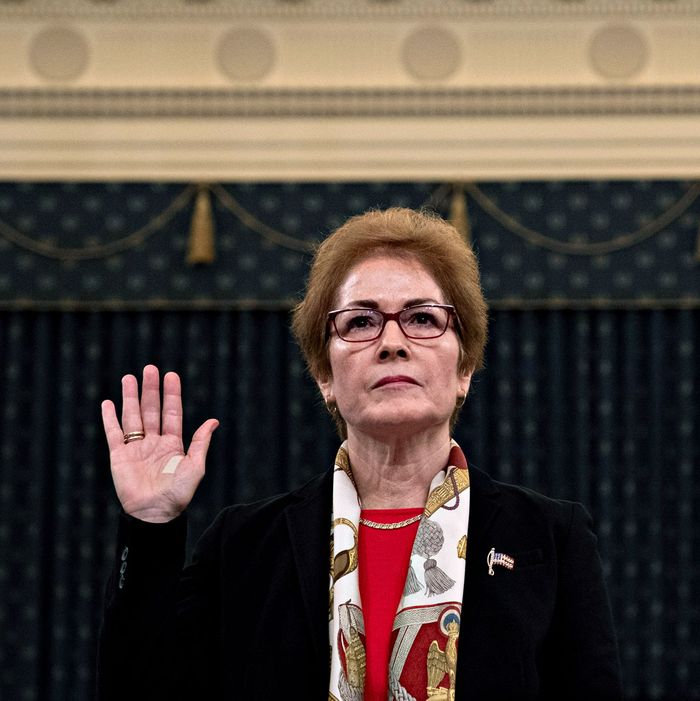 Former U.S. ambassador to Ukraine Marie Yovanovitch.
Photo: Andrew Harrer/Getty Images
House Intelligence Committee Chairman Adam Schiff accused President Trump of "witness intimidation in real time" during Friday's impeachment hearings after the president tweeted an attack on Marie Yovanovitch, the former U.S. ambassador to Ukraine, while she was testifying to Congress.
Trump sent the tweet at 10:01 a.m., accusing Yovanovitch of failing in her posts as a diplomat in Somalia and Ukraine. "Everywhere Marie Yovanovitch went turned bad," Trump wrote.
Minutes later, Schiff interrupted questions from Democratic counsel Daniel Goldman to ask Yovanovitch about the tweets.
"Would you like to respond to the president's attack that everywhere you went turned bad?" Schiff asked after reading parts of the tweets to her.
"I don't think I have such powers," Yovanovitch responded. "I actually think that where I served over the years, I and others, have demonstrably made things better."
Schiff then turned Trump's motivation in sending the tweets. "What effect do you think that has on other witnesses willingness to come forward and expose wrongdoing?"
"It's very intimidating," Yovanovitch said.
Schiff added, "Some of us here take witness intimidation very, very seriously."
Trump's defenders were quick to dismiss the charge, with Representative Lee Zeldin noting that Yovanovich was unaware that she'd been attacked by the president until Schiff read the tweets to her:
But during a break, Schiff elaborated on his point, telling reporters that Trump's attack wasn't just about Yovanovich, it was about sending a signal to future witnesses:
What we saw today is, it wasn't enough that Ambassador Yovanovitch was smeared, it wasn't enough that she was attacked, it wasn't enough that she was recalled for no reason, at least no good reason … But we saw today, witness intimidation in real time by the President of the United States, once again going after this dedicated and respected career public servant in an effort to not only chill her, but to chill others who may come forward. We take this kind of witness intimidation and obstruction of inquiry very seriously.
Schiff's reading of Trump's tweets was the most dramatic moment yet in the impeachment hearings, which were criticized early this week for lacking pizzazz. But Yovanovitch was already a compelling witness and Trump's attack only made her seem more sympathetic, and him more petulant.
There's also the small detail of the president of the United States attempting to intimidate a witness while the whole country is watching. There's speculation on the left and the right – bolstered by Schiff's reference to "obstruction of inquiry' – that that this will show up in the articles of impeachment against Trump.