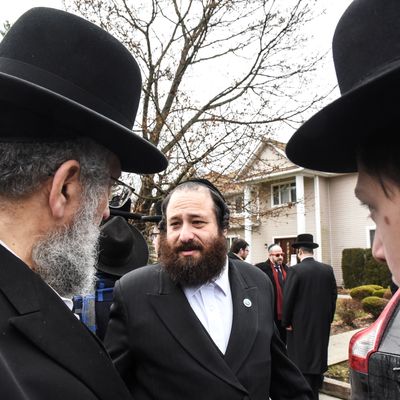 Outside Rabbi Chaim Rottenberg's house a day after five people were stabbed there.
Photo: Stephanie Keith/Getty Images
Five people were stabbed when a man attacked a Hanukkah celebration at a rabbi's home on Saturday night in the suburb of Monsey, just north of New York City. The suspected assailant fled after the assault, but was later arrested in Manhattan. The attack, which New York Governor Andrew Cuomo has called a "blatant act of domestic terrorism," is the latest in a wave of anti-Semitic violence in the New York area. On Monday, federal prosecutors filed hate crimes charges against the suspect, who pleaded not guilty to attempted murder and burglary charges in court Sunday.
The Attack
Just before 10 p.m. Saturday, a man wearing a scarf over his face and wielding a machete rushed into the home of Rabbi Chaim L. Rottenberg in Monsey, New York, where dozens of people had just finished attending a candle-lighting ceremony for the seventh day of Hanukkah. According to witnesses, the attacker apparently told those inside that no one would be leaving as he closed the front door behind him. He pulled a machete out of a case and began swinging it at everyone he could. His victims fought back, throwing furniture at the man and preventing him from entering an adjoining synagogue, Congregation Netzach Yisroel, by barricading the door after the attack began.
One witness told the Washington Post that it was a "miracle" the assailant hadn't arrived any earlier, since the previously packed room had cleared out just minutes before — leaving the attacker with far fewer targets. A survivor, Josef Gluck, told the New York Times that the man screamed "I'll get you" at him during the attack. Gluck said he fled out the back with a small child, then returned and tried to repel the attacker by throwing a coffee table at his face.
The attack lasted less than two minutes before the assailant fled by car. Five people suffered stab wounds and were transported to nearby hospitals. Two remained hospitalized on Sunday, including a victim who sustained wounds to the head who remained in critical condition.
Gluck was able to take a photo of assailant's license plate as he sped away, and less than two hours later, New York police were able to locate and detain the suspected attacker in Harlem. He was covered in blood and his car smelled of bleach.
The suspected assailant was later identified as 37-year-old Grafton E. Thomas of Greenwood Lake, New York. Thomas, who is black, has been arrested at least seven times since 2001, according to a security official who spoke with the Washington Post. On Sunday, his lawyer said in a statement that Thomas has suffered ongoing mental health issues.
After being turned over to Rockland County authorities, Thomas was charged with five counts of attempted murder and one count of first-degree burglary. He pleaded not guilty to the charges at his arraignment on Sunday morning, and was ordered held on $5 million bail.
The attacker's motive has not been officially confirmed. Governor Andrew Cuomo called the attack "violence spurred by hate" and a "blatant act of domestic terrorism" on Sunday. In an NPR interview Monday, New York City Mayor Bill de Blasio said, "We consider this a crisis. Really, there is a growing anti-Semitism problem in this whole country. It has taken a more and more violent form."
The Victims
Little is yet known about the victims, other than the fact that all five were sent to nearby hospitals with stab wounds, and one remained in critical condition as of Sunday. One unconfirmed report indicated that one of the victims was the son of the rabbi whose home was attacked.
The victims and survivors were all Hasidic Jews and members of the large ultra-Orthodox Jewish community which resides in Monsey — a hamlet of Rockland County that is roughly 30 miles northwest of New York City.
The Attacker
Grafton E. Thomas, 37, appears to have lived with a relative in Greenwood Lake, New York, a small lakeside village which is just over 20 miles west of Monsey by car. According to public records, Thomas has been a resident of the town since 2001. He apparently lived with his mother, after having previously lived in Brooklyn.
His public defended said on Sunday that Thomas's only previous conviction was for a driving related offense. But a security official told the Washington Post that Thomas had been arrested at least seven times since 2001 for offenses including assault, injuring a police animal, and crimes related to controlled substances. The Times also reports that in 2018, Thomas was charged with fourth-degree criminal possession of a weapon, second-degree reckless endangerment, and menacing a police or peace officer in Greenwood Lake.
Reverend Wendy Paige, who is Thomas's pastor, insisted to reporters on Sunday that Thomas was not a terrorist but "a man who has mental illness in America, and the systems that be have not served him well." She later told the New York Times that Thomas had battled mental illness for two decades and had been diagnosed with schizophrenia. "There hasn't been anyone who has given a real solution to deal with a grown man who is dealing with schizophrenia, other than 'Go home and call us if something happens,'" she said in an interview.
In a statement Sunday, Thomas's lawyer said his client has "a long history of mental illness and hospitalizations." Lawyer Michael Sussman also said in the statement that Thomas has "no known history of anti-Semitism" and "is not a member of any hate groups." The statement, which was e-mailed to Mid Hudson News, also said:
"We believe the actions of which he is accused, if committed by him, tragically reflect profound mental illness, for which, as noted above, Grafton has received episodic treatment before being released."




Sussman said the family expresses "our deepest concern and prayers for those injured physically and otherwise deeply affected by the events of Saturday night and our family's earnest yearnings for their well being. We thank those who rendered medical attention to each of those injured."
As of Sunday, it does not appear that Thomas was active on social media, and it is not yet clear if he held or had previously expressed anti-Semitic views. According to Reverend Paige, police removed a computer from his mother's home on Sunday.
A criminal complaint filed Monday shed light on why Thomas was charged with federal hate crimes. The Times reports that police found troubling evidence of anti-semitism in handwritten journals and on Thomas's phone.
Officials said they had recovered handwritten journals expressing anti-Semitic views, including references to Adolf Hitler and "Nazi culture," and drawings of a Star of David and a swastika, according to the complaint.




The complaint, signed by an F.B.I. special agent, Julie S. Brown, also said that officials had recovered Mr. Thomas's phone in his car, which showed that had searched online for phrases like "Why did Hitler hate the Jews" and "German Jewish Temples near me." He also searched for "Zionist Temples" in Elizabeth, N.J., and in Staten Island in recent weeks.
A Wave of Attacks Against Jewish New Yorkers
Saturday night's attack follows numerous other attacks on members of the Jewish faith in and around New York City in less than a month, including at least nine reported assaults in less than a week which may have been hate crimes. The violence has heightened fears for a community already on edge after high profile anti-Semitic attacks across the country in recent years, as well as the deadly attack on a kosher supermarket in Jersey City earlier this month.
An Orthodox Jewish man had also been stabbed in a knife attack in Monsey on November 20.
There has been widespread outrage in response to the recent attacks, as well as to a perceived lack of outrage and action from outside the Orthodox Jewish communities most at risk. That outrage intensified on Sunday.
"It is no longer safe to be identifiably Orthodox in the State of New York," four Orthodox Jewish elected officials declared in a letter to Governor Cuomo. They asked him to declare a state of emergency and deploy the National Guard to help protect Jewish communities in the state, as well as name a special prosecutor to investigate anti-Semitic violence in the state.
In the meantime, the New York Police Department has stepped up its patrols and visibility within the city's Jewish communities.