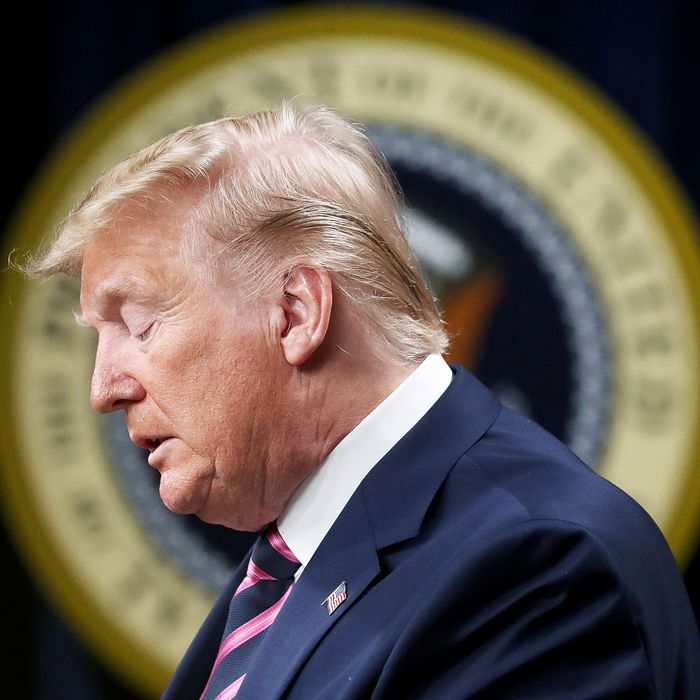 A House vote to impeach President Trump will take place Wednesday night.
Photo: Mark Wilson/Getty Images
At just after 12 p.m. Wednesday, the House of Representatives opened debate on the articles of impeachment against President Trump. The debate, which is slated to last six hours, began after several hours of jockeying over the rules for the debate, including attempts by Republicans to end the day's hearings. Those attempts failed.
While the result of Wednesday night's impeachment vote was not in question — a majority of House members have said they'll support at least one article of impeachment — the timing of the vote is not yet known. Follow along below for live updates of the drama.
8:27 p.m.: President Trump is impeached on a count of obstruction of Congress
8:27 p.m.: President Trump is impeached on a count of abuse of power
6:40 p.m.: Georgia Rep. Russ Fulcher gives Democrats the silent treatment:
5:04 p.m.: The American people don't deserve this
4:51 p.m.: Remarks from Justin Amash, who left the Republican Party and became an independent after criticizing President Trump
4:14 p.m.: Republicans are observing a moment of silence for the "63 million American voters Democrats are seeking to silence"
4:09 p.m.: Smith added, "I'm from a state of corn and cotton," which only raises more questions
3:50 p.m.: After Representative Louie Gohmert spoke, Nadler remarked, "I'm deeply concerned that any member of the House would spew Russian propaganda on the floor of the House." Gohmert then returned to the podium to yell at him
3:36 p.m.: GOP Representative Will Hurd is sad that impeachment has become a weaponized political tool (unlike that time Republicans impeached Clinton, which had nothing to do with politics)
3:16 p.m.: Yes, these are definitely similarly tragic historic events
2:15 p.m.: If you had Pontius Pilate on your impeachment Bingo card, congrats
2:09 p.m.: Don't underestimate lawmakers' ability to drag this thing out
1:42 p.m.: A reminder for Republicans who insist Democrats are trying to undo the 2016 election.
1:20 p.m.: An early favorite for the wildest speech of the day.
Louisiana Congressman Clay Higgins began his floor speech by saying, "I have descended into the belly of the beast. I have witnessed a terror within. And I was committed to oppose the insidious forces which threaten our republic." It only got wilder from there.
1:09 p.m.: We're going to be here a while.
12:58 p.m.: Florida man yells.
Rep. Ross Spano, a Republican from Florida, railed against the "sad charade" of impeachment Wednesday and nearly popped a vein in his neck in the process. Spano, as it happens, is under investigation by the Justice Department for alleged campaign finance violations.
12:48 p.m.: Is Trump watching?
Asked how Trump will be spending his day, White Press Secretary Stefanie Grisham said, "The President will be working all day. He will be briefed by staff throughout that day, and could catch some of the proceedings between meetings."
Based on this tweet, he's already caught some of it.
12:38 p.m.: Meanwhile, in Michigan.
12:25 p.m: Republicans are feeling defiant.
12:13 p.m.: House Speaker Nancy Pelosi calls Trump an "ongoing threat to our national security."
In remarks opening the House debate, Pelosi said "If we do not act now we would be derelict in our duty. It is tragic that the president's reckless actions make impeachment necessary. He gave us no choice." Democrat gave her standing ovation when she was finished speaking.
12:02 p.m.: The articles of impeachment are read on the House floor.