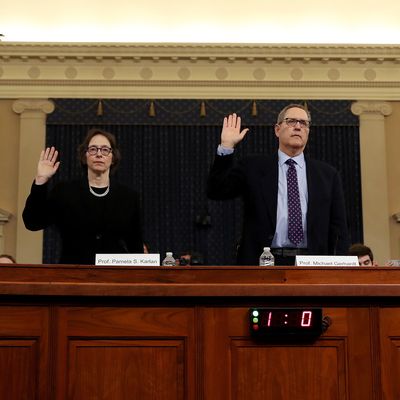 Constitutional scholars prepare to testify in the impeachment inquiry.
Photo: Chip Somodevilla/Getty Images
With the work of the House Intelligence Committee complete, the impeachment inquiry into President Trump moves to the Judiciary Committee Wednesday. The 41-member committee will hear from four legal scholars, three of whom were called by Democrats and one by Republicans.
In their opening remarks, the three witnesses called by Democrats pulled no punches. University of North Carolina law professor Michael Gerhardt called Trump's "misconduct," including his attempt to have Ukraine investigate Joe Biden and his son Hunter Biden, "worse than the misconduct of any prior president." Harvard's Noah Feldman and Stanford's Pamela Karlan, both law professors, said there's little doubt that Trump's conduct rises to the level of impeachment.
Jonathan Turley, a law professor at George Washington University and the lone Republican witness, argued that the House is rushing to impeach Trump for something that for which there is no "compelling evidence of the commission of a crime."
See below for a timeline of the hearing's key moments:
6:33 p.m.: Nadler's closing statement
"President Trump placed his own personal and political interests above our national interests, above the security of our country, and most importantly above our most precious right, the ability of each and every one of us to participate in fair elections, free of corruption," the Judiciary Committee chairman said. "The constitution has a solution for a president who places his personal or political interests above those in the nation, the power of impeachment."
5:02 p.m.: Republican Tom McClintock gets personal
In his allotted time, the California congressman asked the witnesses who they voted for in the 2016 election. The constitutional scholars did not appreciate the pressure: Karlan told him that she would not reveal the answer, citing her right to a private ballot. When McClintock asked the witnesses to raise their hands if they voted for Trump, Feldman told him that they would not, as a private ballot is a foundation of voting in the United States.
4:50 p.m.: The First Lady strikes back at Karlon's tepid Baron vs. Barron joke.
She failed to mention that the president mocked Greta Thunberg less than three months ago. (Close to 6 p.m., Karlan apologized for the quip.)
4:20 p.m.: Time for a third break
Rest easy: there are only 21 more Judiciary members with five minutes each to go.
4:05 p.m.: Karlan gets Gaetz
Who has a history of asking questions in hearings that end up backfiring.
3:40 p.m.: Republican Jim Sensenbrenner improperly frames Joe Biden's conduct toward Ukraine
Sensenbrenner attempted to claim the former vice-president's relationship with Ukraine was more concerning than that of the president, citing a Biden comment in which he boasted of helping remove former prosecutor Viktor Shokin by threatening to withhold $1 billion in aid to Ukraine if he remained in place. But Biden made the comment while out of office, in 2018. By definition the claim can't be impeachable. Sensenbrenner also failed to mention that Biden was working with an international coalition to oust Shokin, who was widely understood to be too lenient toward corruption in Kiev.
3:12 p.m.: Gohmert offers a critique of Nadler's gavel technique
"Thanks for bringing down the gavel hard, that was nice" - Representative Louie Gohmert to Chairman Jerry Nadler.
2:55 p.m.: This joke won't go over well with those passionate about leaving the president's kids alone.
1:30 p.m.: Time for another break
When the hearing resumes, 38 members will each get five minute arounds to question the witnesses.
1:10 p.m.: GOP witness Jonathan Turley is not getting great reviews
12:48 p.m.: The White House weighs in
12:25 p.m.: One take on where we stand at the first break in the proceedings
11:58 a.m.: Witnesses say letting Trump skate will invite further abuses
Karlan emphasized that if Trump is not impeached, Congress will be giving him license to seek foreign interference in a U.S. election once again. "It's your responsibility to make sure that all Americans get to vote in a free and fair election next November," she told members of the committee.
Gerhardt took a longer view, saying that not impeaching will set a precedent for future presidents. "If what we're talking about is not impeachable, then nothing is impeachable," he said. "If Congress concludes they're going to give a pass to the President here, then every other president will say, 'OK, then I can do the same thing.'"
11:32 a.m.: Who is Norm Eisen?
The lawyer questioning witnesses for the Democrats right now is Norm Eisen, a Senior Fellow at the Brookings Institution who served in the Obama White House.
11:15 a.m.: A slight digression to discuss goldendoodles
11:07 a.m.: Is Trump watching?
He says no and he doesn't think others will be either. "I don't think too many people are going to watch, because it'll be boring," Trump told reporters.
10:55 a.m.: Law professor Pamela Karlan scolds Collins
Karlan, the Stanford law professor, was having none of the suggestion that she didn't know the facts surrounding the impeachment inquiry.
10:41 a.m.: The first witness gives a blunt opinion
Noah Feldman, a Harvard law professor, begins his testimony with a clear take on impeachment: "On the basis of the testimony and evidence before the House, President Trump has committed impeachable high crimes and misdemeanors by corruptly abusing the office of the presidency."
10:35 a.m.: The GOP is making trouble early
10:25 a.m.: Rep. Doug Collins, the top Republican on the Judiciary Committee, reacts to Nadler's statement
10:20 a.m.: Judiciary Chairman Jerrold Nadler kicks things off with his opening statement
Nadler focused part of his statement on Trump's efforts to obstruct justice, a signal that obstruction could be included in the coming articles of impeachment.
9:50 a.m.: The GOP's up to its same old antics