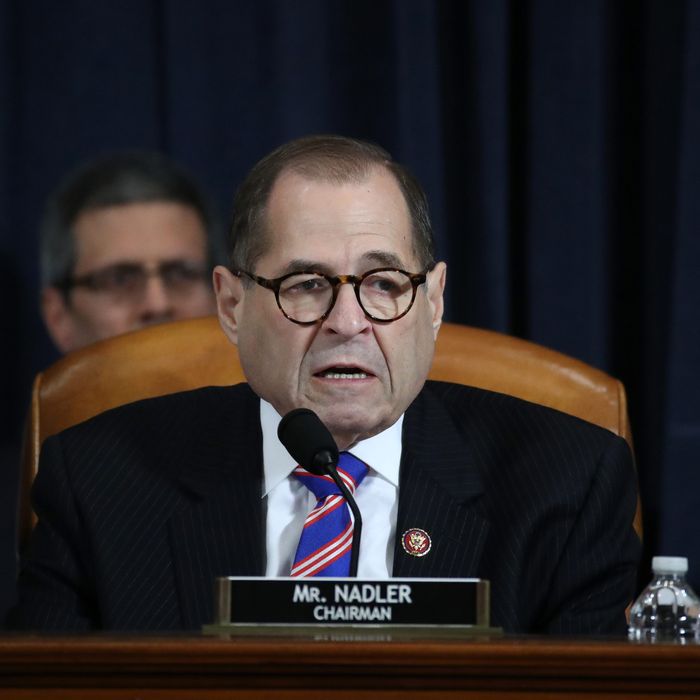 House Judiciary Committee chairman Jerry Nadler.
Photo: Drew Angerer/Getty Images
The House Judiciary Committee began its second, and likely final, hearing in the impeachment inquiry into President Trump just after 9 a.m. Monday. The 41 committee members heard arguments both for and against impeachment from congressional investigators; it concluded around 6:40 p.m.
The Judiciary Committee began the hearing with opening statements, followed by lawyers for Democrats and Republicans on the Intelligence Committee, who presented evidence for and against Trump's impeachment. Questions from lawmakers will follow.
The hearing comes as Judiciary Democrats are expected to move quickly to vote on articles of impeachment this week, with the full House likely to vote next week.
Follow along below for a timeline of the day's events.
6:40 p.m. Chairman Nadler adjourns the hearing.
5:32 p.m.: Gaetz prints tweet.
Florida Representative Matt Gaetz went with a Trump move in an effort to discredit Democratic counsel Daniel Goldman, printing out a tweet that the attorney had posted prior to his current appointment.
Responding to the claim of bias, Goldman said, "I have made a number of tweets in my private capacity before I came to this job when I was working in the media, yes."
4:40 p.m.: Monday's two political stories collapse on each other.
Judiciary Chairman Jerrold Nadler introduced the DOJ Inspector General's report released on Monday into the record. The report states that there was no political bias within the FBI decision to investigate the Trump campaign's connections with Russia in the 2016 election.
4:39 p.m.: Unsurprisingly, the president isn't watching the more process-based testimony in the Judiciary.
"I did, I watched a little bit, very little," Trump told reporters. "It's a disgrace, it's a disgrace to our country, it's a hoax and it should never ever be allowed to happen again."
3:38 p.m.: Texas Rep. Louie Gohmert provides a look into one possible political future. He also called the current hearing a "kangaroo court."
2:08 p.m.: GOP counsel Steve Castor probably could have left this quip at home.
1:58 p.m.: Another pro-Trump protestor interrupts.
"America is sick of your impeachment," a protestor yelled at Chairman Nadler.
1:34 p.m.: GOP counsel says that Biden is not a primary frontrunner.
When asked if he considered Joe Biden a frontrunner for the Democratic primary, Steve Castor said that he "wouldn't agree with that" because "it's too early." Biden currently has a double-digit lead over all other contenders nationally.
1:15 p.m.: Not a great afternoon for the GOP counsel.
1:06 p.m.: GOP counsel isn't sure Biden is a presidential contender.
1:00 p.m.: And the room wakes up.
Republican members are angry and their main objection, at the moment, is that Democratic Judiciary counsel Barry Berke is questioning witnesses after appearing at the witness table himself earlier in the hearing. The complaint seems to have some merit.
12:43 p.m.: It's not just you.
12:07 p.m.: Nadler denies GOP request to calls witnesses.
In a letter dated Monday, Nadler denied the request made by ranking member Collins to allow the minority to call its own witnesses. Collins and other Republican members wanted to call Adam Schiff, the whistleblower, and others before the committee. But Nadler said he wouldn't do it, and citied an explanation Schiff gave when Republican members of the Intelligence Committee asked him to call similar witnesses. At the time, Schiff said, "This inquiry is not, and will not serve … as a vehicle to undertake the same sham investigations into the Bidens or 2016 that the president pressed Ukraine to conduct for his personal political benefit, or to facilitate the president's effort to threaten, intimidate, and retaliate against the whistleblower who courageously raised the initial alarm."
"I concur with Chairman Schiff's assessment," Nadler wrote.
11:51 a.m.: A new sign appears.
11:32 a.m.: Even breaks are contested.
The hearing is now at recess, but even that didn't come without controversy.
11:25 a.m.: Democrat Counsel Daniel Goldman makes the case for impeachment.
Daniel Goldman, the lawyer for the Democrats on the House Intelligence Committee, walked lawmakers through the handful of reasons why Trump should be impeached. For those who've been paying attention, there was nothing new. But for those who haven't, Goldman summarized the case against Trump into four key points:
10:42 a.m.: The GOP's feelings are hurt on Trump's behalf.
Republican members of the committee have attempted to have the words of Barry Berke, a Judiciary Committee lawyer who provided an opening statement for the Democrats, stricken from the record. Why? Because, as Louisiana representative Mike Johnson said, his used language that "impugns the motives of the president and suggests he's disloyal to his country."
Nadler said that Berke is not subject to rules of decorum, and anyway, he added, "the topic of the hearing is the president's misconduct, so none of us should find it surprising that we are hearing testimony that is critical of the president."
10:28 a.m.: The White House weighs in.
10:18 a.m.: Trump makes an appearance at the hearing — sort of.
10:02 a.m.: Republicans want their own hearing.
The GOP has agitated several times already for a minority hearing day that would allow them to call their own witnesses in the impeachment inquiry. Nadler repeatedly said he is considering the request.
On Friday, Republican members of the committee sent Nadler a letter with the names of several people they would like to appear at such a hearing. It included Hunter Biden, Intelligence Committee chairman Adam Schiff, and the whistle-blowers whose complaint about a July phone call between Trump and the president of Ukraine touched off the impeachment push.
9:40 a.m.: Republicans are making points of order and Nadler's gavel hand is getting a workout.
9:31 a.m.: A battle of new talking points.
In his opening statement, Nadler referred to Trump putting "himself before the country" at least five times. "If the president puts himself before the country, he violates the president's most basic responsibility," Nadler said, attempting to synthesize the Democratic argument for impeachment. "He breaks his oath to the American people."
In his own opening statement, ranking Republican Doug Collins referred multiple times to the Democrats running a "focus-group impeachment" based less on facts and more on attempting to damage Trump politically.
9:17 a.m.: Of course.
The protester who interrupted Nadler's remarks appears to have been Owen Shroyer, an Infowars host.
9:12 a.m.: A protester interrupts Nadler.
Just minutes into the hearing, a man was removed after interrupting Nadler and accusing Democrats of treason.
9:05 a.m: The GOP loves its signs.