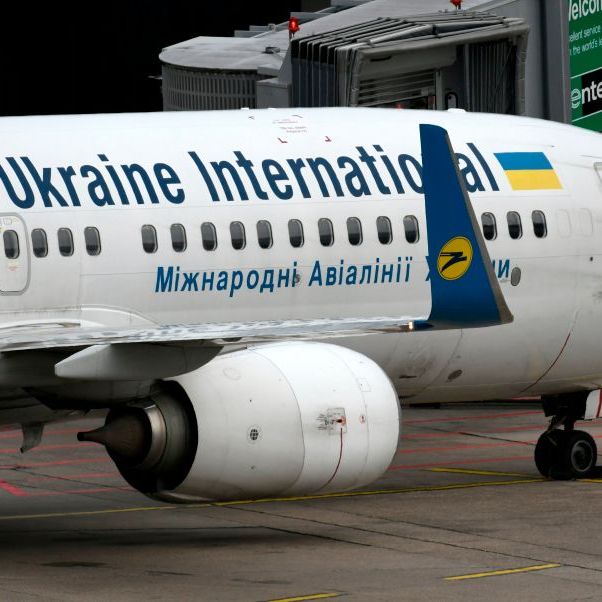 A Boeing 737-800 of the Ukraine International Airlines fleet in September 2019.
Photo: INA FASSBENDER/AFP via Getty Images
A Boeing 737 operated by Ukraine International Airlines crashed near the Tehran Imam Khomeini International Airport Wednesday morning shortly after taking off, killing all 176 onboard. According to flight tracking websites, the plane, which was headed to Kiev, crashed about six minutes after takeoff. Officials from Iran and Ukraine offered several contradictory statements on what may have caused the crash, but suggested it was not related to the military conflict between the U.S. and Iran, which escalated after Iran struck U.S. bases in Iraq hours before the plane went down.
According to Iran's Press TV, all 167 passengers and nine crew members were killed in the accident. The Iranian Students News Agency posted a video purportedly showing the crash from afar.
Reports from Iranian state news organizations referred to technical problems on the flight, and Ukraine's Embassy in Tehran initially released a statement pointing to engine failure and ruling out terrorism. That statement was later taken down. Ukrainian President Volodymyr Zelensky said he'd ordered a criminal investigation into the crash. "All possible versions of what occurred must be examined," Zelensky said in a Facebook post.
Ali Abedzadeh, the head of Iran's Civil Aviation Organization, said his country will not be sending the plane's flight data recorders to Boeing for further examination. "We will not give the black box to the manufacturer and the Americans," he told the Mehr News Agency. He added that officials from Ukraine would be involved in Iran's investigation.
Though no safety concerns have been flagged for the Boeing 737-800, the model belongs to the same aircraft family as the 737 Max 8. In March 2019, Boeing grounded all 737 Max planes in operation, after two crashes in six months resulted in the deaths of 346 people; the crisis ultimately led to the removal of former CEO Dennis Muilenburg. The crash in Iran comes the week before the new CEO David Calhoun takes over.
Even without the tension surrounding the conflict with the United States, it has been a tumultuous and tragic two days for civilians in Iran. On Tuesday, at least 50 people were killed and 213 injured when a stampede occurred at the funeral procession for Qasem Soleimani. And on Wednesday, a 4.9 magnitude earthquake struck near the Bushehr nuclear power plant on the Persian gulf.
This post has been updated throughout.