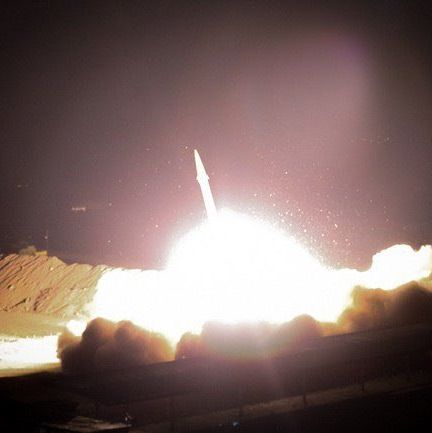 A photo provided by Iranian state TV from June 2017, depicting an IRGC missile launch from western Iran targeting ISIS forces in Syria.
Photo: Handout/IRIB TV
Iran fired ballistic missiles at U.S. military targets in Iraq early Wednesday morning, following through on its vow to retaliate against the U.S. after President Trump ordered the assassination of top Iranian general Qasem Soleimani in Baghdad last week. According to a U.S. official who spoke with CNN, the strike did not result in any U.S. casualties; an Iraqi official who spoke with the network also confirmed there were no Iraqi casualties, despite earlier reports that suggested otherwise.
Hours after the attack, Iranian foreign minister Javad Zarif stated that Iran had "concluded proportionate measures in self-defense under Article 51 of UN Charter targeting base from which cowardly armed attack against our citizens & senior officials were launched … We do not seek escalation or war, but will defend ourselves against any aggression." Presidential adviser Hesameddin Ashena added: "Any adverse military action by the US will be met with an all out war across the region."
Iranian Supreme Leader Ayatollah Ali Khamenei struck a different tone in a speech broadcast on state TV Wednesday. While he did not promise more military action, he said Iran's goal is to expel U.S. forces from the region. "Last night, they were given one slap," Khamenei said. "Such military actions are not enough as far the importance of retaliation is concerned. What's important is that their corruption-creating presence should end."
U.S. officials said they were still assessing the damage from the attack. U.S. personnel were able to track the missiles while they were in flight and take cover before they struck the two bases, according to the Los Angeles Times. Four of the missiles reportedly failed while in flight; ten hit the Al Asad Air Base about 100 miles west of Baghdad, and one hit a base in Erbil, in the Kurdish-controlled region of northern Iraq. Iranian officials said the launch started at 1:20 a.m., the time Soleimani was killed on Friday.
It's not yet clear how the U.S. will respond. Trump met with his top national security advisers at the White House on Tuesday night to discuss possible retaliatory measures. Earlier in the day, Defense Secretary Mark Esper said the U.S. was ready to strike back against any attack, explaining that the U.S was "not looking to start a war with Iran, but we are prepared to finish one." That followed Trump's repeated threats to strike back at Iran over the past several days, though the president's initial public response to the strike was unusually measured:
Informed speculation on the strike quickly emerged, as journalists and experts on the region weighed in on its significance, and how it might escalate the tension between the U.S. and Iran. Ben Rhodes, Obama's former deputy national security adviser for strategic communications, noted that "Iran taking responsibility for a conventional attack on US forces is a big deal and not necessarily the end of their retaliation." The missile attack is reportedly the first time that Iran has targeted and attacked U.S. forces. Trump appeared at the base in December 2018, in his first visit to troops stationed in a combat zone.
Prior to the claim that the attack had "concluded," Islamic Revolutionary Guard Corps officially announced the strikes and called for the U.S. to withdraw "all their soldiers back home to prevent more damage," while the Iranian government reportedly warned Gulf countries that U.S. bases on their territory are targets for further strikes. NBC News' Tehran bureau chief Ali Arouzi said that this will likely remain a limited conflict, reporting that Iran will not further escalate tensions if the U.S. does not respond to the strike.
Though the Iranian foreign minister said that Tehran does "not seek escalation or war," Republican hawks do, according to appearances on Fox News in the hours after the attack. In his opening monologue, Sean Hannity called for airstrikes against Iranian oil facilities, while Lindsey Graham said that Trump needs to "restore deterrence." One dissenting voice on the network, Geraldo Rivera, was slated to appear as well, but was cut for reasons that are unclear:
This is a developing news story, and this post will be continuously updated.