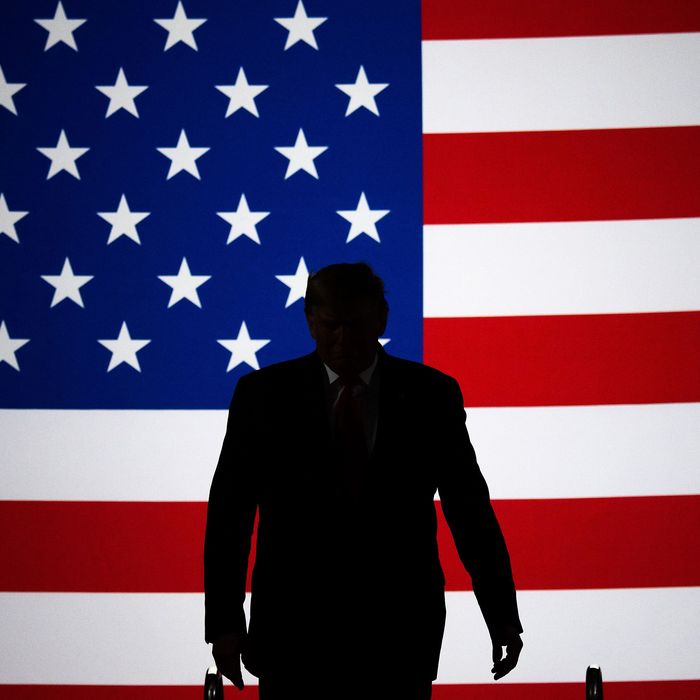 A lot can happen on the road to Trump's acquittal.
Photo: Saul Loeb/AFP via Getty Images
Just over three years after his inauguration, President Trump is finally suffering the fate many predicted from day one: impeachment. Below are highlights of Tuesday's proceedings, which mark the real beginning of his trial after last Thursday's pomp and circumstance.
Editor's note: latest updates are at the top.
Day One Becomes Day Two
Shortly after midnight, the Senate voted to table yet another proposed amendment, determining how evidence is handled in the trial. Close observers of the 13-plus hour first day can guess how it went down — in yet another 53-47 vote. By around 1:30 a.m., impeachment manager Representative Adam Schiff argued the 11th and final amendment — in which a "neutral arbiter," Chief Justice Roberts, would determine the relevancy of a potential witness — before an exhausted chamber. The amendment, like all the others before it, was tabled, and McConnell's resolution was adopted.
Representative Hakeem Jeffries tries to keep it light
Perhaps the reference resonated with the senators after their pizza dinner. Either way, around 9:45 p.m., shortly after Republicans voted down an amendment seeking the testimony of Mick Mulvaney, Mitch McConnell asked Chuck Schumer if he could expedite the process by stacking votes on remaining amendments into a single vote — a request that Schumer declined.
Republicans vote down Schumer's first three amendments
The Senate voted along party lines to knock down three of the Democrats' amendments to Mitch McConnell's organizing resolution — the rules dictating how the trial will be conducted. The three alterations so far that have been tabled involved a call to subpoena State department documents; a call to subpoena documents from the Office of Management and Budget; and a call to subpoena documents from the White House related to Ukraine.
Shortly after voting down the third amendment, the Senate broke for dinner. With more amendments coming to subpoena witnesses, it's going to be a long night.
McConnell reportedly wants to finish the trial in 10 days
According to "two sources in communication with Senate Majority Leader Mitch McConnell" who spoke with CNN, the Kentucky senator wants to wrap up the trial in 10 days, a timeline that would be roughly follow these outlines:
Wednesday: Democratic arguments
Thursday: Democratic arguments
Friday: Democratic arguments
Saturday: Trump team arguments
Monday: Trump team arguments
Jan. 28: Trump team arguments
Jan. 29: Senator questions
Jan 30: Senator questions
Jan 31: On the second Friday of the trial, there would be four hours of debate on whether or not to subpoena witnesses and documents, followed by a vote on those potential subpoenas, and a vote on any other motions. If no votes pass, it's possible the Senate could vote to acquit that day.
Collins 'likely' to support a motion to subpoena witnesses
One of the few Republicans expected to break from her caucus on procedural issues, Maine Senator Susan Collins said that she is "likely" to support a Democratic motion to subpoena witnesses later in the trial. "As I said last week, while I need to hear the case argued and the questions answered, I anticipate that I would conclude that having additional information would be helpful," she said in a statement on Tuesday afternoon. "It is likely that I would support a motion to subpoena witnesses at that point in the trial just as I did in 1999."
Senators are bending the rules on cellphones
Considering the screen habits of most Americans, the rule that senators cannot use electronic devices in the chamber is going to be a tough one to adhere to during the grueling hours expected for the trial. As a workaround, at least eight senators so far have worn Apple Watches to be able to contact aides and the outside world. According to Roll Call, at least seven senators were spotted with a loophole smartwatch.
Senators are opting for low-tech, middle-school solutions to get around the no-communication rule during the trial, including passing notes (Mike Lee), sharing candy (Ben Sasse), whispering to neighbors (Mark Warren and Tim Kaine), and pretending to punch a colleague in the chest (Lisa Murkowski to Lindsey Graham).
Sekulow, Cipollone argue that process is a sham
In initial remarks, White House lawyers Jay Sekuow and Pat Cipollone argued that the impeachment trial was a waste of America's time — not bothering to defend President Trump's actual conduct. Cipollone seemed personally upset, repeatedly pounding the podium in front of him and calling the trial "ridiculous," and going after Adam Schiff repeatedly for reading an inaccurate version of President Trump's phone call with Ukraine's president into the congressional record — an episode that has become an obsession on the right. Only very close observers of the Trump administration might have noticed that not all of the arguments the two lawyers laid out were consistent with past practice.
McConnell gives some ground on timing
The Senate Majority Leader announced that he would expand the number of hours Democrats and Republicans can argue their case, meaning that the trial will not run into the wee hours this week after all. The change was a reaction to pushback from (relatively) moderate Republican senators like Susan Collins, who balked at McConnell's original, extreme plan.
In another alteration likely spurred on by that same group of senators, McConnell reversed course and said he would allow the House's impeachment evidence to be entered into Senate evidence.
Schumer goes to town on McConnell's proposed rules
Speaking on the Senate floor, Minority Leader Chuck Schumer assailed Mitch McConnell's proposal for how the impeachment trial should be conducted. It appears the majority leader's aim is to acquit President Trump quickly and — by conducting the proceedings late at night — draw as few eyeballs as possible.
Correction: This post originally identified Michael Bennet as one of the senators wearing a smartwatch on the Senate floor. According to a spokesperson, the senator "doesn't own an Apple watch and was just wearing the regular old Timex he wears every day."