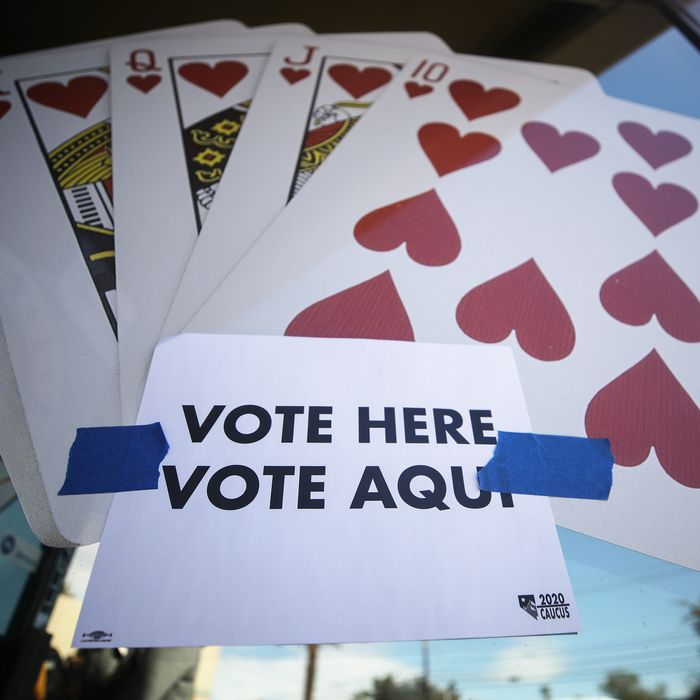 What order will the candidate's cards come up?
Photo: Mario Tama/Getty Images
Nevada voters have weighed in on the Democratic presidential candidates, and while it's very clear that Bernie Sanders won the caucuses, a slow count has delayed the official results. Those numbers will reveal Sanders's final margin of victory as well as the order of finish for the candidates below him. We are tracking the results as they come in, in addition to commentary and analysis, via live updates below.
More good news for Bernie
A post-Nevada poll shows Sanders is consolidating support.
How Bernie won so big
Now that Nevada's final results are in, so too are the analyses of how Sanders did it. Megan Messerly explains in The Nevada Independent that the blowout was built though expert organizing, "a substantial paid media campaign," and the ability to spend big while other Democrats had to be more frugal:
For the Sanders campaign, there was no complex calculus about where to devote resources ahead of Nevada's caucus. Where other campaigns had to be strategic about where they spent their time and money, Sanders, who raised $25.2 million in the last fundraising quarter, could afford to be and spend everywhere. The campaign began staffing up in Nevada in March and had more than 250 staffers on the ground by Caucus Day, outnumbering the next-biggest presidential campaign team by nearly two to one.
Sanders built a winning coalition of young voters, non-white voters, and those who consider themselves "very liberal" and the result was a landslide win that has his detractors reeling.
That's a wrap
Nearing a final
Not much change with more than 87 percent of precincts in:
At last — more results!
The Nevada Democratic Party finally released more results from the caucuses early Sunday evening. There were small upticks for Sanders and Biden, and drops for everybody else:
Worth noting:
Also:
Still just 60 percent of precincts in
No new results have been released as of Sunday afternoon, so here is where things stand, as they have all day:
Harry Reid is done with caucuses
On Sunday, former Senate Majority Leader Harry Reid praised Nevada Democrats' handling of Saturday's caucuses, but also called for an end to the voting format. "All caucuses should be a thing of the past," Reid told the New York Times. "They don't work for a multitude of reasons."
One day later, a bold Bernie claim in Texas and some shade for the pundits
Team Pete is already trying to call the count into question
Late Saturday night, Buttigieg's deputy campaign manager complained that "our data shows that this is a razor thin margin for second place in Nevada, and due to irregularities and a number of unresolved questions we have raised with the Nevada Democratic Party, it's unclear what the final results will be."
The NDP responded on Sunday morning that it would not change its reporting process mid-stream and that the campaigns should follow the formal protocol for challenging the results once the Party finishes reporting them.
More results trickle in from Nevada
Results reported after midnight showed a surge for Buttigieg, as the South Bend mayor overtook Joe Biden for second place in final delegate alignment.
Sanders's strong performance among Latino voters helped carry his win
In entrance polls on Saturday, the Vermont senator carried many important demographic groups, including both men and women, people across education levels, and, crucially, among Latino voters:
One possible reason:
And he may have a big advantage going into Super Tuesday
Sanders's strength among Latino voters in California has helped him maintain a two-digit lead in the state, which carries a whopping 416 delegates. If he is also able to pull out a win in Texas — where he has a lead of 2.5 points over Joe Biden — Sanders will have secured nearly a third of the needed delegate total to win from those two states alone.
And as Barack Obama's 2008 campaign manager David Plouffe noted on MSNBC, Sanders enjoys a structural advantage on Super Tuesday and beyond if the race remains crowded. "If it is more than a two-candidate race, certainly, if it's a four or five-candidate race, Bernie sanders can walk to the nomination getting 35, 36, 37 percent of the vote," he said. "If it's March 3rd and we're talking about Klobuchar, Buttigieg, Warren, Biden, Bloomberg, and Sanders, and everybody's in, Bernie's going to win almost all the delegates he needs to build an impenetrable delegate lead. That's just math. It's not my opinion, it's just simple math."
Nevada Democratic Party states there's no reason to worry over delays
Though results began to stall around 10 p.m., Democrats running the show assured observers that there was no reason to fear a second Iowa:
Team Warren's response? Remember the debate and hang on
Here's what Elizabeth Warren's campaign manager, Roger Lau, had to say on Saturday night:
The Vegas debate shook this election up. [Warren's] vote share appears to have gone up more than 50% between early vote & those who caucused today. We've raised $9m in 3 days & more than $21m this month. … We believe the Nevada debate will have more impact on the structure of the race than the Nevada result. Since a huge percentage of the votes were cast before the debate — likely well more than half — tonight's results are a lagging indicator of the current state of the race.




The Warren campaign is adding media across the Super Tuesday states and beyond and we expect to be one of at most three candidates with a delegate path to the nomination after Super Tuesday.
Some context and translation from NBC Warren-beat reporter Ali Vitali:
What remains unsaid is her specific path through/down the calendar. Yes, they've got ~1000 staffers across 31 states. But both Warren and her campaign have demurred when asked where on the map they see their outright win coming. …




[T]he looming Q for *all* remaining camps (but perhaps especially Warren's because she ran alongside him on policy for so long) will be what to do about Sanders. Lau argues Bernie has "effectively unlimited resources to compete" but "a significant ceiling." Will voters care?

Speaking at a Saturday night rally in Seattle, Warren went after the billionaire she pummeled in last week's debate.
"He argues that he is the safest bet to beat Donald Trump," she said. "He's not safe, he's just rich."
The Warren campaign had a brief, if obviously false, flash of hope after midnight, when the results momentarily stated that she had pulled in 83.3 percent of first alignment votes.
Sanders's weakness is just a prediction
More momentum than Trump had?
Earlier on Twitter, Sabato's Crystall Ball editor Kyle Kondrik threw cold water on the idea it would be possible to cobble together a Democratic coalition to beat Sanders:
It's easy to say that some of the candidates should get out to stop Sanders. But it's not even clear to me that if Steyer or Klobuchar or Buttigieg got out (or all three), their supporters would all go to non-Sanders alternatives. Sanders is pretty popular in the party right now.
"There's obviously a contingency of Democrats who don't like Sanders, but the idea that there are/were only two 'lanes' in this primary was just never based on how, y'know, actual voters think," Intelligencer's Gabriel Debenedetti added — and later warned:
"Don't mistake "~70-75 percent voted for someone other than Sanders in X early state" with "~70-75 percent is dedicated to stopping Sanders from winning."




This is the gulf between rank-and-file Democrats and party elites sentiment on Sanders.
And Inside Elections analyst Ryan Matsumoto noted on Twitter that Bernie Sanders's favorability among Democrats was much higher than Trump's favorability among Republicans in a recent Quinnipiac poll:
In the 2016 Republican Primary, Trump blew past his ceiling as he gained momentum by winning state after state. The voters coalesced around the frontrunner. It's very possible that the same thing happens with Sanders this year, and even faster.
But if Democratic voters do rally behind Sanders, will they have to drag much of the party's elite along with them? And how soon would the other candidates get in line?
That frontrunner high
Sanders has announced his victory at a rally in Texas:
One observer tries to put the energy in context:
Mayor Pete warns of "rush" to nominate Sanders
Pete Buttigieg, who is already running an attack ad on Sanders in South Carolina, urged Democratic voters to slow down and think about what they are doing. "Before we rush to nominate Senator Sanders in our one shot to take on this president," Mayor Pete said in his post-caucus speech, "let us take a sober look at the consequences — for our party, for our values, and for those with the most at stake."
An impressive showing for Bernie Sanders
Joe Biden: "I ain't a socialist"
Claiming some kind of momentum victory in Nevada, Biden told supporters his comeback was underway, insisted they would win South Carolina, and also: "I ain't a socialist. I ain't a plutocrat. I'm a Democrat," he said. Meanwhile, his campaign dropped its spin on the still incomplete results:
Steyer and Klobuchar vow to campaign another day
Though Amy Klobuchar and Tom Steyer are expected to finish with results in the low single digits, their suggested on Saturday that they would continue on into South Carolina and Super Tuesday:
A majority of Democratic voters, so far, want Medicare for All
Trump is trying to pour gasoline on the Democratic race
Meanwhile on MSNBC, reality is setting in
Some on-air commentators are less-than-pleased with the rise of Sanders:
Call volume troubles
This also happened in Iowa, where the Party's call center was overwhelmed. It's not yet clear if is a widespread problem in Nevada too, but in this case, the volunteers were eventually instructed to text in their numbers instead:
"We've been prepared all along for a high influx of results as caucuses wrap up," Nevada Dems spokesperson Molly Forgey has assured the Washington Post, "and we're working diligently to accommodate and continue processing the high volume of incoming results from precinct chairs."
Culinary workers go for Sanders
A lot has been made about the way the leaders of the powerful Culinary Union pushed back on Bernie Sanders, his supporters, and Medicare for All ahead of the caucuses. The workers, on the other hand:
No dice
In Iowa, they break caucus-site ties with coin tosses. In Nevada, they hit the deck:
Nevada Democratic Party insists there is no volunteer shortage
Earlier Saturday, there were reports that campaign workers were being asked to help run caucus sites, raising concern that there was a shortage of volunteers. The Nevada Democratic Party has since dismissed those fears:
Signs of a big Bernie win
In addition to leading all of the polls in the state by a comfortable margin heading into Saturday, there have been more indications that Senator Bernie Sanders will perform well in Nevada. For one, the entrance polls, as the New York Times' Nate Cohn explained in Twitter thread:
Well, you know all the caveats about early entrance polls. But if they're anything in the ballpark, then not only is Sanders en route to a decisive victory, but he'd have a very good chance to win a clear majority of delegates at stake …




If the result was anything like [these polls], the key is that Sanders could claim an outright majority of the vote (and therefore delegates) among qualifying candidates over 15 percent statewide or by congressional district, and there isn't even a guarantee that other candidates will always breach the 15 percent.
Second, there is some anecdotal evidence that Culinary Union workers are not as concerned about Medicare for All as the union's leaders have been.
What counts in the count?
Intelligencer's Ed Kilgore, in his preview of the caucuses, explained that the Nevada Democratic Party will do things a little differently than its Iowa counterpart did:
As in Iowa, the state party and the media will report three things: first-alignment raw numbers, second-alignment raw numbers, and perhaps some estimate of national delegates won (these won't actually be selected until later in the process). Unlike in Iowa, the custom in Nevada is to treat the first-alignment raw-vote leader as the winner.
This post will be continuously updated throughout.