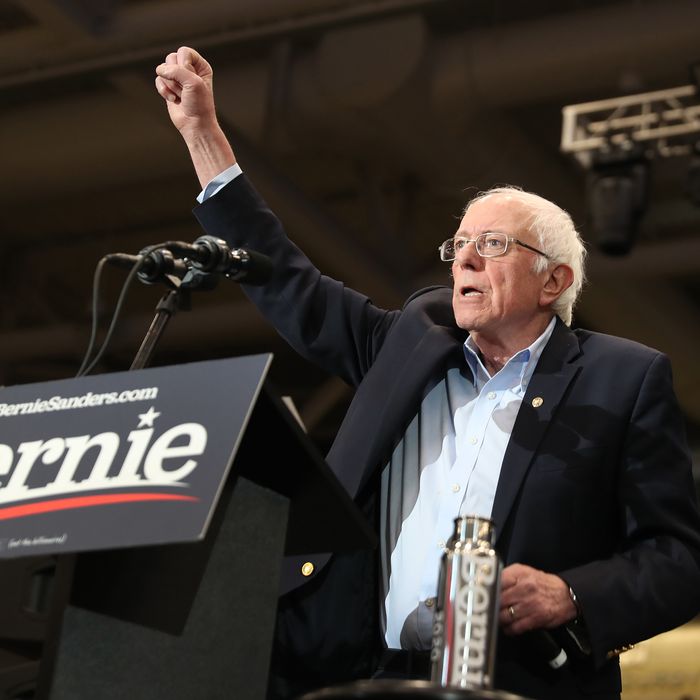 Photo: Joe Raedle/Getty Images
After chaos and frustration dominated the news cycle surrounding the Iowa caucuses, New Hampshire blessed the electoral schedule with a simple and restorative primary. About three hours after polls closed, news organizations called the race in favor of Vermont Senator Bernie Sanders, who won by a slim margin over former South Bend Mayor Pete Buttigieg. Below is everything you need to know about the primary so far — including candidacy-shaking showings from Elizabeth Warren and Joe Biden, and the campaign suspensions of at least two Democrats.
Who's winning in the precincts reporting thus far
With 93 percent of precincts reporting around 11:40 p.m., Sanders leads the field:
Bernie Sanders — 26 percent — 70,546 votes

Pete Buttigieg — 24.4 percent — 66,219 votes

Amy Klobuchar — 19.8 percent — 53,662 votes

Elizabeth Warren — 9.3 percent — 25,306 votes

Joe Biden — 8.4 percent — 22,783 votes
How does the delegate math work?
New Hampshire has 24 delegates that will be allocated proportionally according to the popular vote — though candidates need to clear 15 percent support to be eligible. The current vote count suggests that Sanders and Buttigieg will receive nine delegates each, while Amy Klobuchar is expected to pick up six. According to CNN, after Iowa and New Hampshire, Buttigieg leads the field with 21 delegates, followed by Sanders with 20, Warren with eight, Klobuchar with seven, and Biden with six.
What do Tuesday's results mean going forward?
Sanders's slim margin of victory in New Hampshire tagged with his popular vote win in Iowa show that he is the frontrunner in a tight race with Pete Buttigieg. However, that assessment may only hold until Super Tuesday, when Michael Bloomberg's massive spending will prove its mettle: As New York's Eric Levitz notes, the Democratic primary could soon become "a two-man race between a 78-year-old Jewish socialist who only recently began identifying as a Democrat, and a 77-year-old Jewish billionaire who only recently began identifying as a Democrat."
Meanwhile, Amy Klobuchar's strong performance in New Hampshire — where she picked up 12 more points than expected from poll aggregates — keeps her in the race. Responding to her 20-point haul in New Hampshire, the Minnesota senator is reportedly expanding her staff in Super Tuesday states. Joe Biden and Elizabeth Warren, meanwhile, will face serious difficulties proving the viability of their campaigns moving forward. A distressing stat for Biden supporters was shared frequently on Tuesday night: In his four presidential bids, the former vice-president has never finished higher than fourth in any primary or caucus.
The next state for Democrats to make their case is Nevada, which will caucus on Saturday, February 22. As of February 11, Sanders led polls the in Silver State with an average of 24.2 percent, followed by Biden at 18.8 percent, Warren at 12.5 percent, and Buttigieg at 8.6 percent. Those results could change substantially in the next 10 days, however.
The New Hampshire primary also slimmed the race significantly
Following their poor showings on Tuesday, Andrew Yang and Michael Bennet announced they were suspending their campaigns, while Deval Patrick is expected to announce his plan to drop out on Wednesday.
Trump won the GOP primary
With 85.34 percent of the vote as of a little after 8 p.m., the primary was called in favor of the president; Bill Weld came in second, with a little less than 10 points.
Lots of late decisions among New Hampshire Democrats
According to exit polling, almost half of primary voters had not decided upon their candidate until this week — which could be good for Democrats like Pete Buttigieg and Amy Klobuchar, who had strong showings in Iowa and last Friday's debate.
A snapshot of expectations before votes came in
Polling aggregates show that Sanders leads the field with 26 percent support in New Hampshire and Pete Buttigieg in a close second with 23 percent. Data for Progress, the think tank that came closest to the actual results in Iowa, shows Sanders in the lead with 28 percent support followed by Buttigieg at 26 percent. And prior to results, the dreaded New York Times' needle predicted a Sanders win by six points.