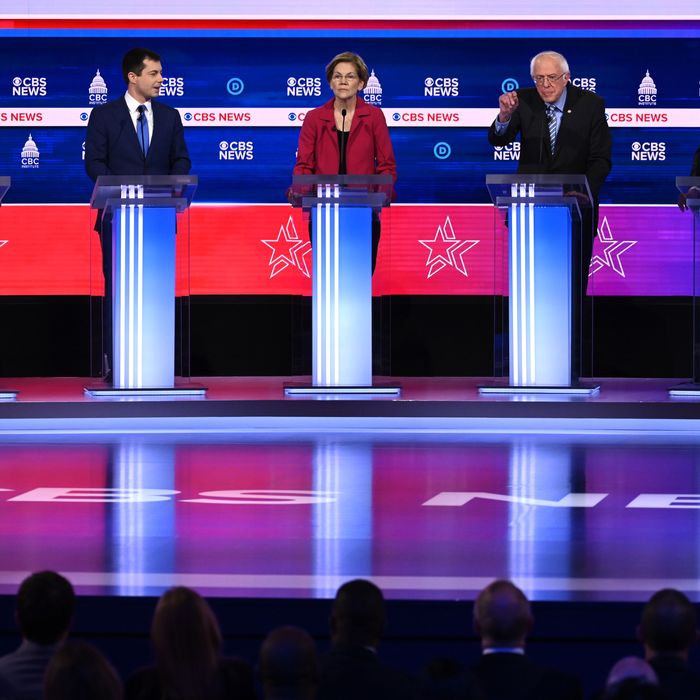 Tuesday night's chaos didn't just play out on stage.
Photo: Jim Watson/AFP via Getty Images
During a chaotic Democratic debate filled with candidates talking over each other on Tuesday night in Charleston, South Carolina, some members of the audience repeatedly booed and heckled some of the candidates onstage, prompting confusion among debate-watchers online. Most of the boos appeared to target Bernie Sanders and Elizabeth Warren, including, at times, when they were criticizing Michael Bloomberg.
Sometimes it was difficult to tell who the small but loud group of audience members was targeting or supporting. In one instance, Sanders was booed after attacking Biden on trade.
The reactions also distracted Sanders a few times, and at one point he responded to a heckler who had shouted out something during one of his answers.
It's the first debate of the primaries in which members of the audience have behaved like this, and their apparent preference for Mayor Bloomberg prompted some unsubstantiated theories online — to the point that the Bloomberg campaign officially denied, mid-debate, that it had paid anyone to support the candidate at the event (as it has done online).
Some criticism was also leveled at the Democratic Party, since debate organizers first awarded tickets to people who sponsored the event with donations of at least $1,750. That elite-friendly practice is pretty standard, however, and the networks and campaigns were also given some tickets to distribute, as a party spokesperson later explained:
We'll update this post if the boo-birds are identified.