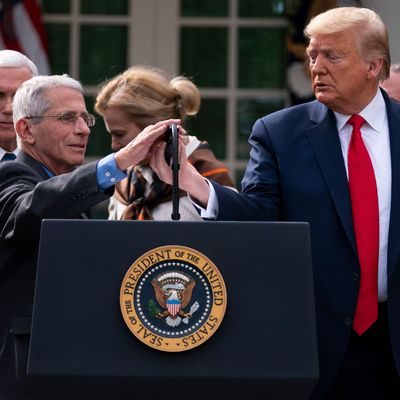 This is not social distancing.
Photo: Evan Vucci/AP/Shutterstock
President Trump's rambling, hour-plus press coronavirus press conference on Friday afternoon included a lot — the president declaring a national emergency and claiming that he bears zero responsibility for America's botched testing rollout were just two of the highlights. One thing it did not include was a demonstration of the kind of social distancing experts are currently advising all Americans to practice. Instead, President Trump, who has recently been in the proximity of at least one person who has tested positive for the virus, shook hands with multiple CEOs (who he had lined up to demonstrate corporate America's readiness to help) and handled the microphone in the manner of someone who still does not grok the gravity of the situation. Mike Pence, and venerated immunologist Anthony Fauci —who should really know better — weren't much more inspiring.
We're committed to keeping our readers informed.
We've removed our paywall from essential coronavirus news stories. Become a subscriber to support our journalists. Subscribe now.