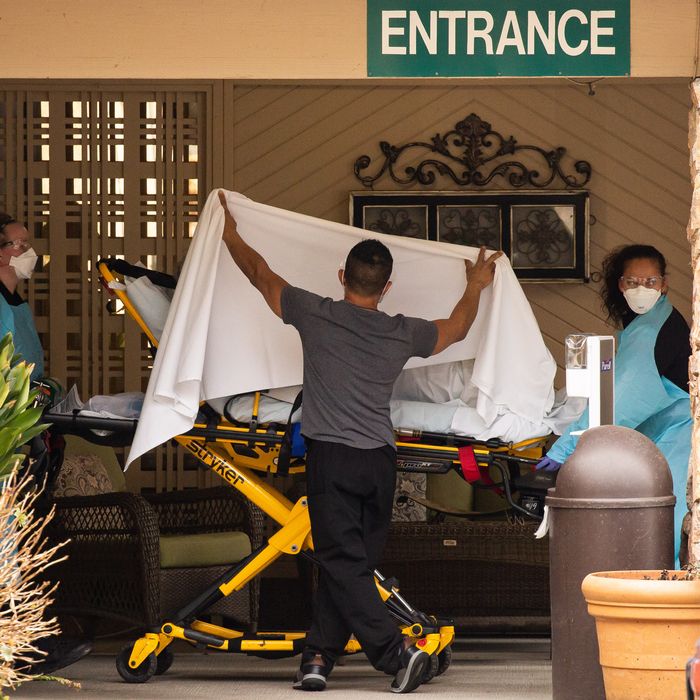 Health-care workers transport a patient into an ambulance at Life Care Center of Kirkland, Washington.
Photo: David Ryder/Getty Images
A total of 11 people in the U.S. have now lost their lives to the COVID-19 novel coronavirus, all but one of them in Washington State. On Thursday, the total of coronavirus cases in California grew to 36, with one death reported in Placer County northeast of Sacramento. As of Wednesday, 15 states had confirmed cases of coronavirus for a total of at least 159 nationally. Health officials in multiple states expect more cases of the virus to soon emerge as state and local COVID-19 testing capacity continues to ramp up.
Below are the latest developments on the spread of the coronavirus in the U.S. and the response of public-health officials.
Pelsoi says Capitol is preparing for potential outbreak
In the event of a Washington, D.C. coronavirus outbreak, Capitol Hill staff will be able to work from home, House Speaker Nancy Pelosi told reporters Thursday. Lawmakers will not have the same luxury, she said: "We can't vote from home."
Pelosi also confirmed that there are no plans to test visitors to the Capitol or to close public areas. That, she said, is "not realistic."
Cuomo: There are now 22 confirmed cases in New York
New York Gov. Andrew Cuomo announced Thursday afternoon that there are now twice as many coronavirus cases in New York state than previously detected. The doubling of cases — from 11 to 22 — will not be the end of it, he said. "The number will increase because it is math," he said. "The more you test, the more positives you'll get."
Most of the 22 cases are tied to a 50-year-old man in Westchester who has been hospitalized with illness. The other cases are in New York City and Nassau County.
Government will fall short of promise to have a million tests available
A few days after the Trump administration said a million coronavirus tests will be available by the end of this week, it's become clear that the goal will not be met. "There won't be a million people to get a test by the end of the week," Florida Senator Rick Scott said Thursday after a briefing from health officials. "It's way smaller than that. And still, at this point, it's still through public health departments."
Bloomberg reports that tests won't even begin once the tests are received by local health departments:
Scott and other lawmakers said the government is "in the process" of sending test kits out and people still need to be trained on how to use them. The entire process could take days or weeks, they said.




"By the end of the week they're getting them out to the mail," Republican Senator James Lankford of Oklahoma said. "It's going to take time to be able to get them, receive them, re-verify them and then be able to put them into use."
A cruise ship is being held off the cost of California until passengers can be tested
Passangers on a cruise ship off the coast of San Francisco will not be allowed to leave until health officials can "appropriately assess the passengers," Gov. Gavin Newsom said Wednesday. The Grand Princess is linked to the state's first coronavirus death, a 71-year-old man who sailed from San Francisco to Mexico last month.
After returning to Mexico, the ship set off for Hawaii with 2,500 passengers, 62 of whom were also on the cruise to Mexico with the man who later died. Now, Newsom said, at least 11 passengers and 11 crew members have developed symptoms.
Two more cases confirmed in NYC
New York City Mayor Bill de Blasio said on Thursday morning that two more people had tested positive for the coronavirus in the city, bringing the total number of cases to four. More alarmingly, both of the new patients are in the intensive care unit — and one is in his 40s, well out of the most dangerous age range for coronavirus.
Trump offers bad advice for coronavirus patients
For people who suspect they have been exposed to coronavirus, the CDC recommends to "restrict activities outside your home, except for getting medical care. Do not go to work, school, or public areas. Avoid using public transportation, ride-sharing, or taxis." Trump went a different route in his interview with Sean Hannity, stating that patients with mild cases of coronavirus can "get better just by, you know, sitting around and even going to work."
Congress is expected to approve $8.3 billion in emergency funding
Lawmakers in the House and Senate reached a deal to approve an $8.3 billion emergency aid package to combat the spread of coronavirus, according to the New York Times. Per the Times report:
The bipartisan package, which includes nearly $7.8 billion for agencies dealing with the virus and came together after days of rapid negotiations, is substantially larger than what the White House initially proposed in late February.




It also authorizes roughly $500 million to allow Medicare providers to administer tele-health services so that more elderly patients, who are at greater risk from the virus, can receive care at home, according to two of the officials.
The first confirmed death in California
In Placer County northeast of Sacramento, officials announced the first coronavirus death in the state and described the patient as "an elderly adult with underlying health conditions." The county health department states that the patient was exposed to the virus while traveling on a Princess cruise ship from San Francisco to Mexico. They tested positive on March 3. The death is the eleventh nationally, and the first to occur outside Washington state.
Also on Wednesday, NBC News reported that a medical screener working at Los Angeles International Airport tested positive for coronavirus despite wearing proper protective gear during their shift.
New York: 11 confirmed cases confirmed, was community transmission
On Wednesday, Governor Cuomo announced that coronavirus had been confirmed in 11 patients — including three family members of a 50-year-old lawyer living in Westchester who was confirmed as the second case in the state on Tuesday. Unlike the first confirmed case of coronavirus in the city, a woman who had recently traveled to Iran, the new patient had no known links to other outbreaks — the case in Westchester suggests that the virus has been spreading locally. Cuomo said that the man, who has been hospitalized and remains in serious condition, had an underlying respiratory condition.
"This is literally like trying to stop air, because somebody sneezes," Cuomo said on Wednesday. "It's respiratory and it's inevitable that it will continue to spread."
The case has already prompted the closure of two schools and a synagogue. SAR Academy in Riverdale, where one of the man's children attends, closed on Tuesday morning.
It was not clear whether a student or parent — or neither — was suspected to have the virus. In any case, the move could have ripple effects across New York's vast school system.
Washington State: 10 people have already died in the largest known U.S. outbreak
By Wednesday, state officials had announced the tenth coronavirus death in the state. Three people who died were elderly residents of a 190-bed nursing home near Seattle who had contracted the disease. A fourth person with the virus was reported dead in a nearby county. On Tuesday, officials confirmed that the virus had killed two more residents of the nursing home in Kirkland, who died a week ago. The Seattle area is also dealing with a new area of outbreak: On Wednesday, Facebook confirmed that a contract working at its office in the city was diagnosed with coronavirus.
On Sunday, state health officials confirmed the second coronavirus death in the state (and country). Earlier in the day, the state had confirmed two new coronavirus cases, both men in their 60s who were hospitalized in critical condition. Ten of the state's 13 confirmed COVID-19 cases lived in King County, near Seattle. As of Monday, six people with the virus were in critical condition.
Officials are certain main more cases of COVID-19 will be found in the coming days. According to research published over the weekend, the coronavirus may have been spreading, unchecked, in Washington for as long as six weeks. If that's the case, anywhere from 150 to 1,500 people may have been infected in there, according to models of the likely outbreak:
Coronavirus testing is getting easier in the state, however, and on Monday was up to a new capacity of roughly 200 tests per day. Indeed, health officials do not yet know where some of the people contracted the coronavirus, as they had no known links to other outbreaks in the world or anyone infected with COVID-19. That includes a man in his 50s with underlying health conditions who became America's first coronavirus fatality over the weekend.
One of the places the unchecked virus found its way to was Life Care Center, a 190-bed long-term-care facility in the Seattle suburb of Kirkland. That outbreak has already killed four people — a man in his 70s on Sunday, and then three more people on Monday. On Saturday, state officials announced that a resident and employee at the nursing home had both tested positive for the coronavirus, and that another 27 residents and 25 employees at the facility were showing COVID-19 symptoms. A total of 288 people live or work at Life Care Center, where, according to the Seattle Times, staff may have mismanaged this and other previous infections at the facility.
Washington State governor Jay Inslee declared a state of emergency in response to the outbreak, and state officials are already considering banning large events in an effort to prevent the spread of the virus. In King County, local officials have purchased a motel to use as an isolation center.
King County health officer Dr. Jeff Duchin warned on Monday that the state's health system may soon be overwhelmed. He expects COVID-19 cases to overtake flu cases in a matter of weeks, at which point authorities will have to focus their resources on the worst outbreaks in the state rather than on individual cases.
The first newly confirmed cases of the coronavirus in the state were reported on Friday, including a 15-year-old high-school student in Snohomish County with no known links to any other outbreaks or infected people, and a woman in her 50s who had recently returned from Daegu, South Korea, the epicenter of what has become the second biggest outbreak in the world.
The teenager had visited two area health clinics and briefly returned to school before testing positive. The teen has been quarantined at home, and the high school has since become one of many in the state that have been closed for a deep cleaning.
Georgia: Two travel-linked cases found
Georgia officials announced on Monday night that two residents had tested positive for COVID-19 — both from the same household in Atlanta. One of the people had recently returned from Italy, meaning the cases were not the result of community transmission.
New Hampshire: A case linked to Italy
New Hampshire health officials on Monday announced the state's first confirmed case of the coronavirus in a resident of the northwestern part of the state who had recently traveled to Italy. The officials do not believe there was any community transmission of the virus related to the case, and the state epidemiologist stressed that New Hampshire's health system was well prepared to respond to the virus.
Texas: A quarantine standoff in San Antonio
The mayor of San Antonio declared a state of emergency in the city on Monday afternoon in order to block the release of Americans scheduled to leave quarantine at a nearby Army base. This move came after a woman in quarantine, who had twice tested negative for the virus and been released, later tested positive for the coronavirus. In the 12 hours before she was returned to isolation, the woman spent time at a mall and a hotel near the airport — though health officials said the chance she transmitted the disease to many people was low.
Texas governor Greg Abbott has also worked to block any further release of people from quarantine and demanded that the CDC retest all of them.
Florida: Public-health emergency declared after two cases found
On Sunday night, Florida governor Ron DeSantis directed the state's surgeon general to declare a public-health emergency after two people in the Tampa Bay area tested positive for the coronavirus — the first cases reported in the state. Health officials don't yet know how one of the people, a man in his 60s, contracted the disease. The other case is a woman in her 20s who had just returned home from northern Italy, which has had the most reported coronavirus cases in Europe.
Florida health officials are working to identify, monitor, and test, if needed, anyone who has come into contact with the two individuals. The good news is that all three of the state's public-health laboratories began conducting their own coronavirus tests on Saturday. According to the Miami Herald, that should cut the state's wait times for test results down to no more than 28 hours — instead of the three to five days it had been taking to get results back from the CDC.
As of Monday morning, 23 people have been tested for the coronavirus in the state, and officials are monitoring another 184 people to see if they develop symptoms.
New York: A health-care worker returning from Iran knew what to do
Governor Andrew Cuomo announced New York State's first confirmed coronavirus case on Sunday night. A 39-year-old Manhattan woman who had recently traveled to Iran tested positive for the disease, and health officials expect that her husband, who made the same trip, will also soon test positive. Both are health-care workers, so they took extra precautions to isolate themselves upon returning to New York, where they avoided public transportation and immediately self-quarantined in their apartment. On Monday, Cuomo praised the woman's "textbook" efforts to reduce her exposure to others.
The governor said that health officials do not believe she was contagious while she was traveling back to the U.S., but authorities are still contacting the other passengers on her plane as well as the car-service driver the couple hired to drive them home from the airport.
Cuomo also announced the launch of new cleaning protocols at schools, transit hubs, and health-care facilities that cater to the elderly or people with weak immune systems. Though Cuomo acknowledged the certainty that more coronavirus cases would soon be confirmed, he and other officials urged calm and boasted about New York City's health system.
"We should relax," Cuomo said Monday. "Because that's what's dictated by the reality of the situation."
As of Sunday, 32 people in New York had been tested for the coronavirus, and more tests are being conducted after two public-health labs in the city and another in Albany have begun testing over the weekend.
Rhode Island: Another case linked to Italy
A man in his 40s who had recently traveled to Italy has tested positive for the COVID-19, state health officials announced on Sunday. His illness is a "presumptive positive" case, which means a local public-health laboratory has confirmed he has the virus, but the CDC hasn't yet conducted a second test.
The man is being treated in a hospital and his family have self-quarantined at home, while Rhode Island officials work to locate at least 40 people who had come into contact with him. They will be asked to self-quarantine for 14 days — and anyone exhibiting symptoms will be tested, state officials said.
The case's link to Italy, where then man traveled last month before returning to the U.S. on February 22, meant it was an explained case and not likely to be part of a larger outbreak in the state. "We are not seeing widespread community transmission in Rhode Island," explained the state's health department director, Dr. Nicole Alexander-Scott.
"The general level of risk for Rhode Islanders is low," Governor Gina M. Raimondo said on Sunday. "There's no need for panic. There's no need to be frightened."
Illinois: Not clear how an elderly couple caught the virus
A man in his 70s from Cook County, near Chicago, tested positive for the coronavirus, local officials announced on Saturday. They don't yet know how the man was infected. His wife, also in her 70s, has also tested positive, officials said Monday.
Both were reportedly in good condition as of Monday. State health officials said they were still working to identify anyone who may have come into contact with the couple.
Oregon: Three cases and counting
The state reported its third confirmed case of the coronavirus on Monday. The first person confirmed to have the illness, who began feeling symptoms on February 19, works at a school in Clackamas County and "may have exposed students and staff there," Oregon Health Authority director Patrick Allen said Friday. Someone who lives with that patient has also tested positive, but has a mild case and is remaining isolated at home.
The third infected resident, like the first, is considered a case of community transmission. Neither had any know links to other outbreaks or infected persons, and state officials are still working to determine who else has been exposed to the coronavirus.
This post has been updated throughout to include details of additional confirmed coronavirus cases in the U.S.