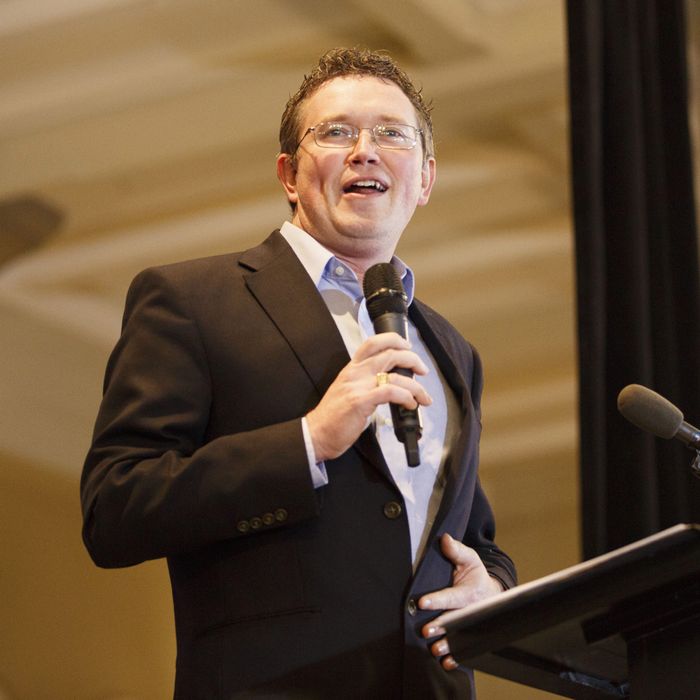 Kentucky congressman Thomas Massie.
Photo: Patrick Fallon/Bloomberg via Getty Images
We're committed to keeping our readers informed. 
We've removed our paywall from essential coronavirus news stories. Become a subscriber to support our journalists. Subscribe now.
President Trump tweeted Friday that Congressman Thomas Massie should be expelled from the GOP after the Kentucky Republican threatened to hold up a vote on the coronavirus relief bill.
On Twitter, Trump called Massie a "third rate Grandstander" who "just wants the publicity."
"WIN BACK HOUSE, but throw Massie out of Republican Party!" Trump wrote.
Trump's tweets came before Massie attempted to stop the $2.2 trillion rescue package from passing via voice vote. When debate ended on the House floor Friday, Massie asked for a recorded vote on the bill. "I came here to make sure our republic doesn't die by unanimous consent and an empty chamber," he said.
Roll Call explains what happened next:
But ultimately Massie's bid was thwarted when he couldn't get one-fifth of members present to stand and second his request, which under House rules precludes a recorded vote in this situation. Subsequently, the bill passed by voice vote.
Massie has said he objects to the $2.2 trillion coronavirus bill because of the money it adds to the national deficit. He has also broadly objected to the social-distancing orders issued around the country, saying that the worst thing to come of the outbreak will not be the mass death from a uncontrollable virus, but "the public's unquestioning acceptance of the unchecked authority of governments to force private behavior and disrupt economies."
"I fear the actions taken by our government will make FDR's internment of Japanese-Americans look like a 'light touch,'" he tweeted.
Though Massie was unsuccessful in his attempt to force the roll-call vote, his threat forced many members to return to the Capitol, putting people in danger, Republican Representative Peter King tweeted Friday.
The disdain for Massie's maneuver has been bipartisan, with the only disagreement coming over how to insult him. John Kerry went with "asshole," while Democratic Representative Sean Maloney and Republican Senator Dan Sullivan agreed that Massie is a "dumbass."