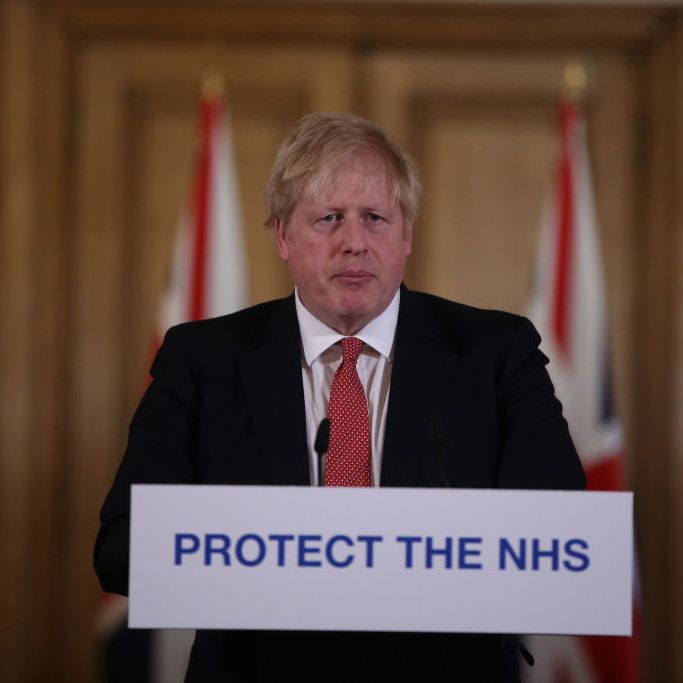 We're committed to keeping our readers informed. 
We've removed our paywall from essential coronavirus news stories. Become a subscriber to support our journalists. Subscribe now.
On Monday night in Great Britain, a spokesperson for Downing Street confirmed that Prime Minister Boris Johnson is now in intensive care after being admitted to the hospital on Sunday due to coronavirus symptoms. While he was initially hospitalized as a "precautionary step" because he was dealing with symptoms 10 days after testing positive for the virus, the spokesperson stated that on Monday Johnson's condition "has worsened." On the advice of his medical team, he is now in the ICU, where he is reportedly receiving oxygen treatment. Johnson has requested that Foreign Secretary Dominic Raab be deputized to handle any matters of state when necessary; Raab led a coronavirus task force meeting on Monday morning without Johnson. As of Tuesday night, Johnson was not on a ventilator.
Johnson, the first world leader to test positive for COVID-19, is expected to stay overnight for "routine tests," according to the BBC. Weeks before testing positive, he had boasted of shaking hands "with everybody" and that the virus had not stopped him from greeting hospital patients with the gesture. "I think it's very important," he said. Last week, the Guardian reported that the prime minister was "more seriously ill than either he or his officials were prepared to admit, and that he was being seen by doctors who were concerned about his breathing." Johnson's fiancée Carrie Symonds, who is pregnant, has also reportedly had coronavirus symptoms for about a week.
While Johnson has deputized Dominic Raab to handle government matters in his absence, there could be a crisis if the foreign secretary also becomes sick, as the Wall Street Journal notes: "Britain doesn't have the equivalent to a vice president who automatically takes over if the prime minister dies.
Mr. Johnson eased the transition by deputizing Mr. Raab before he sickened. But if Mr. Raab becomes incapacitated, it would be up to the members of the U.K. cabinet to decide among themselves who should lead the country."
On Sunday, Health Secretary Matt Hancock warned that the U.K. could face a nationwide lockdown if the public did not take seriously the current guidelines for social distancing. Though the U.K. currently has the world's eighth-worst outbreak — with over 51,608 confirmed cases and 5,373 deaths — the peak of the crisis is expected to hit in seven to ten days. If modeling of the crisis is correct, public-health advisers have also suggested that social distancing measures could be relaxed by the end of May.
This post has been updated.