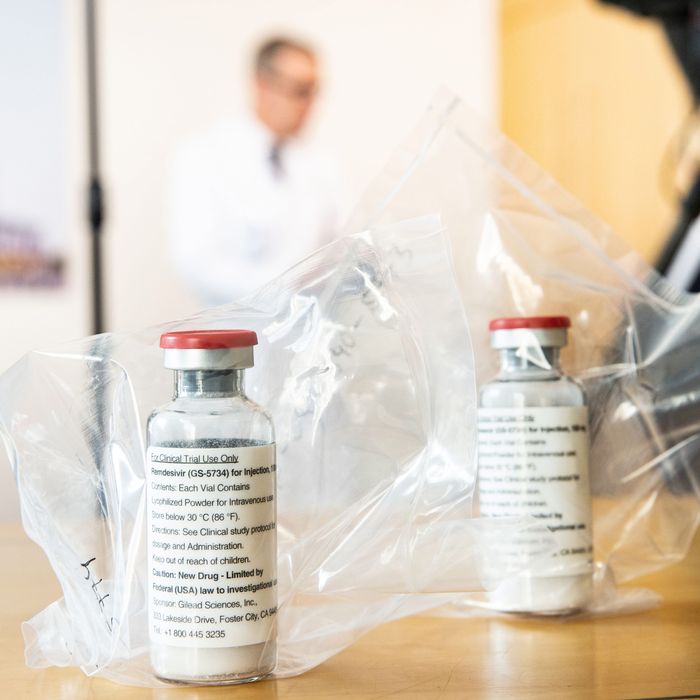 Photo: Ulrich Perrey/POOL/AFP via Getty Images
We're committed to keeping our readers informed. 
We've removed our paywall from essential coronavirus news stories. Become a subscriber to support our journalists. Subscribe now.
There's a new drug creating hope for treating the coronavirus, and unlike the president's touting of hydroxychloroquine — which had a higher death rate in one study than in the control group that went without the anti-malarial — the new treatment, remdesivir, is backed up by an early clinical success. A study conducted by the National Institute of Allergy and Infectious Diseases found that patients on the drug were able to recover four days faster than those on a placebo, a decrease in recovery time of 31 percent.
"The data shows that remdesivir has a clear-cut, significant positive effect in diminishing the time to recovery," NIAID head Dr. Anthony Fauci said at the White House on Wednesday. While the study, which featured more than 1,000 cases throughout the world, has not yet been subject to peer review, Fauci said its results were promising enough to create an "ethical obligation to immediately let the placebo group know so they can have access" to the drug, which was originally developed by Gilead Sciences to treat Ebola. On Wednesday, the New York Times reported that the Food and Drug Administration is expected to issue an emergency approval for remdesivir, while President Trump said during his coronavirus press conference that he wants the FDA to move "as quickly as they can."
"This will be the standard of care," Fauci said, adding that the trial has proved that "a drug can block this virus." However, the NIAID study did not prove that remdesivir is a COVID-19 miracle drug: The mortality rate for those on the antiviral was 8 percent, compared to 11.6 percent for the placebo, which was described by NIAID as a statistically insignificant difference. On Wednesday, the medical journal The Lancet published results from a Chinese trial leaked last week by the World Health Organization with inconclusive results: Researchers found that the drug "did not significantly improve the time to clinical improvement, mortality, or time to clearance of virus in patients with serious COVID-19 compared with placebo." However, the study was stopped early owing to the challenges of enrolling seriously ill patients as the outbreak eased up in China.
Gilead released its own study's results on Wednesday, showing that sick patients on a five-day regimen of remdesivir did as well as patients on a ten-day regimen — though the biopharmaceutical company was criticized for an apparent attempt to "piggyback" on the NIAID study, according to Peter Bach, director of Memorial Sloan-Kettering's Center for Health Policy and Outcomes, who spoke to Politico. Bach added that Gilead's claim that the results were successful even though there was no control in the trial had "no basis in scientific inquiry."
Nevertheless, if follow-up studies determine that remdesivir is able to cut recovery time, the drug will be a key tool in dampening the current outbreak as well as the anticipated second wave in the fall. Fauci, the head of NIAID since 1984, compared the finding to the discovery in 1986 that the antiviral drug AZT was successful in treating patients with HIV. "That was not the endgame, because building on that every year after we did better and better, we had better drugs of the same type, and we had drugs against different targets," Fauci said. He did not mention that it took until 1996 to figure out the proper three-drug cocktail to severely reduce AIDS mortality.
This post has been updated to reflect that remdesivir is an antiviral, not an antimalarial drug.