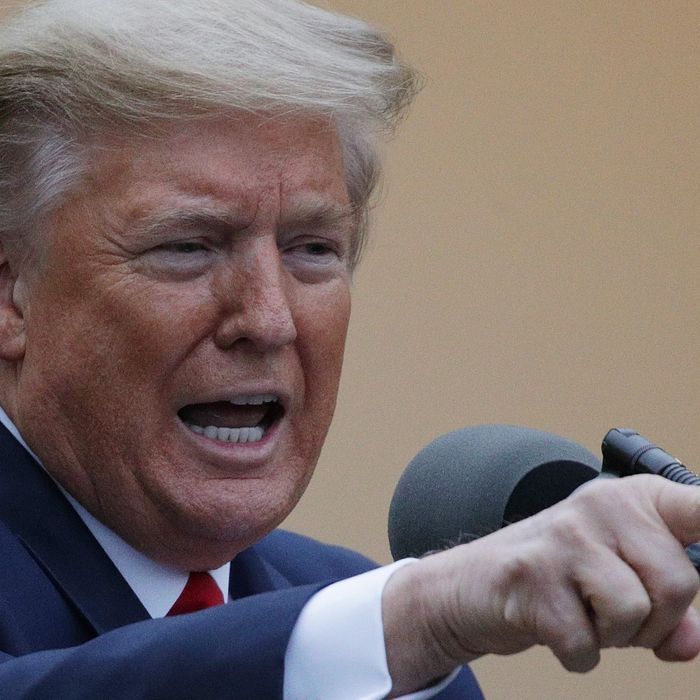 We're committed to keeping our readers informed. 
We've removed our paywall from essential coronavirus news stories. Become a subscriber to support our journalists. Subscribe now.
Though the president's daily coronavirus press briefings continue to decrease in news value, on Tuesday, Trump announced during his venting hour that the United States would cut funding to the World Health Organization. Emphasizing the country's "duty to insist on full accountability," Trump announced he would cease American funding to the WHO while a review is conducted to determine its role in "severely mismanaging and covering up the spread of the coronavirus." The withdrawal represents a substantial hit to the United Nations' agency for international public health: In 2019, the U.S. sent a little over $450 million of the WHO's $6 billion budget.
The president has been rhetorically setting up the move since at least last week. "The WHO really blew it," he tweeted on April 7. "For some reason, funded largely by the United States, yet very China centric. We will be giving that a good look." According to Axios, the Trump administration is considering two potential plans to defund the program: by asking Congress to rescind federal budget funds for the WHO — as the administration did when it cut $285 million in U.N. funding in 2017 — or by reallocating it to other international organizations.
Public health experts criticized the president for his effort to undermine the agency during one of the greatest public health threats since it was founded in 1948. "During the worst public health crisis in a century, halting funding to the World Health Organization is a dangerous step in the wrong direction that will not make defeating COVID-19 easier," said the president of the American Medical Association. Democrats, meanwhile, are looking for ways to block the action: ""We can solve this legislatively," said Connecticut Senator Chris Murphy. "I intend to pursue language in that package that would protect the WHO funds from rescission." According to The Hill, Democratic aides also intend to appeal to the Government Accountability Office to see if withdrawing the Congressionally-approved funding would be considered illegal.
Throughout the pandemic, Trump has accused the WHO of being overly deferential to China, the source of the first coronavirus outbreak. Last week, he pointed to a tweet from the organization on January 14 that repeated Beijing's claim that there was still "no clear evidence of human-to-human transmission." As CNN's Kaitlan Collins and Daniel Dale note, ten days after the WHO's January message supporting China's public coronavirus claims, Trump also praised the regime's transparency:
"In many ways, they were wrong," Trump said on April 9. "They also minimized the threat very strongly." However, the move to defund the WHO has also been interpreted as a classic Trump deflection, as he, too, has minimized the threat of the coronavirus in each month of the pandemic so far.