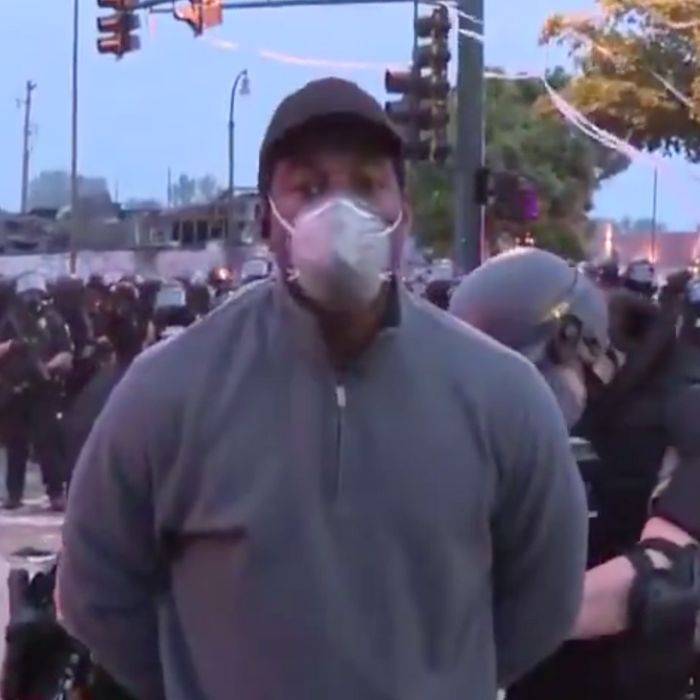 Minnesota State Police arrested CNN reporter Omar Jimenez and his camera crew during a live report on the protests over George Floyd's death.
Video shows Jimenez identifying himself as a journalist and calmly asking state police where they would like the CNN crew to stand. "Wherever you want us, we will go," Jimenez says, as an officer holds his arm. A few seconds later, another officer says, "You're under arrest."
"Okay, do you mind telling me why I'm under arrest? Why am I under arrest, sir?" Jimenez replies. Off camera, another member of the CNN crew says, "You're arresting him live on CNN. We told you before we're with CNN."
Police then led Jimenez away, and arrested the entire crew. One CNN journalist still in contact with the network said police told them they were detained because they were told to move and didn't.
"A CNN reporter and his production team were arrested this morning in Minneapolis for doing their jobs, despite identifying themselves — a clear violation of their First Amendment rights," CNN said in a statement. "The authorities in Minnesota, including the Governor, must release the three CNN employees immediately."
A short time later, the CNN crew was released from police custody and Jimenez was back on the air.
Minnesota governor Tim Walz has reportedly apologized for the arrest.
Minnesota State Police released this statement in response to the incident:
The arrest came on the heels of a harrowing evening in Minneapolis. Police fired projectiles at protestors, some of whom later set fire to a police station in the city's third precinct. Meanwhile, the president of the United States threatened violence against the demonstrators.
This post has been updated throughout.