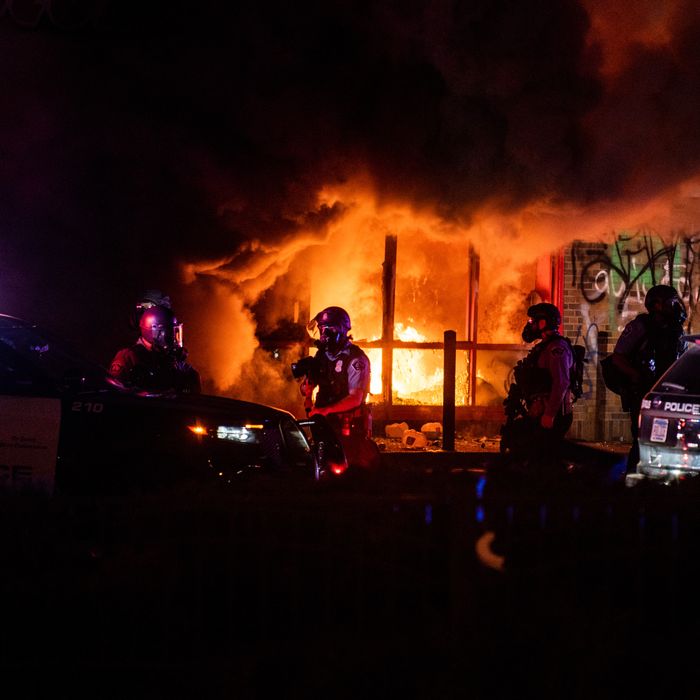 Several businesses went up in flames Wednesday night during protests over the police killing of George Floyd.
Photo: Stephen Maturen/Getty Images
On Thursday, protestors took to the streets in Minneapolis to protest the police killing of
A second night of protests in Minneapolis over the police killing of 46-year-old George Floyd turned deadly Wednesday when a man was shot by a shop owner who suspected him of looting. The shooting victim was one of five people hit by gunfire on a night that saw police use tear gas and rubber bullets on protesters demanding justice for Floyd's death.
Mayor Jacob Frey called on the Minnesota National Guard Wednesday night to help the Minneapolis Police manage the protests. The Star Tribune reports that the military "was ordered to the 3rd Precinct police station to relieve Minneapolis police officers, as demonstrators encircled the precinct." The protests were concentrated around the precinct, where "virtually" every business within a two block radius was damaged in some way, according to CBS Minnesota.
The Star Tribune reports that the deadly shooting Wednesday night took place at Cadillac Pawn & Jewelry, roughly a mile away from the heart of the protests. A 59-year-old man shot a suspected looter there and was later arrested on suspicion of murder. While the area did see many stores looted, including a Target, it's unclear if the victim was in fact attempting to loot the pawn shop.
George Floyd's family joined local officials calling for an end to the violence – though they thanked those who have been demonstrating peacefully. Courteney Ross, Floyd's girlfriend of three years, said of the unrest, "I am heartbroken."
"Waking up this morning to see Minneapolis on fire would be something that would devastate Floyd," Ross continued, in a statement to the Star Tribune on Thursday. "He loved the city. He came here [from Houston] and stayed here for the people and the opportunities. … Floyd was a gentle giant. He was about love and about peace." She added that she wants demonstrators "to know that I understand their frustration. … I want people to protest in a peaceful way."
Benjamin Crump, an attorney representing some of Floyd's relatives, said they want to thank the protesters "for joining them in standing for justice, [but] we also cannot sink to the level of our oppressors, and we cannot endanger each other as we respond to the to the necessary urge to raise our voices in unison and outrage."
The drama Wednesday followed clashes Tuesday night between demonstrators and law enforcement. Police in riot gear were eventually called to the city's Third District to quell the demonstration Tuesday, using tear gas and rubber bullets.
The protests come after a video emerged of a police officer digging his knee into Floyd's neck on Memorial Day, pinning him to the ground next to a squad car. The video showed Floyd lying facedown, groaning and screaming. "I can't breathe," he said as bystanders asked officers to allow Floyd off the ground to check his pulse. The video ended with Floyd, apparently unconscious, being loaded onto a stretcher. He died a short time later at Hennepin County Medical Center.
Twenty-four hours later, hundreds gathered at the intersection where the incident occurred. There were chants of "It could've been me" and "I can't breathe." The phrase uttered by Floyd in his final moments became a rallying cry in the Black Lives Matter movement six years ago, when Eric Garner was suffocated due to a police chokehold in New York.
After the video of George Floyd's arrest went viral, four Minneapolis police officers involved in the incident were fired. Protesters told CBS Minnesota that while they're glad the officers were fired, justice won't be served until they're charged and convicted. Wednesday, Frey called for the arrest of Derek Chauvin, the white police officer who killed Floyd.
"I've wrestled with, more than anything else over the last 36 hours, one fundamental question: Why is the man who killed George Floyd not in jail?" Frey said. "If you had done it or I had done it, we would be behind bars right now. And I cannot come up with a good answer to that."
On the Today show Thursday morning, Floyd's sister said, "I would like for those officers to be charged with murder because that's exactly what they did."
There are several investigations currently being conducted into the incident. The Minnesota Bureau of Criminal Apprehension, the FBI, and the Justice Department are all looking into the circumstances of Floyd's death. In a statement Thursday morning, the U.S. attorney and FBI special agent in charge said a "robust criminal investigation" in underway.
The DOJ, according to the statement, "has made the investigation a top priority and has assigned experienced prosecutors and FBI criminal investigators to the matter."
Many have noted the differenced between how police responded to protesters in Minneapolis and how they handled reopening protests at the state capitol earlier this month, in which demonstrators calling for an end to the coronavirus shutdown were heavily armed.
This post has been updated throughout.