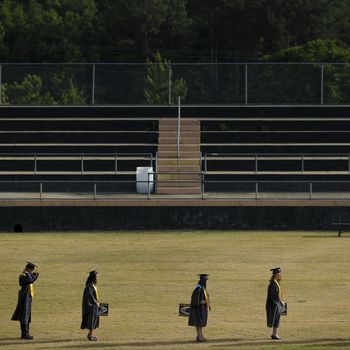 A high school in Georgia's socially distanced gradation.
Photo: Brynn Anderson/AP/Shutterstock
In Texas, dozens of high schools are holding socially distanced graduation ceremonies on a massive NASCAR track. In Alabama, one high school put on a "red carpet drive-through." In New Hampshire, students are receiving their diplomas while riding a ski lift.
All across the country, the class of 2020 is participating in virtual ceremonies and taking graduation photos on their front lawns as school administrators attempt to balance the desire to celebrate students with the responsibility to keep them safe. Here are some photos of how students are graduating during a global pandemic.