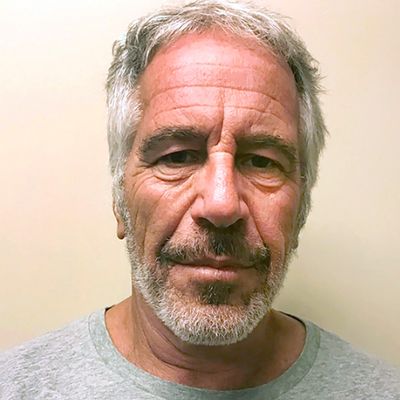 Photo: Uncredited/AP/Shutterstock
The coronavirus may have pushed the Jeffrey Epstein story off the front pages, but in recent weeks fresh reporting and a trickle of new allegations have kept the saga alive. In early May, a Harvard University report shed new light on the convicted sex offender's relationship with the institution. More recently, two newly released projects unearthed new details about the deceased financier's alleged sex-trafficking ring: a four-part Netflix documentary, Filthy Rich, and a book by reporters Alana Goodman and Daniel Harper, A Convenient Death. Here are the new details these projects have brought to light.
Epstein's Harvard ties were more extensive than previously known
A few weeks after Epstein's death in his jail cell in August 2019, which was ruled a suicide, Harvard said he had donated $9.2 million to the university, all before his 2008 sex-crimes conviction. University officials said the school's general counsel and an outside law firm would perform a deeper review of the school's 25-year relationship with Epstein. The result was a 27-page report released earlier this month.
The report describes how Epstein exploited his Harvard connections to rehabilitate his image post-conviction. Epstein had his own office at the school's Program for Evolutionary Dynamics, and visited over 40 times between 2010 — when he was first released from custody — and 2018. According to the Boston Globe, he was often accompanied on his visits by "young women who acted as his assistants." (The practice sounded quite similar to his frequent check-ins at the M.I.T. Media Lab down the road in Cambridge, where an alumni coordinator recalled asking the assistants "on the off chance" if they weren't there by choice.)
Just as Epstein's connection to M.I.T. was based largely around one person — Media Lab director Joi Ito — much of his post-conviction relationship with Harvard appeared to revolve around the director of the Program for Evolutionary Dynamics, Martin Nowak. Prior to his arrest, around two-thirds of Epstein's donations went to Nowak's program. Following Epstein's conviction, Nowak allowed him to use the program's office to host dinners and meet with Harvard faculty and other political and academic connections. In an effort to help polish Epstein's reputation, Nowak also built a page on the Program for Evolutionary Dynamics' website detailing the financier's contributions. Nowalk has been put on paid administrative leave as Harvard looks into whether "standards of professional conduct were violated and if additional steps must be taken."
But Nowak wasn't Epstein's only contact at the university. In addition to his previously established connections to former Harvard president Larry Summers, psychologist Steven Pinker, and Harvard Law School professor emeritus Alan Dershowitz, the report noted that "a number of the Harvard faculty members we interviewed also acknowledged that they visited Epstein at his homes in New York, Florida, New Mexico, or the Virgin Islands, visited him in jail or on work release, or traveled on one of his planes." These faculty members told Harvard's general counsel that "they undertook these off-campus activities primarily in their personal capacities rather than as representatives of Harvard."
Two sources claim Bill Clinton visited Epstein's island
Steve Scully — the former IT contractor on Epstein's private island, Little St. James — has previously offered some details about what went on there, but in the Netflix documentary Jeffrey Epstein: Filthy Rich he makes a new allegation. Scully says that at some point during his employment from 1999 to 2005, President Bill Clinton visited Epstein on "Pedophile Island."
"I saw Bill Clinton sitting with Jeffrey on the living-room porch area, which was Jeffrey's favorite spot," Scully said. "I saw no other guests there at that time at all. I just thought, 'Hey, wow, Jeffrey's sitting with Bill Clinton.'"
A Clinton spokesperson, Angel Ureña, denied such an appearance: "This was a lie the first time it was told, and it isn't true today, no matter how many times it's repeated." However, Epstein victim Virginia Giuffre also recalled seeing the former president on the convicted sex offender's island: "I remember having a dinner with Clinton. He was there, and I never saw him do anything improper … I wish, you know, he would just come clean about, like, 'Yeah, I was there. So what? Who cares? I didn't see anything going on.'" According to a lawsuit filed in January by the attorney general of the U.S. Virgin Islands against Epstein's estate, the financier had allegedly trafficked children as young as 11 to the island.
Joseph Berlinger, the executive producer on Filthy Rich, told the Guardian that the project began in spring 2018 — prior to the Miami Herald's pivotal Epstein reporting and the arrest of the financier in July. Berlinger said the inspiration for the project was James Patterson's book on Epstein. In another example of the close connections among the elite circles Epstein traveled in — and a potential conflict of interest for a documentary in which Patterson has an executive-producer credit — Patterson is now writing his second political novel with Bill Clinton.
Prince Andrew was allegedly spotted with Virginia Giuffre on Little St. James
In a 2015 civil suit, Epstein victim Virginia Giuffre alleged that she was forced to have sex with Prince Andrew, Duke of York, on three occasions in London, New York, and Little St. James between 2001 — when she was 17 —and 2002. While the royal has denied the allegation — despite the notorious picture of the two taken when she was 17 — Steve Scully detailed a new encounter between Giuffre and the British prince.
"It was probably around 2004 that I saw Prince Andrew," Scully says in the documentary. "He was at the pool. He was with, at that time, an unknown girl to me. She was young. She didn't have any top on. They were engaged in foreplay. He was grabbing her and grinding against her."
Scully later identified the young woman as Virginia Giuffre, who would have been around 20 in 2004; he did not address her allegation that she was forced into sex with Prince Andrew. In the documentary, Giuffre asserts that, in 2001, she was told by Epstein's alleged madam Ghislaine Maxwell that "you're going to have to do for [Prince Andrew] what you do for Jeffrey."
An Epstein recruiter spoke publicly for the first time
In Filthy Rich, Haley Robson makes her first public statements about her experience with Epstein, saying she acted as one of his "recruiters" as a teen. In 2004, Robson was a 16-year-old living in West Palm Beach who was told by a high school classmate that she could make $200 if she gave Epstein a massage. She says that in her first encounter with him, she denied his sexual advances, but that she soon began bringing underage girls to the financier, for which she was paid a fee. "You're 16. The repercussions, at that age, you're not thinking about that," she said. "You're not mature enough to understand."
She said she brought around 24 underage girls, mostly friends and classmates, to Epstein's Palm Beach mansion. Robson says she was trying to save up money to leave West Palm Beach after being raped at the age of 15.
Bill Clinton accused of having affair with Ghislaine Maxwell
In A Convenient Death: The Mysterious Demise of Jeffrey Epstein, authors Alana Goodman and Daniel Halper report that the former president had an affair with Ghislaine Maxwell. "[Clinton] and Ghislaine were getting it on," a source who witnessed the relationship told the authors. "That's why he was around Epstein — to be with her."
A spokesperson for Clinton, Angel Ureña, also denied this allegation: "It's a total lie today, it's a total lie tomorrow, and it'll be a total lie years from now."
Allegations of presidential impropriety aren't new for Halper: An editor at the Drudge Report, he has written critically about the Clintons in his first book, Clinton Inc.: The Audacious Rebuilding of a Political Machine, in which he spoke with a source who alleged the former president was still cheating on his wife as of 2014.
Epstein's brother still questions suicide ruling
Shortly after Epstein's death — which was ruled a suicide by strangulation by New York City chief medical examiner Dr. Barbara Sampson — Epstein's brother, Mark Epstein, hired a private pathologist, Dr. Michael Baden, to conduct a second autopsy. Baden concluded last October that Epstein's injuries "are extremely unusual in suicidal hangings and could occur much more commonly in homicidal strangulation." After delivering his opinion, Baden added, "The brother doesn't think it was suicide — he is concerned it might be murder."
Seven months later, Mark Epstein stands by that opinion: In an interview with Halper and Goodman for A Convenient Death, he told the authors he was not sure if he agreed with the official autopsy, claiming that the bruises on his brother's neck were not consistent with hanging. He also noted that in photos taken after his brother's death, there was no blood on the noose around his neck, and the bed sheet was "hemmed," not cut down the guards. "If you look at the picture of the ligature," he said, "it was not cut and it doesn't look like it was tied to anything."
Mark Epstein has largely avoided the press following his brother's death. Though he told Crain's New York in July 2019 that he didn't have any business interests with his brother, Mark Epstein owns the majority of the unites in a condominium building near his brother's Upper East Side mansion, where the financier allegedly had an interest. "Jeffrey rents several apartments there where he keeps his girls, alleged models for the MC2 agency he owns," Florida attorney Brad Edwards, who represents a number of Epstein's alleged victims, told Page Six in 2009. "But Mark acts like he doesn't even know his brother."
This post has been updated throughout.